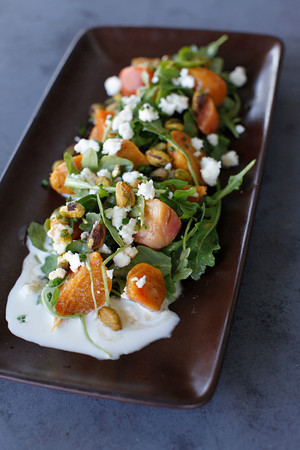 As mentioned earlier, Sam Fox of Fox Restaurant Concepts was named honorary chair of the Phoenix Heart Ball taking place on Saturday, Nov. 23. To help raise awareness and funds for the American Heart Association, a portion of the proceeds from Fox Restaurant Concepts' heart-healthy menu items will be donated to the organization during designated months leading up to the Heart Ball. Among the restaurants taking part, Olive & Ivy near the Scottsdale Waterfront is July's designated eatery. Want to contribute? Here's what to order:
Hummus with vegetables ($11) (pictured on homepage)
Mediterranean Salad combining feta, almonds, tomato, couscous and oregano vinaigrette ($10)
Beet Salad with arugula, goat cheese and pistachio ($11) (pictured)
Even if you are on the go, diners can nab a a Fruit & Nut "love your heart" Bar ($3) at the adjacent Olive & Ivy Marketplace. According to a recent study, a Mediterranean diet, which is centered around  olive oil, nuts, beans, fish, fruits and vegetables, can prevent about 30 percent of heart attacks, strokes and deaths from heart disease in high-risk individuals. Other participating restaurants include  The Greene House in August, Sauce Pizza & Wine in September and Little Cleo's in October. www.foxrc.com.