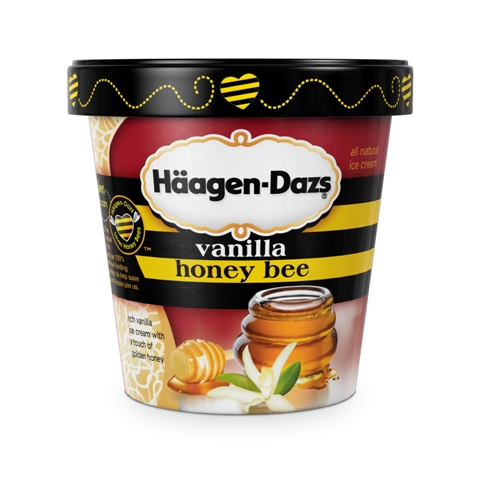 I love honey bees. In fact, my name means "honey bee." Cute, huh? Well, Häagen-Dazs loves them too, which is why the company has set out to help this insect. Well, what's seems to be the problem? Well…
According to http://www.helpthehoneybees.com/, over the last three years more than one in three honey bee colonies has died nationwide, posing a serious risk to our natural food supply. (We rely on honey bees for one-third of our food supply.) One cause of these losses is an alarming phenomenon called Colony Collapse Disorder, or "CCD." When a hive experiences CCD, the honey bees mysteriously desert their hive and die. CCD symptoms have been reported by more than thirty-five states across the U.S. and in many other countries. Researchers do not know exactly what causes CCD, but they believe there may be many factors contributing to the problem, including viruses, mites, chemical exposure and poor nutrition.
In order to help these beautiful bees, Häagen-Dazs ice cream uses only all-natural ingredients in their recipes. Bee pollination is essential for ingredients in nearly 50 percent of the company's all-natural superpremium flavors. Their goal is to raise awareness of the honey bee issue so that our communities work together to bring them back.
Häagen-Dazs has created a special flavor to make spreading honey bee awareness that much sweeter. Vanilla Honey Bee is the company's delicious tribute to these essential creatures. In recognition of their reliance on honey bees for their food, Häagen-Dazs is donating money to help fund honey bee research. Here's how you can help: Every time you buy a carton of our bee-built flavors (listed below), you help the company get closer to reaching the donation goal. You can also visit the Web site to learn how to donate to the cause and how to build your own honey bee garden.
Curious just how many bee-built ingredients are in Häagen-Dazs products? Take a look at this.
Ice Cream/Sorbet/Frozen Yogurt Flavor: Bee-built ingredients
Banana Split: Cherries, Strawberries
Caramelized Pear & Toasted Pecan: Pears
Cherry Vanilla: Cherries
Chocolate Peanut Butter: Peanuts
Macadamia: Macadamia Nuts
Mango: Mango
Mint Chip: Peppermint
Pineapple Coconut: Coconuts
Peanut Butter Brittle (Limited Edition): Peanuts
Peppermint Bark (Limited Edition): Peppermint
Rocky Road: Almonds
Strawberry: Strawberries
Strawberry Cheesecake: Strawberries
Vanilla Honey Bee: Honey
Vanilla Swiss Almond: Almonds
White Chocolate Raspberry Truffle: Raspberries
Ginger: Ginger
Mint: Mint
Passion Fruit: Passion Fruit
Caramelized Hazelnut Gianduja: Hazelnuts
Hawaiian Lehua Honey & Sweet Cream: Honey
Pomegranate Chip: Pomegranates
Toasted Coconut Sesame Brittle: Coconuts
Cranberry Blueberry: Cranberries and Blueberries
Orange: Oranges
Orchard Peach: Peaches
Raspberry: Raspberries
Zesty Lemon: Lemons
Vanilla Honey & Granola: Honey
Vanilla Raspberry Swirl: Raspberries
Wildberry: Blueberries, Strawberries Raspberries
Vanilla & Almonds: Almonds
Coffee & Almond Crunch Snack Size: Almonds
Pomegranate & Dark Chocolate: Pomegranate
Raspberry Sorbet & Vanilla Yogurt: Raspberries