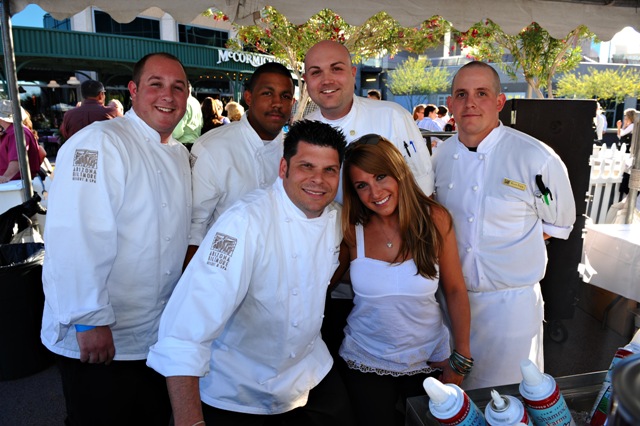 The spring is such a good time to be a food lover in the Valley! On Thursday, April 8, Forks & Corks will take over the Camelback Esplanade. More than 20 of the Valley's top chefs will be on hand to dish out samples from their restaurants. Among this year's participants are The Arizona Biltmore, Lon's, The Melting Pot, Sheraton Wild Horse Pass Resort & Spa and many more. To wash down all the tasty nibbles, there will be plenty of beer and wine to indulge in, as well as a silent auction (prizes include luxury getaways and gift certificates) and live entertainment for your enjoyment. Best of all? All Forks & Corks proceeds provide scholarships for the Arizona Hotel and Restaurant Education Foundations. Forks & Corks is from 5:30 to 8 p.m. Tickets are $65 in advance or $75 at the door. (Tickets can be purchased at http://www.forksandcorks.org/.)
To get your appetite revved up for Thursday's event, here are a few tasty recipes from this year's participants:
Street Tacos (Tacos de Birria) from Lowes Ventana Canyon (this dish serves 50 people–perfect for a backyard barbecue with neighbors!)
150 Homemade 3-inch Corn Tortillas (3 tortillas per person)
10 lbs Beef Brisket
1 Whole Pineapple, cleaned and rough chopped
12 Whole Garlic
2 Red Onions, chopped in half
1 cup Rice Wine Vinegar
1 Gallon Tomato Sauce
6 each Bay leaves
92 ounces V8 Juice
6 tablespoons Santa Cruz Chili Powder
3 tablespoons Cumin
to taste  Salt
to taste Pepper
1 gallon Water or Chicken Stock
4 tablespoons Brown Sugar
4 tablespoons Dark Chili
3 each Dos Equis Beer
Pan sear the brisket, then transfer to a large pot and add the beer, reduce by half. Transfer beer and beef to a roasting pan and add remaining ingredients. Braise the brisket for 7 hours at 200 degrees in a convection oven or 300 degrees in a conventional oven. Once you remove from the oven, skim the fat from the top. Let the meat cool in its natural juices (very important!). Serve with cabbage, salsa, guacamole and tortillas.
The Steak Sandwich from Arizona Grand Resort
14 oz. Beef Filet Steak Pounded Flat
½ Cup Wild Arugula
½ cup Baby Spinach
¼ Cup Buttermilk Onion Rings (recipe follows)
1 TBSP. Oven Roasted Tomato Mayo (recipe follows)
1 TBSP. Sherry Vinaigrette (recipe follows)
TT Salt
TT Pepper
Choice of Slider Bun
Season flattened filet steak with Salt and pepper. Grill over medium-high heat to desired doneness. Lightly toast bun over grill. Spread 1 T of oven-roasted mayo over bun. In a small bowl toss the arugula and spinach with the sherry vinaigrette. Place cooked filet steak on bottom piece of bun, top with dressed greens, top with buttermilk onion rings. Place top piece of bun on sandwich and enjoy.
Buttermilk Onion Rings
1 each Red Onion sliced very thin into rings and covered in buttermilk
1 cup all purpose flour
½ cup corn meal
2 TBSP salt
1 TBSP. pepper
Mix all dry ingredients together. Shake excess buttermilk off of onions and add to dry ingredient mixture. Toss onions to coat evenly. Fry in oil at 350 degrees until golden brown and crispy
Oven Roasted Tomato Mayo
5 each oven roasted tomatoes
1 cup mayonnaise
1 tsp. Salt
1 tsp. white pepper
¼ cup chopped parsley
Combine all ingredients in food processor and mix well.
Sherry Vinaigrette
4 each shallots
3 each garlic cloves
1 cup sherry vinegar
2 tsp Dijon mustard
1 tbsp soy sauce
Salt and Pepper to taste
3 cup olive oil
Combine all ingredients except oil in a blender and blend well. With blender running add oil. Season to taste with salt and pepper.