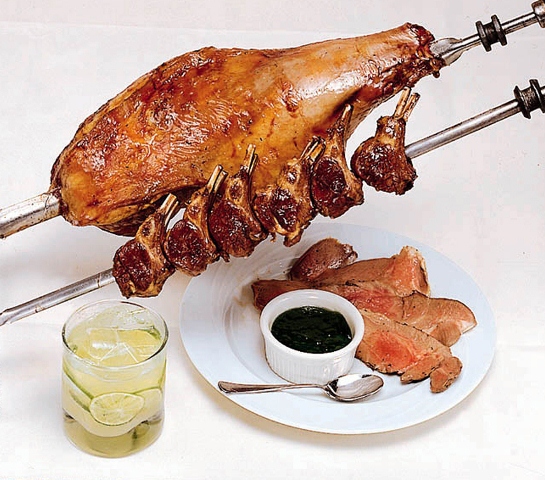 Fogo de Chão's Head Gaucho Joao Zanrosso shares a few of his favorite cuts of beef, tips for preparing it and a must-try lamb recipe.
Picanha (Top Sirloin)
pea-CAN-ya
Fogo de Chão's signature steak, picanha is a prime cut of top sirloin. The picanha cut is very popular in the churrascarias of Southern Brazil. To preserve the natural flavor, this cut should be seasoned only with sea salt just prior to being placed over the flame.
Bacon-Wrapped Filet Mignon
Filet mignon is known as the tenderest of cuts. At Fogo, the gaucho chefs lightly season the most flavorful part of the beef tenderloin with sea salt, wrap it in bacon and grill rotisserie style. Tip to success, use a 7-inch slice of bacon and be sure not to wrap it too tight.
Cordeiro (Lamb)
cor-DAY-roo
Cordeiro is how Brazilians say fresh lamb. And Fogo is known for our savory preparation of cordeiro. The gaucho chefs gently flavor succulent lamb chops and tender leg of lamb, imported from New Zealand, with our special fresh mint marinade. With lamb it's all about timing. Only marinate lamb for 5-10 minutes before placing on the grill to balance the flavors of the lamb with the mint and lemon.
Frango (Chicken)
FRAHN-go
Following the tradition of the churrascarias, Fogo's gaucho chefs prepare frango two different ways: chicken legs lightly basted in our special marinade or bacon wrapped chicken breasts. The keys to Fogo de Chão's 24-hour marinade for the frango are brandy and beer. Allowing 24 hours for marinating chicken ensure the delicate flavors of the brandy will be even throughout the cut of meat.
Grilled Lamb Chops
"Cordeiro Assado"
8 rib lamb chops
2 cups white wine
2 tablespoons lemon pepper
Juice of one lemon
1 tablespoon salt, or to taste
1 cup mint leaves
Vegetable oil spray
Mint jelly and mint leaves for garnish
Trim lamb of excess fat. Mix all other ingredients to make marinade, including mint leaves, and marinate lamb chops for 1 hour. Spray grill with vegetable oil. Remove lamb chops from marinade and place on preheated grill. Grill chops without moving them for 4 minutes for medium rare. Baste chops with marinade and turn over to grill for another 4 minutes on other side. Remove to serving plate. Season with additional salt and garnish with additional mint leaves and mint jelly. Serves 4.