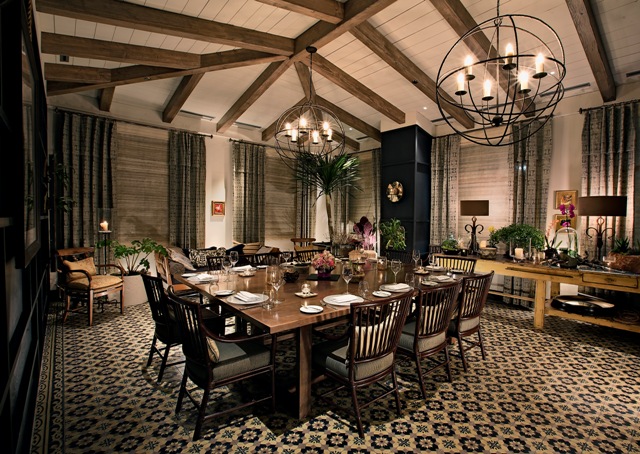 Estate House, located in SouthBridge Scottsdale, is now offering weekly cooking classes, the Wild Lavender series. Apart from the informative cooking demonstration and take-home recipes, Wild Lavender students will get to dig into a delicious meal and wine pairings. The series is moderated by local food writer Nikki Buchanan,  who will team up with Estate House Executive Chef Gio Osso.  The Wild Lavender Cooking Classes will be held at Estate House, every Saturday from 11 a.m. to 1:30 p.m. and the cost is $100 per person. Here is the first group of classes. Later, Valley chefs will be invited to teach in the Wild Lavender series.
WINTER COMFORT FOOD SUPPER
Braised short ribs have become a menu staple in recent years, but Gio shows us how easy they are to make at home. We¹ll talk about big red wines that pair well with them and learn how to make celery root puree and celery root chips to add restaurant-worthy style to this simple, comforting supper
Instructor: Gio Osso, Estate House executive chef
Date: Saturday, February 27
Menu: Braised short ribs; vanilla-scented celery root puree; celery root chips; farmer¹s market salad; chocolate-walnut bread pudding.
ITALIAN 101
Instructor: Gio Osso, Executive Chef-Estate House
Chef Gio spent summers with his grandmother in Italy, where he learned the basics he teaches us here. We¹ll also explore simple New Italian sauces and different types of Italian rice as we learn how to make a classic risotto.
Date: Saturday, March 6
Menu: The perfect meatball; hand-made pasta (various cuts); pomodoro sauce; New Italian sauces; classic risotto with truffles; biscotti; Italian wines & Vin Santo.
TAPAS
Spanish tapas are the original small plates, easy to prepare and versatile enough to be appetizers, snacks, buffet items, sides or light meals. Gio will share traditional tapas recipes while educating us about Spanish chorizo, jamon Serrano and Spanish cheeses as well as which Spanish wines pair well with them. Just for fun, a fruity Sangria.
Instructor: Gio Osso, Executive Chef-Estate House
Date: Saturday, March 20
Menu: Croquetas; tortilla Española; calamares; pan con tomate; marinated olives, alioli; Sangria.
EASTER SUNDAY BUFFET
It's a big day but who wants to spend most of it in the kitchen? Gio teaches us how to prepare an Easter Sunday spread that¹s elegant but easy. You¹ll leave with two buffet-friendly egg dishes in your repertoire as well as the secret to an anything-but-average mimosa.
Instructor: Gio Osso, Executive Chef -Estate House
Date: Saturday, March 27, 2010
Menu: Stuffed leg of lamb; grilled asparagus with hollandaise; lox; quiche; frittata; chocolate bunny lollipops; mimosa.
Estate House is located at 7134 E. Stetson Dr. Suite 200, Scottsdale, 480.970.4099, www.estatehouseaz.com.