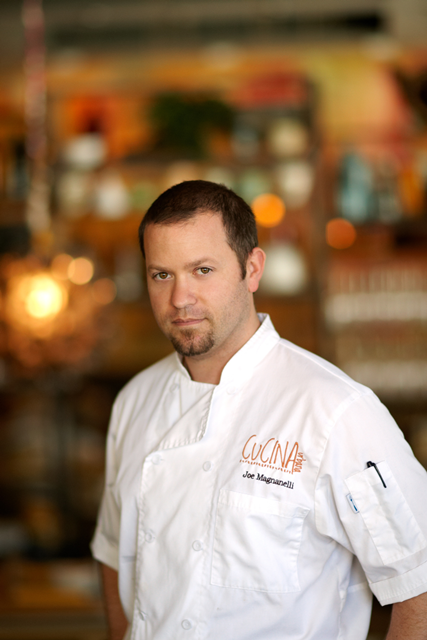 In honor of this week's inaugural Desert to Dish Culinary Weekend–a lineup of dining events including farm-to-table dining experiences, exclusive tours of Arizona farms, and one-of-a-kind interactive opportunities with six renowned chefs from across the country–at Omni Scottsdale Resort & Spa at Montelucia, get to know the event's participating chefs. Today, meet Joe Magnanelli of CUCINA urbana + enoteca.
Name: Joe Magnanelli, Executive Chef
Restaurant: CUCINA urbana + enoteca (in San Diego & Orange County)
What are you most looking forward to during the Desert to Dish event? To meet all of the chefs and to experience what local ingredients Scottsdale has to offer. Being in Southern California, we get used to certain ingredients at certain time of year, it will be fun to see what the Valley has in store for us.
Have you always been interested in the culinary arts? How did you get your start? I have always been interested in food. I remember in grade school doing a demo in class on how to make brownies – I had to put a spin on it even then, with a cream cheese swirl!
How would you describe your cooking style? My cooking style is obviously Italian, but I really am ingredient oriented. Some chefs love technique, but I love finding new ingredients and combing them in interesting ways and let them speak for themselves. Nature gave us a great start, sometimes all we need to do is showcase them.
What are some ingredients that at-home chefs should experiment with this fall? I'd recommend anything they haven't tried using before — try fresh chestnuts, or perhaps red curry squash which has a different flavor profile than other fall squashes. I also like fresh cranberries which, unlike many sugary pre-made cranberries, has interesting bitter and tart qualities. Right now we're playing with fresh cranberries in a seasonal cannoli dessert.
Where does your inspiration come from when creating new dishes? My inspiration comes from the seasons. San Diego doesn't really don't have them here, but I grew up in Maryland where we had extreme seasons, so when it comes time for the next season I get really excited. I also get inspired by what other chefs are doing across the world. I am constantly impressed with the creativity and execution by what top level chefs can achieve.
Fast Faves…
Favorite pizza topping: My favorite pizza topping is prosciutto, I think it will make any pizza better.
Go-to cocktail: My go-to cocktail is a Negroni for sure.
Favorite dessert: My favorite dessert is just a good scoop of gelato. I almost never have room for a dessert, I overdo it on the appetizers.
Favorite holiday dish: My favorite holiday dish is an oyster stuffing my Aunt Marie would make us when I was growing up. I am going to try making it myself one of these years.