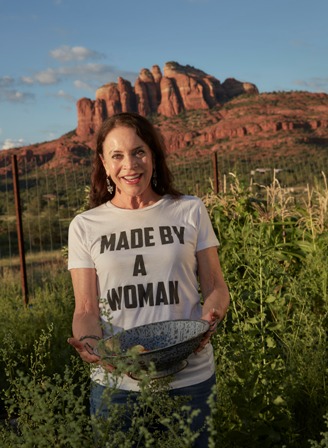 It's no secret that a holiday feast breaks the calorie bank with an average of 4,500 calories consumed in one meal, according to the Calorie Control Council. Chef Lisa Dahl believes that by incorporating more plant-based ingredients like quinoa and cauliflower, you can cut down the fat and calorie content by nearly half. Recently named "Top Chef" by the Foodist Awards, here are Chef Dahl's surefire ways to staying fit this season without sacrificing the savory flavors you look forward to all year long:
Swap bread crumbs for quinoa: Stuffing is a holiday staple, so instead of eating the extra carbohydrates, swap the bread crumbs for quinoa. As one of the most protein-rich foods you can eat, quinoa is one of my favorite ingredients high in fiber and contains all nine essential amino acids, keeping you fuller longer. For the perfect stuffing, I sauté celery, onions, garlic, parsley and currents in the quinoa then add in vegetable or chicken broth for added flavor.

Swap cauliflower for potatoes: Innovative cauliflower dishes can be a great alternative to potatoes. No one loves mashed potatoes more than me, but I'm also addicted to the versatility of cauliflower. For those who want to offer a very healthy side dish that is less fattening, cauliflower is a great go-to. Simply remove the core of the cauliflower and break up the head into random pieces. Add one carrot per cauliflower head and cut into chunks. In a heavy saucepan, cover with vegetable or chicken broth and add a couple pinches of salt and simmer. When the veggies are completely soft, drain off excess broth, but reserve for future use. Mash or whip to desired consistency and drizzle with a good quality olive oil. Salt and pepper to taste. This dish is delicious served with the broth and a sprinkling of parmesan cheese and extra virgin olive oil. Garnish with fresh chives or any fresh green herbs.
Swap cranberry sauce for cranberry relish: Instead of taking in all that extra sugar with canned cranberry sauce, swap it for easy-to-make cranberry relish. Simply chop 12 ounces of fresh cranberries and combine with one fresh-seeded (but not skinned) navel orange into equal parts, then add to a food processor. Pulse until you achieve a coarse, even consistency but the mixture is not mushy. Transfer relish to a bowl and chill for two hours to allow the flavors to blend. For those that want a little extra sweetness, fold in a couple handfuls of whole pomegranate seeds for added delight or chopped pecans for flavor and fiber. Cranberry relish adds the perfect sweetness to your holiday plate, plus it has excellent detoxifying effects.
Swap butter for Corto Olive Oil: Yes, everyone loves butter for its rich, decadent flavor, but it can easily be replaced by olive oil. I long ditched the saturated fat and instead bastes her holiday turkey with her own Corto dipping oil mixed with some fresh garlic, herbs and spices. Using a high-quality olive oil not only cuts out the excess fat but leaves the skin crispy and drives the flavors deep into the meat.
Swap baked yams for Garnet Yam Soup: Consider replacing typical baked yams with loads of butter and marshmallows with a delicious soup starter made with garnet yams. In my book, "The Elixir of Life," I have a wonderful Garnet Yam Soup recipe that has been a holiday staple on my table for years. Not only is it an ultimate comfort food, but this particular soup is high in iron, potassium, fiber and vitamin A. (Recipe below.)
Recipe: Garnet Yam Soup With Roasted Red Peppers
3 pounds garnet yams
3 cups chopped red bell pepper
½ cup chopped shallots, 3 to 4 large shallots
1 jalapeno or 2 serrano chiles, stemmed
1 tablespoon chopped garlic
¼ cup olive oil
8 cups chicken or vegetable broth
¼ cup cream sherry
Kosher salt and black pepper to taste
½ cup heavy cream
Put all the yams in the oven at 425 degrees on a baking sheet or in a casserole. Bake until they are soft all the way through, about an hour. Meanwhile, chop red bell pepper, shallots, garlic and chiles in food processor until coarsely minced. Heat the oil in a skillet over medium high heat and saute the minced vegetables until they are beginning to brown.
Remove the baked yams from the over. When they're cool enough to touch, scoop the insides out and put into a soup pot and cover with the broth. Bring to a boil and reduce to simmer. When the potatoes are soft, puree the soup with a hand blender or food processor until smooth. Add sherry. Add the sautéed vegetables to the soup. Lower heat. Whisk in cream and adjust seasonings as desired.
Makes 2.5 quarts.