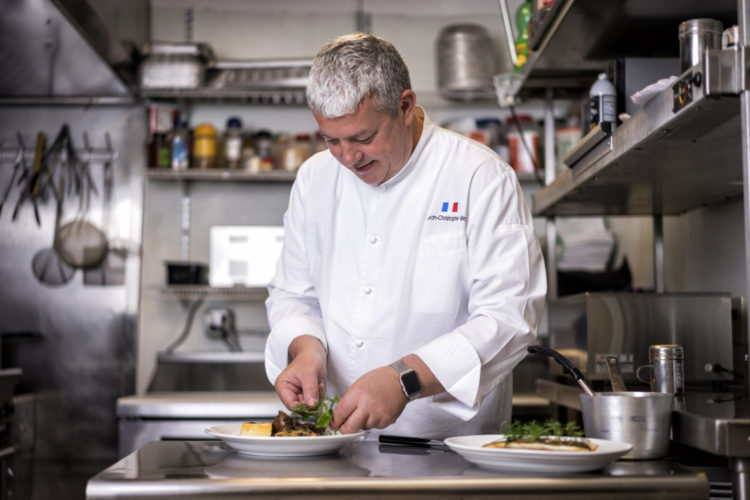 Get to know Chef Jean-Christophe of Scottsdale's Voila French Bistro.
How did you get your start in the culinary world?
When I was a kid, I liked helping my mom cook. When I was 15, she helped get me a one-week internship in a professional kitchen. The next year I enrolled in culinary school in eastern France where I was living and have been cooking ever since. Going on 35 years!
What is the most rewarding part of your career? What about the biggest challenge?
The most rewarding part of my career was to work with Michelin-starred chefs. One of the most challenging things of my career was to organize a wedding from a distance. I was living in Vosges, the northeast part of France and the wedding was in Provence in the south. I had to travel on a plane with all the food, then cook and prepare for the wedding in a kitchen that I had never seen or worked in before.
For those who haven't visited Voila French Bistro just yet, what can they expect?
They can expect authentic French food because I am French and have been working in kitchens in France since I was 16-years-old including Michelin-starred restaurants. Everything we make is done from scratch in the traditional way. Guests will discover a cozy dining room with white tablecloths with "French service." We aim to let our guests relax, have a leisurely meal if they like and take the best care of them.
Do you get back to France often? 
 We go back to France once a year, in July, to visit all our family.
In what ways have to had to adapt your French recipes for the local clientele, if at all?
I didn't adapt anything as I stay 100 percent to my French roots and recipes. When I need something special like Herbs de Provences or Espelette pepper, I find an importer to bring them from France. In the beginning, it took me time to find importers who would help me get the specific items I was looking for.
What is the greatest compliment a diner has given you?
 "We don't need to go to France as we now feel like we have been there by being at Voila."
You work with your wife, Ségolène—what is your secret to success in business and in love?
Both of us are passionate by our jobs, and we love to share French food tradition or my food creations such as the duck burger with our guests. We also complement each other as Ségolène works the front of the restaurant  on the floor and I am in the kitchen. We have been working together for  more than 20 years now. We understand each other as it is not an easy job for the family since we work late, on weekends, nights etc.