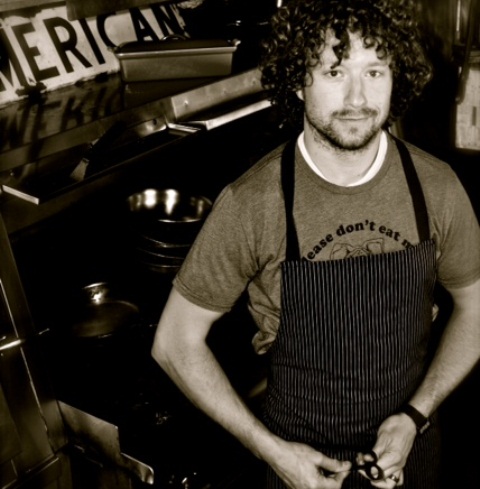 Now that 2013 is upon us, it is time to talk food trends for the coming year. One of favorite local chefs, Payton Curry of Scottsdale's Brat Haus, names 10 trends, quite frankly and interestingly, to keep an eye out for once the ball drops at midnight.
1. Whole-Animal Bundling
It's not a trend–it's the way we used to feed large armies. Restaurants are able to reduce costs significantly when utilizing the whole animal bundle. It's like a catering tasting menu, if you will. Small family farms are able to support programs like this because we as cooks are not after a single specific cut of meat. We are able to purchase the entire animal (no labor in fabrication) at a lower cost to us and the diner. Independently owned and operated restaurants in the Valley are already picking up on this and many are feeding these animals their spent breads, vegetables, etc.
2. Farm to Fable Lawsuits
Small farmers will be getting their street cred here by not allowing large corporate farms to hit their buzzwords. Terms like all-natural, natural, organic, artisanal, local will be under extreme scrutiny as consumers will be asking what zip code their honey came from and what does "all-natural" really mean.
3. GMO<LOL
Consumers will start to go against the purchasing of products they were once comfortable with in terms of their convenience and "availability." People are starting to feel cheated in this department. It creates a state of hysteria, to be honest. I see people at the farmers' markets trying to trust their farmers and question the terroir in which it was grown.
4. Small Town Large Impact
Small town family farms will become the new Big Impact. These concrete rich cities will lose a few lawyers and soctors to the lay of the land. Career changers will be drifting back towards the small family farm and away from the corner store near Union Square of their city. Going back to the roots.
5. Juicing Up
If you haven't purchased stock in Vita-Mix you should do so now. Juicing is the new steaming and for the right reason. Nutrient density. Wheatgrass will always be in the picture; however, the mainframe will shift. And for good reason. Consumers who once threw away the beautiful beet greens, turnip greens, etc. will understand why its cheaper to by locally. Because you can use the whole damn thing. It's becoming smart to buy from the start.
6. Fleurish de Sel
Salt is not bad for you. Like your wine, anything is great in moderation. Consumers will start to look into the metals, minerals, etc. and start using salts as medicine. Kosher salt is cheapening your food.
7. The Next Food Network Bar
New standards and new shows focused on people and their food. Not the food and, oh, there's people. Get the frosted tips and the large bling watches off of the cooking shows. This doesn't do our industry any justice. Make dinner, not actors.
8. Constitutional Greens
Mustard greens, spigarello, chard and such will becoming the new kale. Fiber is your friend and so is changing up your juicing plan. Stop rabe'ing yourself from other great winter greens.
9. Veg-Get-Tables
Vegetable entrees will start to take over the mainstage with Uncle Hal Itosis. Artisan grains, legumes, etc. will be shifting the menus across the nation and you will see the relief on the three little pigs.
10. Food-ease
Dishes will be less manipulated and contrived and the ease of the dish starts with the baby carrots and carrot-top pesto. Get fancy and add goat cheese and pistachios.