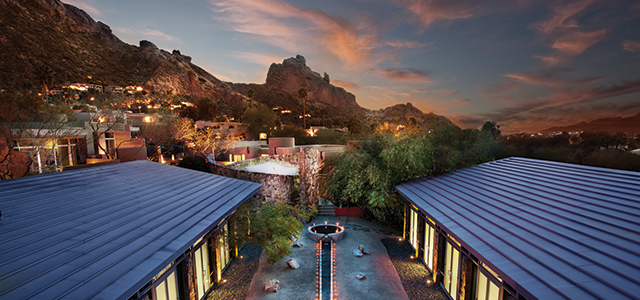 After a holiday season filled with indulgence, January is the perfect time for rejuvenation. Take time for yourself at Sanctuary Camelback Mountain's Asian-inspired spa, where master therapists offer signature specialties like Wild Lime Blossom Massage, the Tao of Golf Massage and Natural Face Lift Facial.
One of the spa's signature specialties is the Golden Lotus Balancing Ritual, a 90-minute service that assists in balancing your yin/yang energy with a herbal blend massaged into your body. This is followed by an acupressure session plus a head and neck release to melt away tension and restore the flow of natural energy.
Mind, Body & Spirit
A complete fitness center features state-of-the-art equipment for working out and a 1,150-square-foot movement studio for yoga, Pilates, indoor cycling, and meditation. Other recreational amenities to enhance a day at Sanctuary Spa include five tennis courts and four pools, including a lap pool and a vast infinity-edge pool.
Perhaps the best exercise at this scenic, 53-acre hideaway on the north slope of Camelback Mountain is enjoying the beautiful surroundings by taking a hike, going for a bike tour, or challenging yourself with some rock climbing.
Before or after a workout or a spa specialty in one of twelve indoor & outdoor treatment rooms, relax in the men's or women's lounge with a steam bath, whirlpool and showers. Featuring distinctive architecture and a breathtaking setting, the secluded meditation garden, reflecting pond and Watsu pool provide a rejuvenating experience.
Special Places at the Spa
When you're seeking a romantic getaway or a private retreat for enjoying treatments together, the Couple's Suite is the perfect spot…featuring a setting of quiet, relaxing intimacy surrounded by the tranquility that characterizes Sanctuary Spa.
Visit the Spa Boutique for products that revitalize the mind, body and spirit. Drop by the salon for a deep conditioning treatment, eyelash extensions or styling service. If you'd like to make an appointment for an Orange Blossom Royal manicure and pedicure while you're there, go right ahead. Then meet your friends for a drink at the resort's jade bar, and show off your new look.
For reservations to enjoy the spa, dining at elements, an overnight stay or any special package at Sanctuary Camelback Mountain — 5700 E. McDonald Drive in Scottsdale — call 855.737.3216 or visit sanctuaryaz.com.