Kimpton Hotels & Restaurants has unveiled a $1 million redesign to the Amara Resort & Spa in Sedona.
Amara Resort & Spa has been renovated to reflect a "modern native" esthetic that fuses elements of classic Native American and Southwestern patterns and designs with a contemporary twist. Basket-making, rope-weaving, rain sticks and turquoise craftsmanship from native Hopi and Navajo tribes decorate the space that features a color palette of green, aubergine, bright marigold and injections of hot fuchsia that complement the surrounding desert landscape and breathtaking red rocks.
"The new look of Amara is contemporary, yet comfortable. It's chic and sophisticated while also being a warm and welcoming place that encourages our guests to socialize and enjoy the beauty and local culture of Sedona," said Patrick Gaskin, general manager of Amara Resort & Spa, in a statement. "From the rich leather accents, Native American-inspired patterned rugs, natural live-edge wood tables, bright magenta statement chairs and a stunning, 10-foot-wide brass cowbell chandelier, the mix of simple and clean with pops of color and surprise really make our living room come alive."
Meanwhile, the common areas have been redesigned to include a living room where guests enjoy complimentary wine hour nightly, the full-service spa, the outdoor lounge and lawn areas and the 26,000-gallon infinity edge saltwater pool that overlooks the serene Oak Creek and red rocks.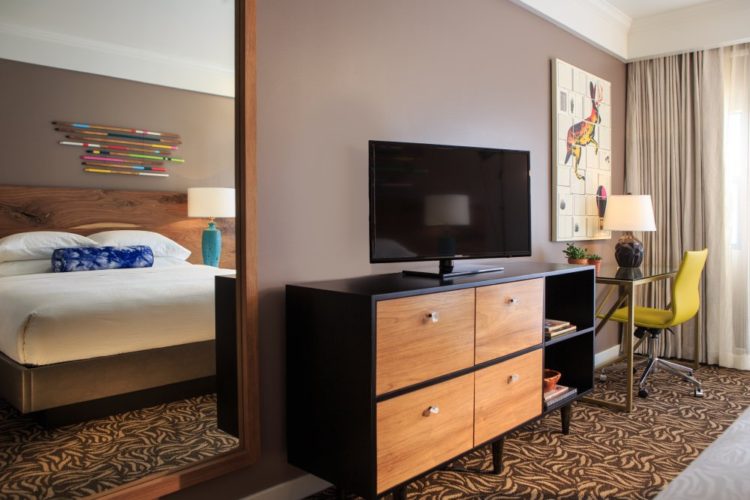 In addition, Amara's full-service, award-winning spa has introduced a variety of treatments that embrace Sedona's natural and spiritual nature, such as the Rain Dance Massage, where lavender, rosemary and sage oils are dripped down the spine and the Soleful Traveler Pedicure, which uses hot stones and local Sedona mud to detox and relax tired feet.

Finally, the highly-anticipated SaltRock restaurant at Amara Resort is slated to open in early September. SaltRock will serve up Southwest-inspired cuisine made with fresh ingredients plucked from around the Southwest and Verde Valley.
The resort is celebrating its new redesign with a "Refresh Your Perspective" discounted rate starting from $195 per night, a 15 percent savings, beginning Sept. 1 through Dec. 30, 2014 (Rate code: Refresh Your Perspective. Valid for Sunday through Thursday stays.)
For more information, please visit www.amararesort.com or call 928-282-4828.