There is no doubt that flying isn't as glamorous as it used to be. So when I travel, I rush through the airport, get to my destination and then proceed to get as far away from the world of air traffic as I possibly can.
Before becoming a frequent traveler, the idea of hotel airports always escaped me. Who would want to stay near the airport? It wasn't until a connection flight in Detroit was cancelled and I was stranded in the city overnight that my appreciation for resorts along the airport runway grew.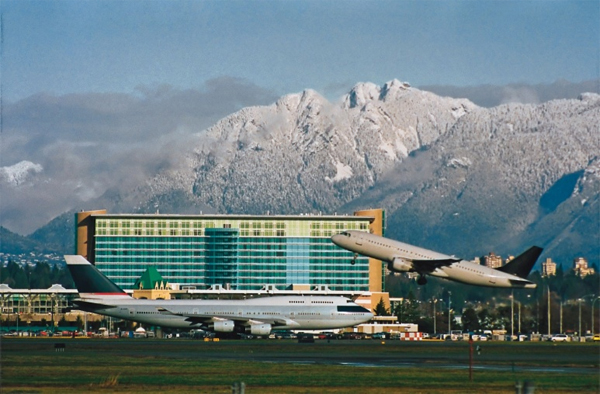 If you are planning flights with connections or visiting British Columbia, The Fairmont Vancouver Airport is certainly a name to have in your contact list. That's because this Fairmont was recently named the Best Airport Hotel in North America.
The distinguished honor was received by the hotel at the 2012 World Airport Awards (who knew?) held in Vienna, Austria.
"All of us at The Fairmont Vancouver Airport are delighted and proud to receive this incredible recognition for the second year in a row" said Craig Reaume, general manager. "Our incredible hotel is supported by an outstanding team of hospitality professionals who exemplify engaging service."
The annual World Airport Survey, performed by Skytrax, collected responses from more than 12 million questionnaires distributed to passengers around the world, representing over 108 nationalities and covering more than 375 airports worldwide. Airline travellers voted for the world's top 10 airport hotels, with over 927,000 guests rating their hotel experiences. Hotel guests nominated their favorite airport hotel based on 16 key performance indicators of their experiences, the criteria including comfort and cleanliness of rooms, standard of food and beverage outlets and hotel staff service quality. The location and ease of transfer between terminal and hotel was also an important item of customer satisfaction.
"In what is probably the most competitive worldwide market for airport accommodation, the Fairmont Vancouver Airport can be rightly proud of their achievement being named Best Airport Hotel North America." said Edward Plaisted of SKYTRAX.
To Learn More
The Fairmont Vancouver Airport, www.fairmont.com/vancouverairport.
.