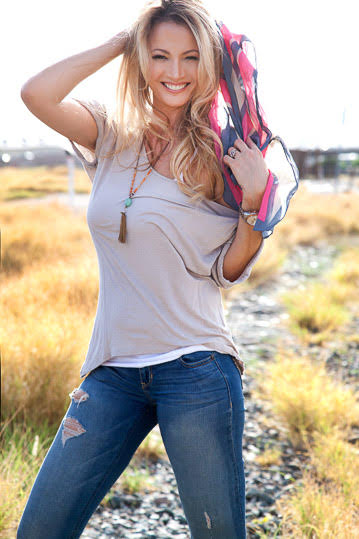 Name: Rosalie Michaels
Age: 46

Title: Model
 and on camera talent

Married/Single: Married

Kids: 2

City you live in: Phoenix
I was born…
in New Jersey, but only lived there about a year. I spent my childhood growing up all over the world!
My favorite thing about Arizona…
after living all over the world, it's the only place that ever felt like "home". I love everything about it. The gorgeous winters, the Arizona Cardinals, the different types of topography, all the great restaurants and nightlife. But if I had to pick one thing, the amazing Arizona sunsets!
I'm listening to…
Foo Fighters.
My family…
consists of not only the people that were chosen for me by blood, but also those I choose for myself. I am lucky to have wonderful people around me that are not just friends, but family.
If I could have dinner with anyone, it would be…
Dave Grohl, and Jon Stewart.
One thing I cannot live without
love…and football!
When I was younger, I wanted to be…
a nun. True story. Until I found out that a nun doesn't have children, and I wanted 10. I did not become a nun, nor did I have 10 children!
I'm inspired by…
those who don't allow themselves to be victims and succeed despite setbacks and circumstance.
The one person who motivates me is…
my husband, Nick Calderone. He gives me the freedom to do anything, and be anything. It is such a gift!
If I could change anything in the world, it would be…
hatred, and the lack of value of human life. Terrorism, murder, child abuse, rape, hate crimes- all of these would be eradicated if the world were filled with those that treat others as they want to be treated. To love others as they want to be loved.
The perfect day would be…
coffee in the morning on my patio while listening to the birds, Brunch while watching the NFL, then wine and dinner with hubby and Karaoke and laughs with my dearest friends.
My first job was…
Babysitting.

My favorite escape…
Sedona – sitting on the patio on Oak Creek, having a glass of wine. My life…
is filled with fascinating characters….I just haven't figured out the plot yet!
I'm currently working on…
my YouTube channel- Fantasy Girl. It's a channel dedicated to playing Fantasy Football. I give viewers tips on who to pick up, who to start, and bond over the benefits and perils of playing the game.
Always…
let those you love know how much they mean to you.
Never…
believe your own hype. It's okay to have confidence, but don't get so wrapped up in what others see in you that you forget to keep learning and growing. There is always more to learn. There are always more ways to grow.
Favorite Quote…
"It is better to light a candle than to curse the darkness"- Eleanor Roosevelt. If you see a problem, FIX IT, don't just complain about it!
Biggest Dream…
to host my own show on the NFL network, or to work for the Arizona Cardinals in negotiating contracts with players.
My Pet Peeve(s)…
slow drivers in the left lane; people who don't put their shopping carts in the cart bin; smoking with no regard to others around you; drama queens; ridiculous government spending- seriously, if I spent my money the way they do, I would find myself broke, homeless, and starving.
Click here to order a Trendsetters reprint.