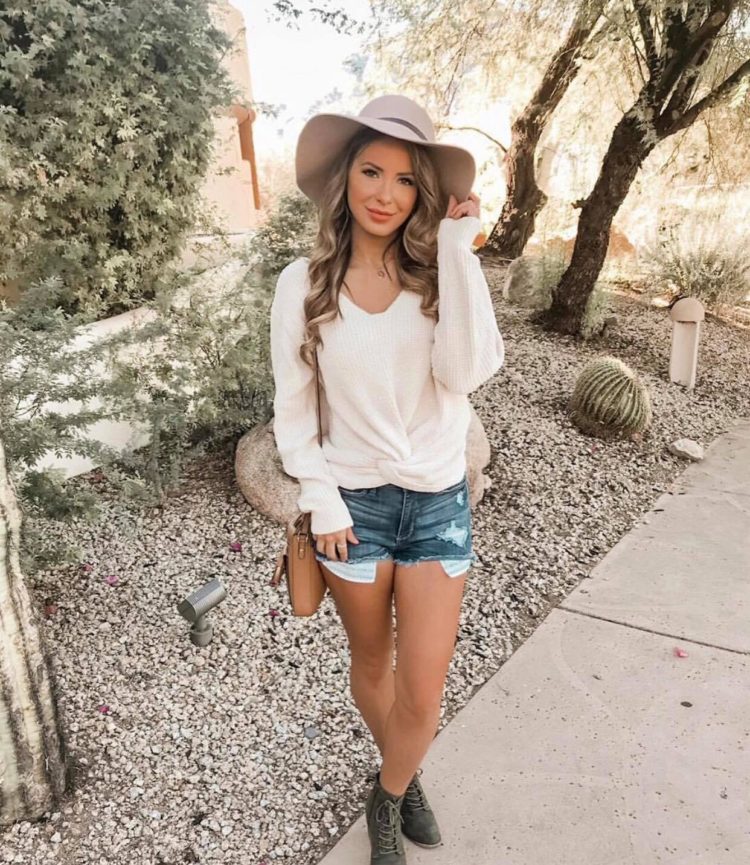 Age: 30
Title: Face of Foothills Finalist, Mommy, Teacher to Students in China, Model, Fashion & Lifestyle Influencer
City you live in: Phoenix
A typical day in my life includes…
waking up around 4am to teach my students who live in China. I teach them online, it's all subjects along with American culture. We share our Holiday's with each other and the view outside our windows. I've seen Shanghai, Beijing and all over China from my students' windows. I find so much joy in Teaching. Then, I get my son ready for Daycare, work on campaigns and collaborations. Then, I workout at the Dailey Method on High Street in Phoenix. A couple days a week I have photo shoots week with Local Boutiques. Every day is vastly different, very hectic but I'm so unbelievably fortunate to be able to do all the things I love.
I was born…
in Indiana.
My favorite thing about Arizona…
I've lived here for over 10 years and I haven't even touched the surface of all the places and things I want to do in this beautiful state! The hiking trails, natural attractions, festivals, there is just so much to do!
I'm listening to…
Drew Barrymore by Bryce Vine. On repeat.
My family…
is incredibly important to me.
If I could have dinner with anyone, it would be…
Ellen Degeneres.
One thing I cannot live without…
Coffee… I CANNOT live without coffee. #caffeinequeen
When I was younger, I wanted to be…
a teacher; I've always wanted to be a teacher.
I'm inspired by…
watching Goal Cast video's. When I have self-doubt or uncertainty, I watch inspirational videos.
The one person who motivates me is…
my son. Being a mommy has given me a different perspective on life.
If I could change anything in the world, it would be…
for every person to do one thing a day to help make someone else's life better. A small act of kindness, every day…
The perfect day would be…
my family and my friends going to Disney World (with fast passes, of course).
My first job was…
Subway.. Sandwich Artist at your service. I can roll up a Subway sandwich like nobody's business.
My favorite escape…
a Paulo Caelho book.
My life…
is full of amazing people, adventures, memories, love and dreams. Also full of my best friend saying, " you did what?!?".
Always…
pizza.. I have a serious love for pizza
I'm currently working on…
two collaborations, a blog post and teaching my son his ABC'S. Whew…
Never…
care what other's think of you. You do not owe anyone an explanation of who you are or your dreams. This is your life, live it how YOU want to!
Favorite Quote…
"Your need for acceptance can make you invisible in this world. Don't let anything stand in the way of the light that shines through this form. Risk being seen in all of your glory." – Jim Carrey
Biggest Dream…
Whenever anyone asks me this question, I often think back to a speech from Tim Minchin. He says, "I advocate passionate dedication to the pursuit of short-term goals. Be micro-ambitious. Put your head down and work with pride on whatever is in front of you… you never know where you might end up. Just be aware that the next worthy pursuit will probably appear in your periphery. Which is why you should be careful of long-term dreams. If you focus too far in front of you, you won't see the shiny thing out the corner of your eye." My dream is to live a life of fulfillment, to make positive changes in other's lives, to give my son the best childhood and teach him everything I know, to never let the fear of practicality stop me from going after what I want and to somehow in my own way, make this world a better place. That is my dream.
My Pet Peeve(s)…
coffee grounds in my coffee (makes me cringe), the volume being on an odd number, slow wi-fi, hard cookies and while I am on the topic of cookies…someone please explain to me why I can only buy Girl Scout cookies once a year?!
Summarize yourself in one sentence…
a Cool Mom, Entrepreneur, Teacher, who is loves puns, has questionable dance moves and drinks an endless amount of coffee.