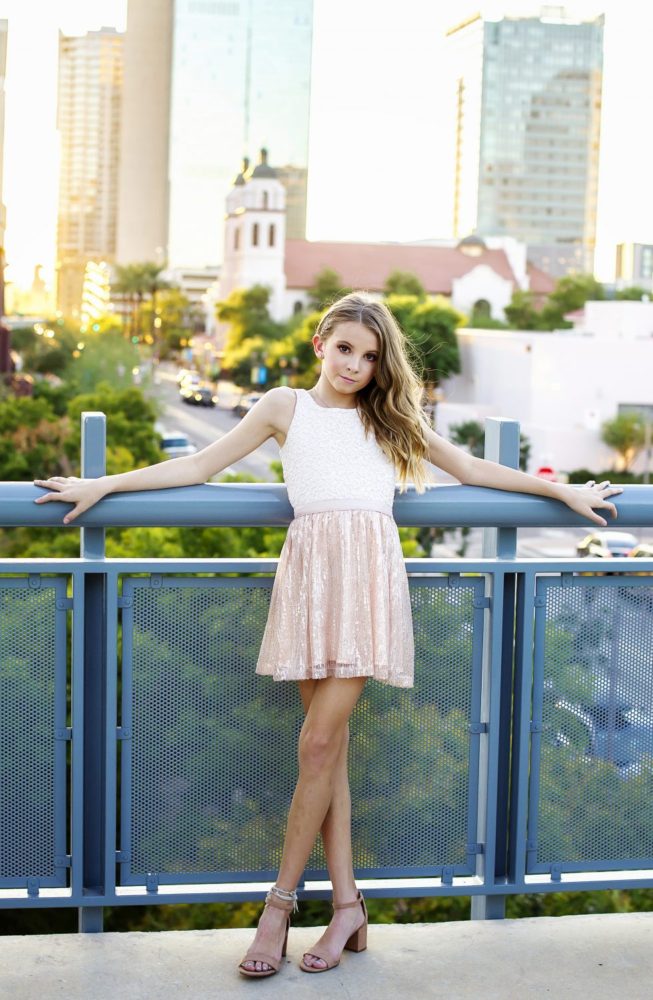 Name: Brianna LeBeau
Title: Junior Face of Foothills 2019 Top Ten Finalist
Age: 11
A typical day in my life includes…
wake up, school, cheer, repeat.
I was born…
in Glendale Arizona.
My favorite thing about Arizona…
when it gets cold, all the lakes, there is so much to do outdoors and a lot of great staycation resorts.
I'm listening to…
country music.
My family…
I love them so much. I have two older sisters, Alexandria and Alyssa, and two older brothers, David and Derek, plus four dogs.
If I could have dinner with anyone, it would be…
definitely Larry Fitzgerald.
One thing I cannot live without…
my family.
When I grow up, I want to be…
a model, a Dallas Cowboy Cheerleader and a Rheumatologist.
I'm inspired by…
my family.
I love to…
cheer, go quading and boating, be outside, model, sing, pageants, fashion shows and go to Cardinals games.
The one person who motivates me…
Larry Fitzgerald – not only is he an amazing football player and person but he does so much for his community.
The perfect day would be…
to go to Bora Bora.
My favorite thing about myself…
I've had Junvenile Idiopathic Arthritis since I was just 16 months old, and I have Uveitis in my eyes. I am so thankful to be able to walk again and be active, not many kids with JIA can do that. Every good day is a blessing.
My life…
is fun and exciting.
I'm currently working on…
my two cheer teams with California All Stars and preparing for my very first pageant with USA National Miss Arizona.
Always…
Smile, be kind and try your best.
Never…
give up.
Favorite quote…
"Leave a little sparkle wherever you go".
Biggest Dream…
to win Summit and Worlds with my cheer teams, meet Larry Fitzgerald, become Miss Arizona and someday maybe even Miss America.

Click here to order a Trendsetters wall plaque.