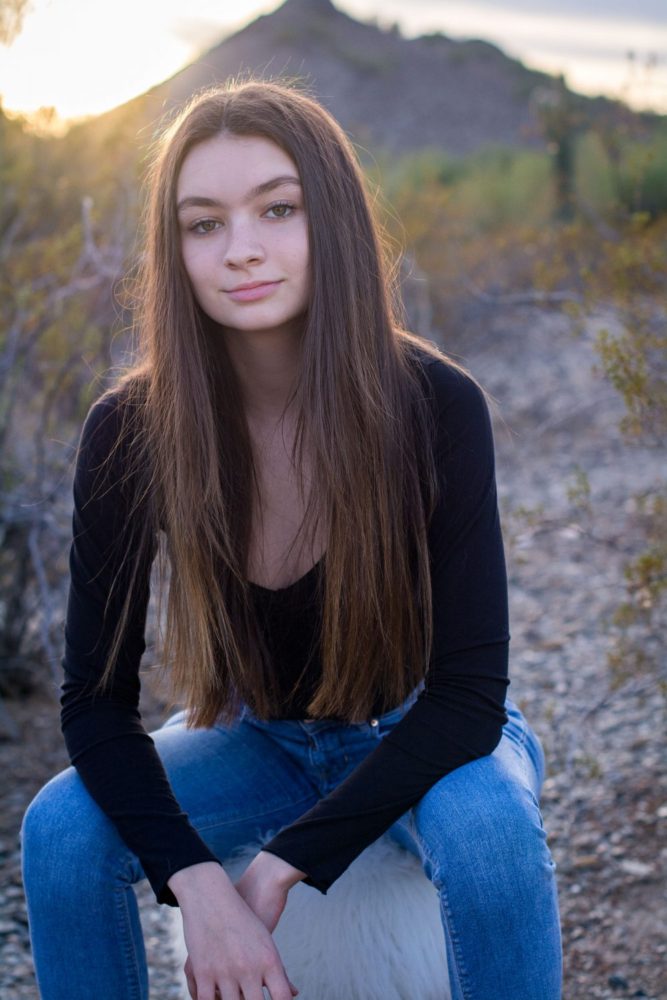 Name: Emily Diab
Age: 15
Title: Face of Foothills Finalist
Married/Single: single
Kids: 0
City you live in: Buckeye
A typical day in my life includes… 
getting up super early (sigh) and going to school, after school I finish my homework and then I meet up with my friends at the gym and we always get acai bowls after!
I was born… 
in Chicago in 2002.
My favorite thing about Arizona… 
the weather and the vibes.
I'm listening to… 
Jazz Vibes playlist on Spotify.
My family… 
means the world to me and we always have funny stories to tell.
If I could have dinner with anyone, it would be… 
Ellen Degeneres because I love her humor and personality, I was talking about her after I got my wisdom teeth out and still under anesthesia.
One thing I cannot live without… 
moisturizer, sorry if you see me without it.
When I was younger, I wanted to be… 
a Joann Fabrics worker (long story).
I'm inspired by… 
Kaia Gerber.
The one person who motivates me is… 
my mom because she works so hard.
If I could change anything in the world, it would be… 
that everyone is KIND to one another.
The perfect day would be… 
waking up and eating a good breakfast then meeting up with some friends in a cool area and have a photoshoot. After that I would come home and play guitar for my dog Bailey.
My first job was… 
babysitting.
My favorite escape… 
playing guitar and singing.
My life… 
is very exciting and adventurous.
I'm currently working on… 
my social media skills and learning more songs on the guitar.
Always… 
have GRATTITUDE.
Never… 
think you are not enough.
Favorite Quote… 
"Sometimes you have to shatter the mirror in you to see all the pieces that make you BEAUTIFUL" – Robert M. Drake.
Biggest Dream… 
becoming a full time model.
My Pet Peeve…
when people chew with their mouth open (like nails on a chalkboard).