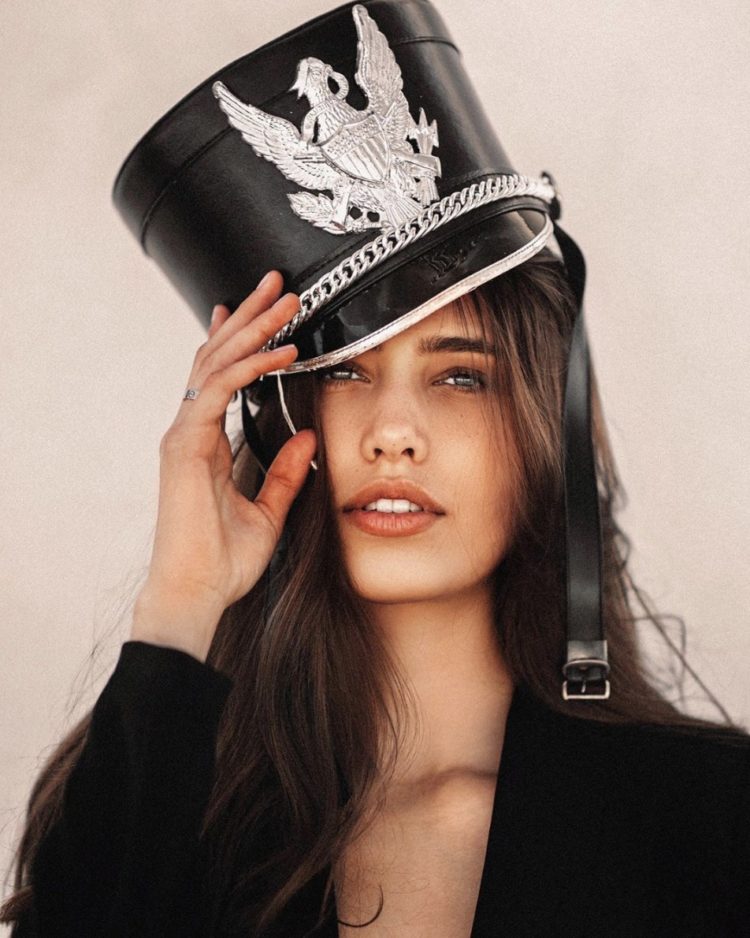 Name: Erica Honing
Age: 18
Title: Professional Model
Married/Single: Single
Kids: None
City you live in: I split my time between Los Angeles and Cave Creek, Arizona.
A typical day in my life includes…
if I get a day off from modeling, the first thing I do is make my latte and a yummy breakfast, like a veggie omelet, oatmeal, or Greek yogurt with berries. While I eat, I answer my emails and scroll through Instagram. I then do a workout, whether it's a hike, boxing, barre class, or training with AZ Fit Pro. After a good workout, I will work on schoolwork for a couple hours. I'm currently finishing my senior year in high school online, and I take college courses at ASU Online! I like to spend time with friends and family on my days off, going shopping, baking in the kitchen, or trying new restaurants. Recently I've been obsessed with my air fryer and have been trying new healthy recipes from Pinterest every single day.
I was born…
in Scottsdale, AZ. Fun Fact: I was delivered by my dad, who is a doctor, so he decided to name me after him. His name is Eric!
My favorite thing about Arizona…
is the sunny and hot weather. I actually LOVE the heat and you can always find me laying in the sun, catching my natural dose of vitamin D.
I'm listening to…
a little bit of everything! I typically have lofi hip hop music on when I'm studying or doing things around my house. It's so calming and keeps me motivated! Additionally, I love pop and r&b music!
My family…
is my everything! We are all so close and love to travel around the world. We have a bucket list of places we all want to travel to, recently checking off Prague, Switzerland, Scotland, Ireland, Munich, and many more. I'm the middle child of three, with an older brother and younger sister. I definitely have the coolest and most supportive parents anyone could ask for!
If I could have dinner with anyone, it would be…
Blake Lively! She's such an inspiring woman and seems like the sweetest person ever!
One thing I cannot live without…
is caffeine. Seriously, I look forward to drinking my cup of coffee every morning!
When I was younger, I wanted to be…
a professional dancer and performer. I danced for 12 years, starting when I was 3 years old, but I took a break when I was 16 because I had started to travel a lot for modeling. I've always had a dream to be on Broadway though and be able to perform in a musical. I would always be singing songs from Annie when I was younger and putting on shows for my family.
I'm inspired by…
positive and hard workers!
The one person who motivates me is…
my mama! She is energetic, positive, and always encourages me to do my best. She keeps me going and reminds me every day to be thankful for the life I'm blessed with.
If I could change anything in the world, it would be…
mental health awareness. I feel that this topic isn't addressed as seriously as it should be. I would change the accessibility to support groups.
The perfect day would be…
taking a spontaneous trip to a tropical island with my best friends! We would tan on the beach, eat fresh fruit, and drink authentic coconut water.
My first job was…
modeling clothes for Dillard's on a telecast.
My favorite escape…
is the kitchen! I really enjoy making meals for my family and friends!
My life…
is busy, but entertaining and rewarding.
I'm currently working on…
starting a degree in dental hygiene!
Always…
be kind and find a way to make connections. As a model, I've discovered that connections are essential and can lead to more opportunities.
Never…
turn down the opportunity to work with creative people.
Favorite Quote…
"Everything happens for a reason!"
Biggest Dream…
would be to walk in London, New York, Paris, or Milan Fashion Week, for any major designers! It would be a privilege to walk for any well-known brands!
My Pet Peeve(s)…
are when people eat food off my plate without asking first and people who are chronically late. Those are my biggest no-nos!