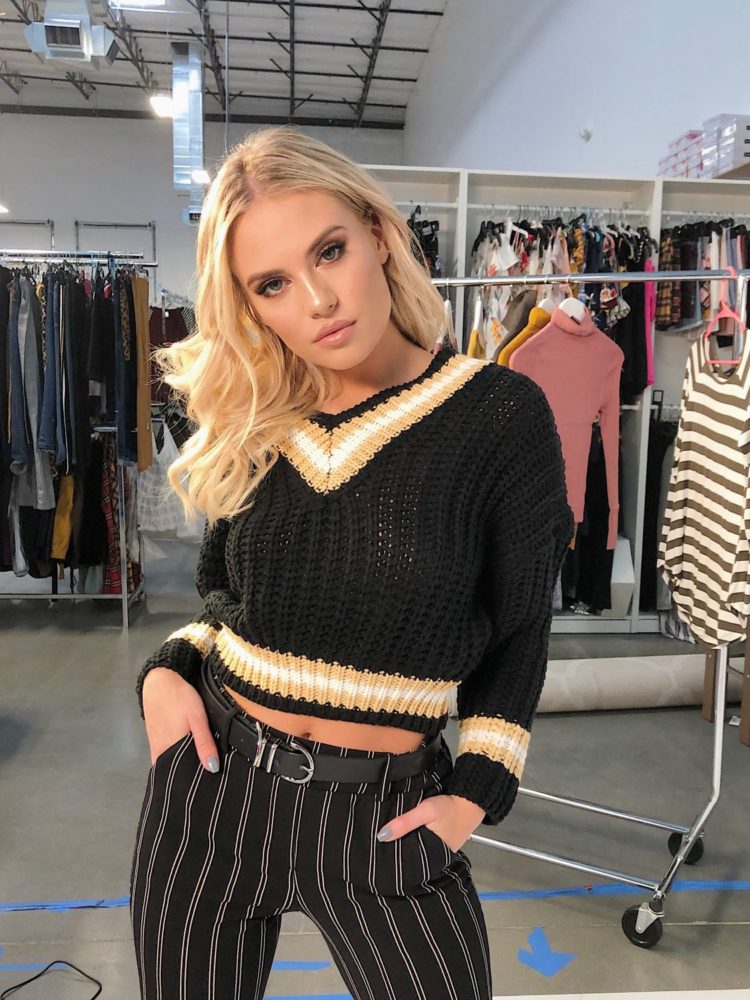 Name: Claire Stewart
Age: 24
Title: Freelance fashion model and Lifestyle Blogger
Married/Single: in a relationship.
Kids: just a baby French bulldog named Butter but he requires so much attention that he could fall into this category.
City you live in: Scottsdale
A typical day in my life includes…
a little bit of everything. There is a perfect order of disorder in my life. That's the beauty of freelance work and being your own boss. No two days are the same. My busiest day would be up at the crack of dawn and off to EXOS for a workout. Then I'd head to work, be sitting in hair and makeup by 8:30 a.m. followed by a full day of shooting. Usually I'm home by 5p and at the Gila River Arena by 7p to watch Arizona Coyotes hockey. A slow day would still include a workout, a meditation, a social media binge and some sort of culinary masterpiece (handmade or ordered). My life has a balance of both.
I was born…
in Canada, one hour outside of Toronto, in Guelph, Ontario.
My favorite thing about Arizona…
the natural beauty. I can never take my eyes off of the mountains (even when I am driving on the 101).
I'm listening to…
my Frenchie snort and snore as he sleeps on my feet.
My family…
doesn't even look or act like neighbors. We are all so unique, with a multitude of characteristics (both physical and behavioral). It always makes for fun conversation at the dinner table, since our days are all so vastly different. I'm the second of four children – two girls, two boys and two brilliant parents.
If I could have dinner with anyone, it would be…
my 7-year-old self. I'd love to check in with my inner child and see her giggle at her future self.
One thing I cannot live without…
love. It's all that matters!
When I was younger, I wanted to be…
famous for ANYTHING. A famous baker, a famous flamingo farmer, a famous stay at home mom.
I'm inspired by…
my mom. She raised four kids all two years apart and made it look easy. I've never seen her back down from a challenge or admit that she's afraid. Above all, she's never been known to care about what other people think.
The one person who motivates me is…
my boyfriend. His kindness and generosity by nature is something that cannot be explained in words. He motivates me to always do the right thing and for the right reasons. From day one he's encouraged me to be my best self and because of him, I am. I thank God every day for him.
If I could change anything in the world, it would be…
perspective. I wish more people saw the glass half full and the beauty in simplicity. There is always a light at the end of the tunnel, there is always a silver lining.
The perfect day would be…
high in the sky over Cappadocia, Turkey in a hot air balloon.
My first job was…
as a hostess at a restaurant in my home town. I eventually moved onto bartending and remained there throughout University.
My favorite escape…
Disneyland!
My life…
is truly blessed. Sometimes I can't believe it belongs to me!
I'm currently working on…
launching my own website to express all things Claire. I will share my motivational writing, recipes, travel blogs and beauty tips.
Always…
use your imagination.
Never…
fail to count your blessings.
Favorite Quote…
"Darkness cannot drive out darkness; only light can do that. Hate cannot drive out hate; only love can do that." – Martin Luther King Junior
Biggest Dream…
I have lots of dreams of different things, but they all boil down to my want to inspire as many people as I can in my lifetime. With pure happiness. Happiness for myself and happiness for others. I want nothing more than to live a long and healthy life surrounded by love, learning and teaching.
My Pet Peeve(s)…
negativity.