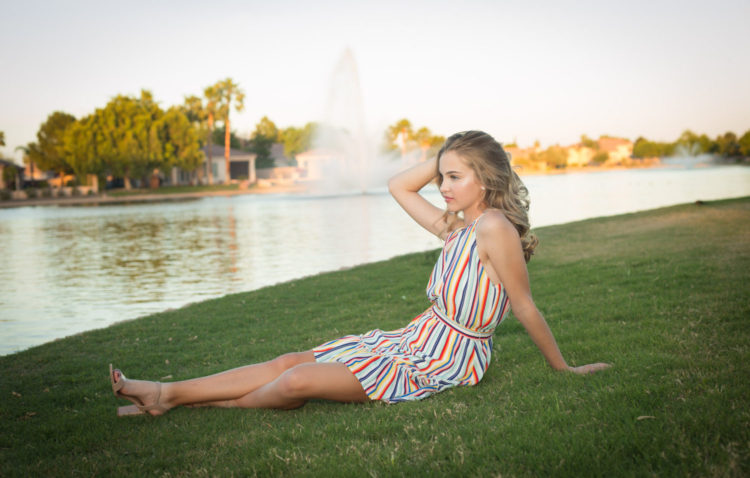 Name: Brooke McGlasson

Facebook
Age: 14
City you live in: Peoria
A typical day in my life includes…
school, family, a golf club in my hands and hanging out with my friends.
I was born…
at Scottsdale Shea Hospital. My original due date was July 4th but I arrived two weeks early. My family still calls me their little firecracker.
My favorite thing about Arizona…
is the weather and the stunning sunrises and sunsets, they just can't be beaten! The year-round access to the many incredible golf courses is a bonus too!
I'm listening to…
Dan + Shay! Currently hoping there is a set of concert tickets underneath the Christmas tree this year.
My family…
is the absolute best. I'm the baby of the family, but many people when they first meet my brother and I think that we are twins. We are 18 ½ months apart and have always been close. He is someone I really admire, I'm lucky to have such a great big brother. He's not your typical crazy, wild teenager, nor does he think I'm his annoying, younger sister, we get along really great. We are a close family that spends a lot of time together. I have the most supportive parents and grandparents. I keep them all very busy between golf and modeling! My dad is from Texas and comes from a very large family. I absolutely love going to our annual family reunions and seeing all our cousins and second cousins because our family is pretty small in Arizona and
it's so great to connect!
If I could have dinner with anyone, it would be…
my list of ideal dinner guests is super long but honestly, I think I would say my Meme (my dad's mom). She passed away from cancer when I was in preschool and she was such a dynamic woman. Being so young at her passing, I sadly just have snippets of memories with her. In listening to stories about her, I know we would have been close and she would have been an influential person in my life today, sadly I missed out on a great relationship with my Grandmother. I hate cancer! I would love the opportunity to have one more day with her to listen to her stories and get to know her more.
One thing I cannot live without…
my golf clubs!
When I was younger, I wanted to be…
a Princess. But honestly, who am I kidding, I still want to be one!
I'm inspired by…
my Uncle D! He faced many challenges in life and suffered for many years with debilitating health issues. His smile lit up the room, he was always so happy when we were together and he took on life with joy and happiness. I miss him terribly since he has passed and he means the world to me. He taught me to live each day to the fullest and inspires me to help others in need and show compassion, grace, and love.
The one person who motivates me is…
my mom without a doubt. We are very close and I can always count on her to listen and guide me through whatever situation. She has always been a great support at helping me work through the challenges of being an athlete, a top student and is
wonderful at giving me advice on how to achieve my dreams. She always seems to know what I'm thinking before I say it and is someone I can always depend on.
If I could change anything in the world, it would be…
how people treat others. Between bullying, shootings, road rage and a general lack of disrespect to others, our standard of how we treat one another seem to have been lowered. I haven't been raised like this and I can't comprehend how there is so much senseless hate in this world that only leads to pain. Sadly as we watch the nightly news, we have all become so numb as if this is just the norm now.
The perfect day would be…
shopping with an unlimited credit card at Scottsdale Fashion Square!
My first job was…
when I was 5 years old, acting in a short film titled The Forsaken. My character's name was Aspen and we shot in the most beautiful forests of Flagstaff, surrounded by aspen trees.
My favorite escape…
beach days and anything Disney!
My life…
is non-stop, crazy busy, extremely fun and full of faith. I consider myself very lucky at all that I have available in my life with a solid, supportive, loving family, excellent education and how I have access to do things I love doing. I count my blessing daily.
I'm currently working on… bringing my golf scoring average down so I can achieve my goal of a Division 1 college golf scholarship.
Always…
have golf tan lines, always! You should see me in the summer, woah!
Never…
will I smoke or do drugs. It's tragic what is happening in our country with the severe drug abuse and the fact that kids my age are using drugs and ruining their future is terrible. I want nothing to do with that.
Favorite Quote…
"The question isn't who is going to let me; it's who is going to stop me." – Ayn Rand. I'm a force and if I want something, I go for it!
Biggest Dream…
is to start a company that designs cute, stylish women's golf clothes.
My Pet Peeve(s)…
the entrance of Costco. Come on people, you are entering a store, do not stop and block the flow of others coming in behind you. It happens every time!
Summarize yourself in one sentence… 
I am a mature, determined, positive, respectful leader who sets goals and doesn't stop until I achieve it.