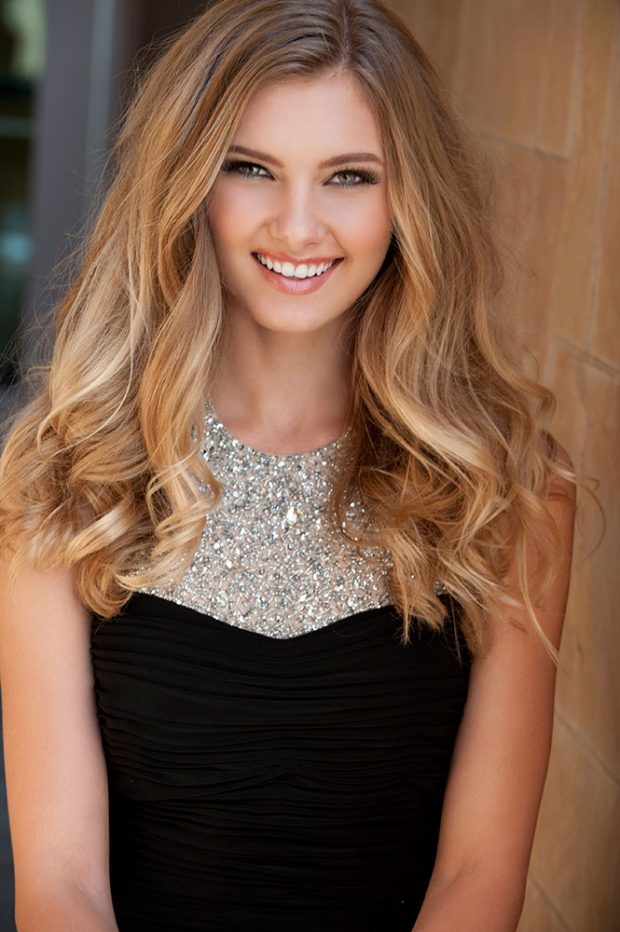 Name: Savannah Wix
Age: 16
Title: Miss Paradise Valley Teen USA
Married/Single: In a relationship
Kids: Not yet
Live: Paradise Valley, AZ
Meet Savannah Wix, involved student at Xavier College Prep, both in socially and with musical theater.  With the Miss Teen AZ pageant approaching, this valley teen will represent her hometown with confidence and pride. Get to know her and read how she finished these 20 sentences.
I was born…
in Phoenix, Arizona in April (so beautiful).
My favorite thing about Arizona…
is the food!!! And sunsets… But really, Scottsdale has some amazing restaurants!
I'm listening to…
Dylan Gardner,  Shae Brock (go check them out, two talented friends of mine!), The Avett Brothers, The Script, Mumford & Sons, or any country music. I also collect vinyls so I love listening to some old  records of Whitney Houston and Elton John.
 My family…
keeps me sane. They're my best friends and my biggest fans.
 If I could have dinner with anyone, it would be…
Kristen Wiig– I am a huge fan. I watched SNL because of her and I can do a pretty good impression of the Target Lady.
One thing I cannot live without…
Talenti Mediterranean Mint gelato. It's dangerous– i would eat the whole pint if someone doesn't stop me.
When I was younger, I wanted to be…
a ballerina (still want to be!).
I'm inspired by…
Taylor Swift. She's someone to look up to for her confidence and style.
The one person who motivates me is…
my sister, Sophie. She encourages me every day to be my best, especially since she's my work-out buddy!
If I could change anything in the world, it would be…
unsafe driving. We need to ensure that drivers are properly educated. Driving can be really scary, especially for someone like me who just got her license.
The perfect day would be…
spent with friends scuba diving and relaxing on the beaches of Maui, Hawaii.
My first job was…
modeling at Ford RBA. I recently signed with them.
My favorite escape…
is The Cloister at Sea Island, Georgia. I just came back from a trip there and it is the most beautiful place. We rode horses on the beach…it was magical.
My life…
has a soundtrack. Music is always on.
I'm currently working on…
competing in the Miss Teen Arizona USA pageant. I competed last year and had so much fun and made lots of friends! My goal is to win this crown this time around.
Always…
make eye contact.
Never…
stop doing what you love.
Favorite Quote…
"People throw rocks at things that shine." -Taylor Swift
Biggest Dream…
to perform on Broadway.
My Pet Peeve(s)…
When girls can't take compliments…You are beautiful! Just take a deep breath, hold back all the self-condescending remarks, and say thank you. Don't doubt yourself.