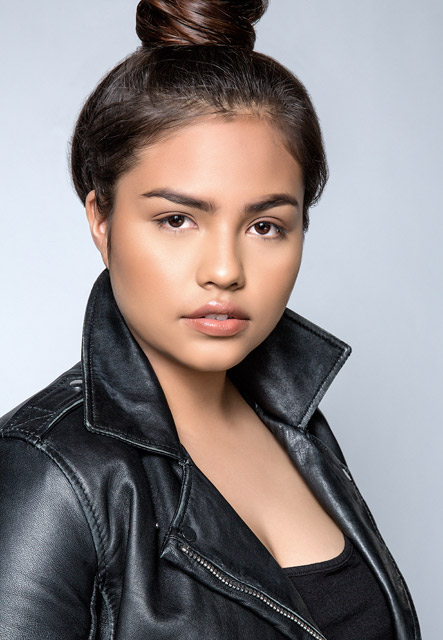 Name:  Alyssa Marie Bonilla
Age: 15
Title: Teen Face of Foothills Finalist
City you live in: Bylas
A typical day in my life includes…
school, sports, reading and watching The Office on Netflix.
I was born…
July 18, 2003 in Phoenix, AZ.
My favorite thing about Arizona…
I love everything about Arizona, well except the HOT weather but the winter weather makes up for it. But the scenery in Arizona is beautiful no matter where you're at.
I'm listening to…
"Thank You, Next" by Arianna Grande or as my friends and I would say "ah'ih'yeh" which means "next" in our Apache language, haha.
My family…
consists of my parents, older sister, younger sister and two younger brothers. They can all be crazy…but I love them all.
If I could have dinner with anyone, it would be…
Liza Koshy! She just seems like a down to earth person and loves laughter.
One thing I cannot live without…
cats, haha. I just love cats.
When I was younger, I wanted to be…
oh so many things, from a teacher to a doctor, then a vet to becoming an actress. My mind is always changing.
I'm inspired by…
Liza Koshy. I love how she's comfortable with just being herself and making hilarious videos that make my day.
The one person who motivates me is…
my mom! My mom is always there for me when it comes to school, sports and acting/modeling. She is the one person that will drop anything and everything for my siblings and I.
If I could change anything in the world, it would be… 
a cleaner environment. God gave us this world and we should take care of her.
The perfect day would be…
curled up in bed with a soft blanket on a cold rainy day with a good book or a great movie.
My first job was…
babysitting my little cousin during the summer.
My favorite escape…
listening to music. Music can sooth the soul and put me at peace.
My life…
is full of all kinds of surprises, I never know what to expect.
Always…
put God first, live your life to the fullest and never stop loving your family.
I'm currently working on…
keeping up with school work and maintaining straight A's. College is just around the corner.
Always…
be positive and face the world with a smile.
Never…
give up!
Favorite Quote…
"Kanye attitude with Drake feelings", that is pretty much my mood at times.
Biggest Dream…
being able to help out my San Carlos Apache Tribe in any way possible, from a playground to a library in our Bylas community.
My Pet Peeve(s)…
hmm, when people try to talk to me when I have my headphones on..haha.
Summarize yourself in one sentence… 
this is a tough one, because I have a hard time talking about myself, but from what my mom has told me many times "I am a beautiful, strong minded, independent, humble and brave Apache girl".