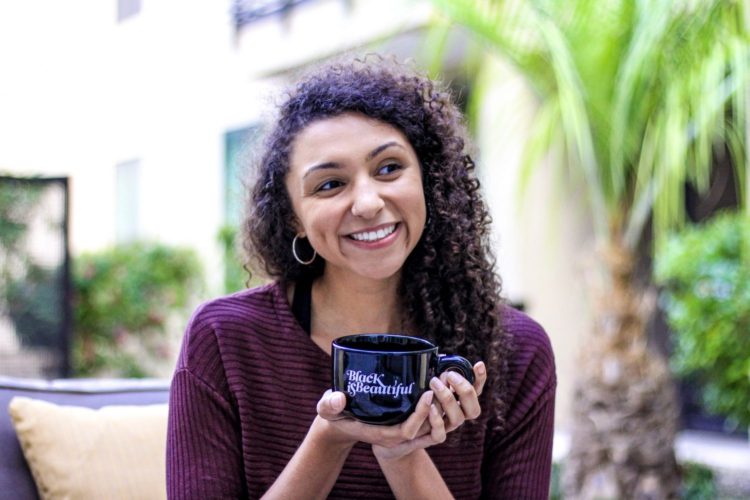 Name: Shelby Lawson
Age: 24 years old in age, 70 years old in the amount of sleep I need
Title: Founder and Director of BloomFit Training
Married/Single: in a loving and supportive relationship with myself
Kids: nope, I can't even keep my houseplants alive
City you live in: Phoenix, AZ
A typical day in my life includes…
depends on the day! Sometimes I post up at a coffee shop with my Aunt/coworker who also runs her own organization. Fair Trade Café is our fave (you gotta try their PB cookies). Other times I am facilitating conversations with groups about light and easy stuff like body image, race, diversity, and unconscious bias. Sometimes I spend the day at my swanky co-working space in downtown Phoenix – The Department. Whatever it is, it always includes coffee (a latte with oat milk if you have it, please).
I was born…
in Mesa, AZ. My mom was born in Dusseldorf, Germany and I was always salty that she was born somewhere cooler than me.
My favorite thing about Arizona…
I know it's cliché but the sunshine. I keep a gratitude journal and that always makes the list.
I'm listening to…
India Arie these days! She is the queen of self-love ballads. Go listen to her song "Video" for a reminder that you're a queen.
My family…
is all over the place. Phoenix, Tacoma, Washington DC, Maryland, Germany, Switzerland…
If I could have dinner with anyone, it would be…
my great-great-great-grandmother. I'd be interested in hearing what life was like for her. I'd love to tell about her how far we've come as a society and the work that so many people are doing to push us further. I'd also get a kick out of trying to describe social media to her.
One thing I cannot live without…
friends. And candles.
When I was younger, I wanted to be…
a prima ballerina. And a vet – but just so I could pet kittens all day.
I'm inspired by…
people really just doing them 110% and making the world a better place in the process.
The one person who motivates me is…
all of the amazing women in my life that are running their own businesses, getting degrees, raising little humans and just kicking ass in every way.
If I could change anything in the world, it would be…
this idea planted in us that we're not enough as we are – that we need to be/look like someone else. It makes me so mad to think about how much time I have wasted doubting my own potential and unique beauty.
The perfect day would be…
hanging with all my loved ones on a beach in the sunshine, eating good food, laughing.
My first job was…
dance choreographer for a theater troupe of adults with mental and physical disabilities.
My favorite escape…
my room with candles burning and a good book.
My life…
is so much fun. I am truly grateful for every moment, every relationship, and every opportunity. I had no idea that I could talk to people about loving themselves and creating a more loving society for a LIVING.
I'm currently working on…
first, creating a framework to work with companies in the fitness and wellness industry on D&I initiatives. Second, launching a website with social media services for women business owners.
Always…
eat the cookie.
Never…
doubt your unique beauty and the light you bring to the world. We need you. All of you.
Favorite Quote…
"Love and justice are not two. Without individual change, there can be no collective change. Without collective change, no change matters." – Rev. Angel Kyodo Williams.
Biggest Dream…
currently I want to work with athletic apparel brands (lululemon, Nike, Athleta, etc) and with gyms around the US to create an inclusive and welcoming fitness industry for every body.
My Pet Peeve(s)…
the negative voice in my head (I call her Regina). She doesn't pop up as much these days, but when she does, I thank her for her input and gently tell her to f*ck off.
More about Shelby…
I am a yogini, social media strategist, & cookie enthusiast (chocolate chip is my fave). I am also the founder and director of BloomFit Training, a company dedicated to making the fitness industry more body positive & inclusive.
Through workshops & trainings, we facilitate honest conversation and critical self-reflection on the topics of body positivity, diversity and inclusion with fitness professionals, gyms, & fitness apparel brands. I believe that by starting uncomfortable conversations and looking at our relationship with ourselves we can create a more just society.

Click here to order a Trendsetters wall plaque.