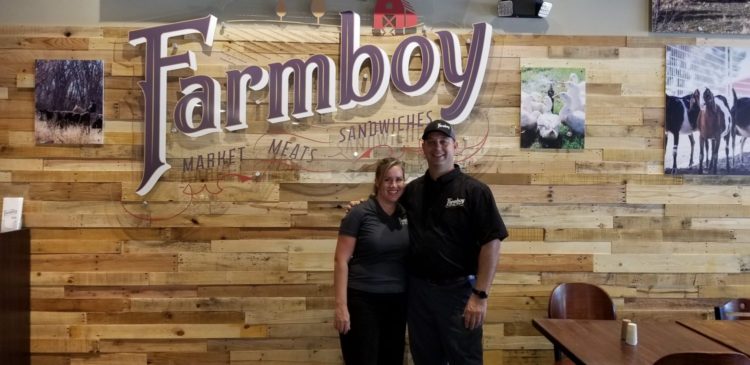 Name: Oren Molovinsky
Age: 46
Title: COO and Owner of Farmboy: Market, Meats, Sandwiches
Married/Single: Married
Kids: 5
City you live in: Gilbert
I was born… 
in Silver Spring, MD.
My favorite thing about Arizona… 
the climate (much better than east coast humidity).
I'm listening to… 
Aretha Franklin, Amazing Grace.
My family… 
are farmers and tinkerers. My oldest is at ASU Polytech, then four throughout middle and elementary school.
If I could have dinner with anyone, it would be… 
Bruce Springsteen.
One thing I cannot live without… 
is great food.
When I was younger, I wanted to be…  
a father and a basketball coach.
I'm inspired by…
self-made entrepreneurs. 
The one person who motivates me is…. 
Winston Churchill in spirit.
 If I could change anything in the world, it would be…. 
to improve our collective health with good food and agriculture.
The perfect day would be…. 
hiking with the family, then having some incredible barbecue.
My first job was…. 
a dishwasher at Jerry's Subs and Pizza.
My favorite escape…  
is manual labor at the farm.
My life…. 
I embrace the struggle, enjoy hard work, and love to learn from others…especially from my family.  I'm trying to do my part to leave it better than I found it.
I'm currently working on…   
building a facility on our farm so we can produce more pasture-raised chickens/eggs.  Ensuring that Farmboy has a great future for my family and our team.
Always…. 
smile, be positive, be humble, and persevere.
Never…. 
give up, slow down, or have a sense of entitlement.
Favorite Quote…. 
"When you're going through hell; keep going."  – Winston Churchill
Biggest Dream…. 
making family farms financially sustainable.
My Pet Peeve(s)….  
having to ask someone to finish what they started. Being lectured. Being lied to.