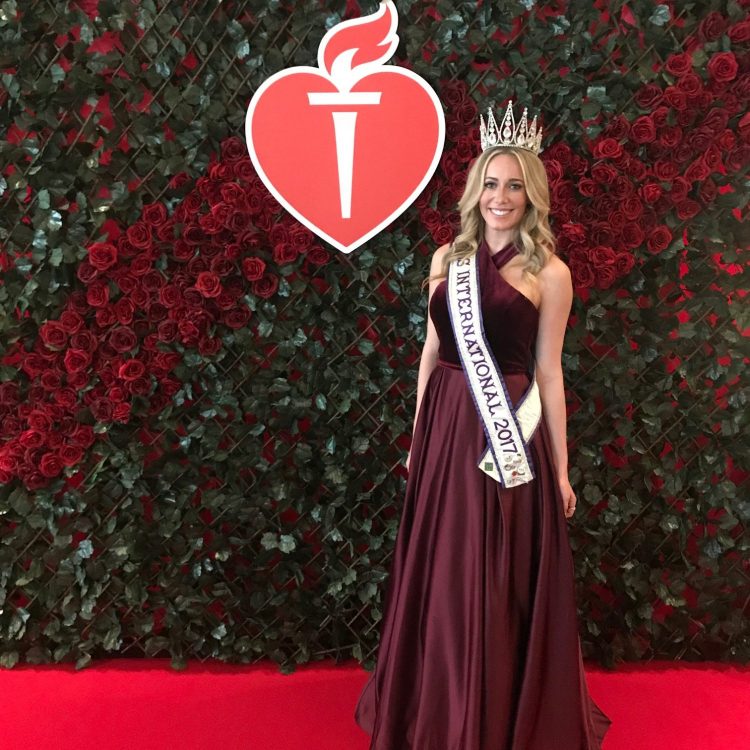 Name: Kelsey Craft
Age: 26
Title: Miss International 2017
Married/Single: Single. I wouldn't be able to do a "Miss" pageant if I was married 😉
Kids: N/A
City you live in: Estero, FL
A typical day in my life includes… 
for the past year I have not had a single "typical day". Traveling to 50 states in one year while maintaining a job as a physicians assistant has been quite the adventure. However, if I am home I wake up early, go to work at a urology office, do some form of exercise and then go home to do laundry and start packing my next suitcase.
I was born… 
in Anchorage, AK. It's also really unique that I was born at home, not in a hospital.
My favorite thing about Arizona… 
who doesn't love the Grand Canyon and Sedona? The Arizona environment urges people to be outside exploring! As an extra bonus, Arizona has In-N-Out Burger and Dutch Bros Coffee (neither of which are in Florida yet).
I'm listening to…
I'm currently "listening" to the safety announcement on an airplane headed from Phoenix to Dallas.
My family…
has been unbelievably supportive of my journey as Miss International. They have gone above and beyond to help me with travel arrangements as well as be a part of some of the adventures. If you were able to see the video of my grandma's reaction when I was crowned, it would all make sense how lucky I am to have their love!
If I could have dinner with anyone, it would be…
I would love to have dinner with my entire family. It has been over 10 years since we have all been able to be together. Having a traditional Thanksgiving dinner with them would be a dream come true.
One thing I cannot live without…
I cannot live without regular exercise. I think people really under appreciate how powerful movement can be as a stress relief tactic.
When I was younger, I wanted to be…
as a young girl I'm pretty sure I wanted to be anything and everything. I went through phases of wanting to be an astronaut, professional dancer, anesthesiologist, swim coach… you get the idea.
I'm inspired by…
nature has a way of bringing me peace and inspiration. I'm also inspired by people who go after their dreams with tenacity. The "something from nothing" stories are the most inspiring.
The one person who motivates me is… 
my mother has been my greatest motivation. I always remind myself that if she provided such a wonderful upbringing for me and my brother as a single mom working double shifts, there's no reason I can't work hard and have a happy life.
If I could change anything in the world, it would be…
I would love to see a world where all children are provided access to healthy food choices. Childhood obesity breaks my heart and there is also no reason for a child to go hungry.
The perfect day would be… 
any day I don't have to set an alarm and I can spend time with loved ones outside.
My first job was…
I wanted each job I held to be influential in my career path. My first job was as support staff for individuals with disabilities. Our goal was to offer assistance to promote as much independence in their daily lives as possible. I worked here during every break from college until I became a CNA.
My favorite escape… 
is the mountains. It's an incomparable feeling to be at a viewpoint after climbing for 8 hours. It reminds me that I am a part of something so much bigger than myself.
My life…
is a whirlwind. I just hope that a lead a life that leaves an impact.
I'm currently working on… 
doing things I've always wanted to do. Two hobbies I want to pick up are yoga and kickboxing.
Always…
wash your face before going to bed and always wear a seatbelt.
Never…
say anything behind someone's back that you wouldn't say to their face.
Favorite Quote…
"Your present circumstances don't determine where you can go; they merely determine where you start."- Nido Qubein
Biggest Dream… 
is happening. I dream to lead a happy and healthy life and along the way influence others to do the same.
My Pet Peeve(s)…
I have limited tolerance for people who are passive aggressive. Say what you mean and mean what you say. You get nothing accomplished by mumbling under your breath or making snide remarks.