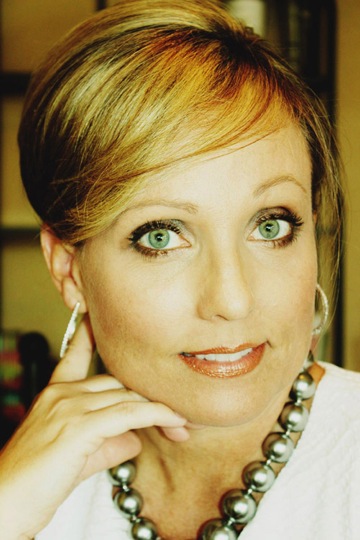 Name: Debbie Accomazzo
Age: 47
Title: Nonprofit Leader / Founder of All About Girls, Inc. / MOM!!
Married/Single: Just celebrated 20 years of wedded bliss on the beaches of Cancun, Mexico!
Kids: A son who is 22 and a daughter, age 17, who will soon graduate high school. They're two of my favorite people, my most demanding bosses, and they're my greatest accomplishment in life.
City you live in: I've lived in Phoenix over 25 years and nested permanently in Moon Valley 11 years ago. It's a unique area and a community of people and places that I absolutely adore – the display of live luminarias every Christmas Eve is spectacular!
A typical day in my life includes…
chasing the dream! With two of us working from home, two kids in and out all day long, and a very loud dog, a typical day is as crazy-busy as it is exciting. If I'm lucky, it will end with us all together for just a few moments – even that darn dog. (Love you, Otis!)
I was born…
and raised in the land of boiled peanuts, sausage balls, and Moon Pies, which happens to be Jackson, Mississippi! I embrace the southern traditions of my family and hopefully demonstrate its charm, just like my mama taught me to.
My favorite thing about Arizona…
monsoon season baby! I also love exploring our spectacular hiking trails and watching those one-of-a-kind sunsets. I once heard a comedian make fun of Arizona saying "all there is to do is sit on a rock and smile" and I actually think that's a pretty cool description – it happens to be one of my favorite pastimes!
I'm listening to…
whatever my kids force me to in the car?? I typically find myself drawn to the singer-songwriter type of artist and I'm actually a little in love with Sam Smith right now. He puts a level of raw emotion into his music that melts this southern girl's heart. Of course, I'll always love those Delta Blues – the grungier and grittier the better!
My family…
puts up quite well with me! We're a tight knit foursome and the number one quality we share is our mutual respect of one another and our ability to always seek the good in and to support one another under any circumstances. Life is messy but with people who love you by your side, it's worth every, single moment.
If I could have dinner with anyone, it would be…
my mother. At the very young age of 46, she succumbed to her battle with breast cancer. At that time I was not yet a fully formed adult and there are so many questions I have for her, about her, and there's so much I'd like to share with her. Mimosas would definitely have to be on the menu. Lots and lots of mimosas.
One thing I cannot live without…
lip gloss! My desert island must haves: lip gloss, clean water, SPF, and bubbles (that you drink, not bathe in). Oh, and toilet paper might be nice.
When I was younger, I wanted to be…
loved. It's pretty simple. Still is.
I'm inspired by…
so many things. I can look at anyone and find inspiration and beauty … ultimately, even those who bring adversity into my life. I'm open to the gifts of the universe and constantly seeking inspiration in others and you can bet, I'll poach from anyone who's willing to share!
The one person who motivates me is…
myself. It has to start within.
If I could change anything in the world, it would be…
cruelty. Humaneness is a gift not always given freely.
The perfect day would be…
dependent on the weather. If it's sunny, I'd like to start with a green smoothie and hit the trails for a long (mildly sweaty) hike with family and friends followed by a cold beer by the pool and some interesting "topic of the day" discussions. If it's rainy, (YES!), a day under a blanket, with a fire simmering, listening to and watching the rain fall, with a favorite book or movie at hand … and of course, my husband sitting next to me, pouring the wine.
My first job was…
over very quickly. Yep. I did a short stint working at McDonald's at age 15. I did an even shorter stint as a waitress at Aunt Chilada's several years later and I was really, really not great as a waitress. (Have you seen how big the trays those servers carry are??) My first real job was at Woodland Hills Office Supply in Jackson, Mississippi (George Butts discovered me running the cash register at the Jitney Jungle) and it truly was the launch of my career, leading me into a business world that has served me quite well ever since.
My favorite escape…
reading. I can lose myself for days in a good book and often have.
My life…
ain't nothing but sunshine and daisies! My license plate is "suzysun" and that pretty much sums up my life strategy … keep smilin' kids!
I'm currently working on…
connecting capacity to need in the nonprofit community. We have a wonderful network of charitable organizations here in Arizona and my goal is to insure that we connect the right resources to those who are most in need by assessing capacity, eliminating redundancy, establishing strategic partnerships, and engaging in effective outreach and education. We've got the ability, Arizona … we just need the focus!
Always…
make eye contact, say thank you, and ALWAYS wash your hands twice for good measure.
Never…
underestimate your opponent.
Favorite Quote…
"All serious daring starts from within." – Eudora Welty, Renowned Mississippi Author/Photographer.
Biggest Dream…
leave a legacy of kindness and humility that lives on in the people I love.
My Pet Peeve(s)…
a lack of self-awareness. People, make sure to remember your place in the universe.
Click here to order a Trendsetters reprint.