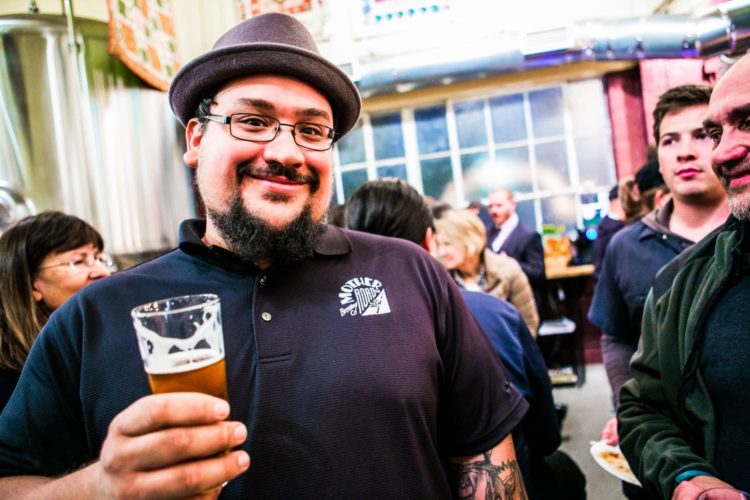 Name: Dan Choiniere
Age: 34
Title: Brewery Ambassador for Mother Road Brewery
Married/Single: Married to my amazing wife, Jenny
Kids: 3 wonderful kids, Kathryn (9), Abigai (7.5), and Max (5)
City you live in: Phoenix
A typical day in my life includes…
getting the kids ready for school, dropping them off, then heading out to sell all the beers. It can vary from visiting current accounts, to presenting to new places. My wife describes my job as showing up at 10am, drinking good beer and eating yummy food all day while making new friends – I really can't argue with her.
I was born…
in Tucson, AZ but grew up in the West Valley of Phoenix.
My favorite thing about Arizona…
is how beautiful and varied it is; from the wine country of Sonoita and Wilcox in Southern AZ with the sprawling mountains and endless skies to the canyons and forests of Northern Arizona. One of my favorite spots is on I-17N at Mile Marker 313 on the way to Flagstaff – right where you see the first pine tree. It makes me happy. Headed the other direction is one of the saddest places, though.
I'm listening to…
during the workday it's usually Sports Talk radio, Dan Patrick in the morning, streaming Jay Mohr in the afternoon. If I'm listening to music, it's rock & roll (Foo Fighters and such), Roger Clyne & The Peacemakers (one of my top 3 favorite bands of all time) or The Cure (another top 3) or Five Iron Frenzy (ska ska ska – rounding out the top 3).
My family…
is my reason for doing what I do. I can't believe I get the chance to be a father to these children, and that I married way out of my league. The best times are spent with them, the biggest smiles, the greatest laughter.
If I could have dinner with anyone, it would be…
Roger Clyne would be at the top of the list (Life is grand, love is real, and beauty is everywhere…). The other answer would be another dinner with my Mom who passed away several years after a battle with cancer. She was a two-time survivor, but it just ended up being too much in the end.
One thing I cannot live without…
I'm pretty easy-going, and don't tend to get that worked up over things. People, on the other hand is where it's at.
When I was younger, I wanted to be…
an actor, a comedian, something in front of people. I've found a bit of that in my current job.
The one person who motivates me is…
my wife, Jenny. She works harder than anyone I know, never asking for credit or complaining. She makes me want to be a better father, to be a better husband to her. She is the happiness in each day and she deserves the world.
The perfect day would be…
waking up in Flagstaff to snow on the ground, coffee ready to go, and a big breakfast with no dishes. Pajamas til noon, games with the family. A nice nap and a movie, then friends come over for a huge spaghetti dinner, beers that are new to everyone, and desserts made by Jenny in front of the fire. Then off to bed in those comfy pajamas!
My first job was…
selling shoes at Famous Footwear at Christown Mall in 1996.
My favorite escape…
spending time with friends, playing games.
My life…
is better than I could ever have planned. No way would I have ever imagined this is where I would be right now.
I'm currently working on…
new and exciting ways to spread the brand. Personally, I've got to get back to fixing up my 4×4 vehicle (rock crawler).
Always…
try your best, be yourself.
Never…
say never, you never know where you'll end up or what lies ahead.
Favorite Quote…
"Life is grand, love is real, and beauty is everywhere" – Roger Clyne
Biggest Dream…
professionally, I want to be Teddy from Four Peaks. Not actually him, but if I could be half the person he is, I know there is no stopping what I can do for Mother Road.
My Pet Peeve(s)…
have a purpose when starting a sentence, speak with confidence to deliver your message.
Mother Road Brewing Company, will be featured at the 15th annual Strong Beer Festival, set for Valentine's Day at Steele Indian School Park in Phoenix. Sweethearts and singles alike can enjoy a broad variety of the state's strongest signature suds at the event widely recognized as "Arizona's Best Beer Festival." Tickets are available for purchase at arizonabeerweek.com.