Kids: None
City you live in: Phoenix
A typical day in my life includes… I'm honestly going to sound a little boring here, but I actually work a "9-5" in addition to being a queen. My typical day consists of working for my boy job and then going to the gym. I value taking care of Wyatt, just as much as I value taking care of Toothpick. On weeks that I am preparing new content for the show, I will spend my evenings crafting a new costume, working on mixes, or creating visuals for my performances.
I was born… in Tucson AZ and I grew up in a very small town called San Manuel, which was… interesting as a young gay teenager. It wasn't until college that I truly came to accept my sexuality and explored my gender expression.
My favorite thing about Arizona… The outdoors adventures we can have here! I love going to the lake with my friends and exploring new hiking trails.
I'm listening to… anything pop. My music taste is stereotypically gay, haha! To name a few that I've been listening to lately: Gaga, Dua Lipa, Ariana Grande, Taylor Swift, BLACKPINK, and Chloe x Halle.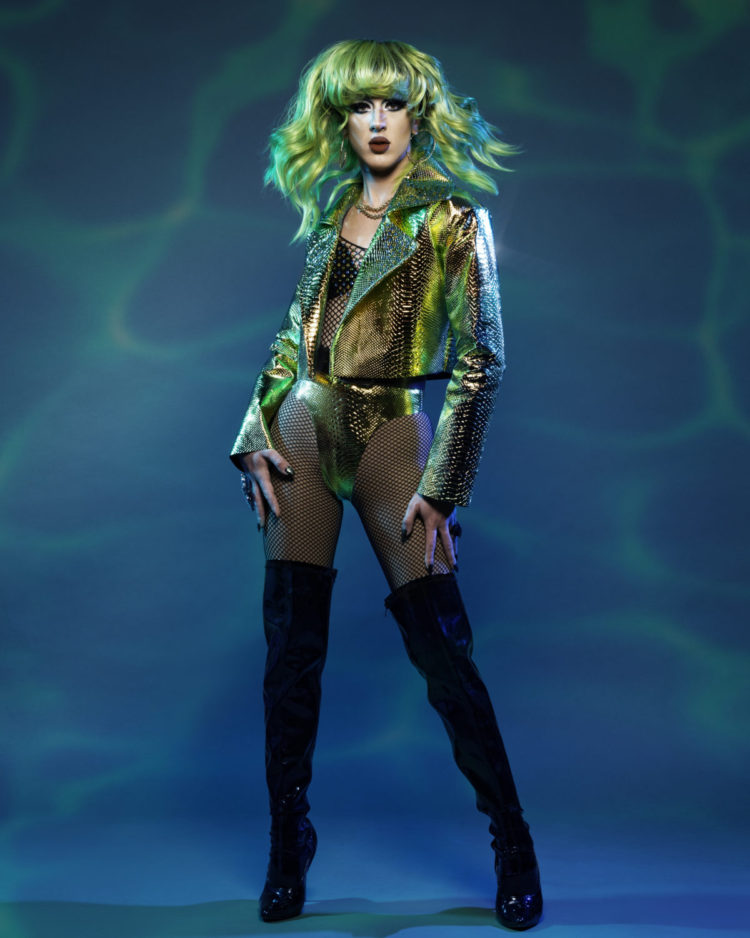 If I could have dinner with anyone, it would be… Lady Gaga for sure! She is my biggest inspiration and I look up to her so much. She's a big part of my journey as a queer artist and as a gay man in general. She was the first person I really heard say that being gay was okay and she helped me come to accept that.
One thing I cannot live without… music. I have such a deep connection to music and I cannot imagine a life without it.
When I was younger, I wanted to be… a pop star! So I became the closest thing… a drag queen!
I'm inspired by… queer people. The queer community is filled with inspiration and leaders. Why would I need to look any further than the people I feel most closely connected to?
The one person who motivates me is… myself. I truly have such high expectations for myself and I am a go-getter. If I want something, I really work hard to achieve it and earn it.
If I could change anything in the world, it would be… the amount of division in the US. I think that certain individuals have truly lost sight of unity. People are so focused on belonging to a certain political party and are no longer focused on what is good for the people and for the underserved people living in this country. It's really sad to see that human rights are willing to be sacrificed solely to align with one specific party.
The perfect day would be… exploring London. I absolutely love London and the people there. It's my favorite city and I never have a dull time when I'm there.
My first job was… washing dishes at a restaurant… I know… thrilling!
My favorite escape… is going to the beach. I love the freeing feeling of being there. I get to lay on the beach and not think about anything other than that for a few hours.
My life… is essentially two lives. I really try to separate Wyatt and Toothpick, devoting time for each. I know that sounds weird, but Toothpick is a persona and a character that I put on. She takes up time and devotion and cares, just like Wyatt does. It's important to me that I nurture both separately and take care of both parts of my life.
I'm currently working on… restructuring the 4Some Revue! The cast of the 4Some Revue and I are working to introduce fresh entertainers into our weekly rotations so that we can foster new entertainers in the Phoenix drag scene. It's important to provide a fun environment for these new entertainers to get experience and to also pay them appropriately.
I think all too often it's easy for new entertainers to fall into the trap of "tip spots," where they only make tips and not actually show pay when in reality, each entertainer deserves to be compensated appropriately for their contribution to the show and the art of drag.
Always… wash your face before bed. C'mon… skincare is IMPORTANT. Especially when you slather about 3 pounds of makeup on your face for a show.
Never… Accept less than what you deserve. Know your worth!
Favorite Quote… "talented, brilliant, incredible, amazing, show stopping, spectacular, never the same, totally unique, completely not ever been done before, unafraid to reference or not reference, put it in a blender, s*** on it, vomit on it, eat it, give birth to it" – Lady Gaga
Biggest Dream… probably compete in RuPaul's Drag Race. It'd be such an incredible experience and would open doors that would allow me to make drag my full-time job!
My Pet Peeve(s)… fake people… I HATEEEEEE when people act nice to your face and then talk ill about you behind your back. It's disrespectful and rude and to be honest, I don't really care if you don't like me… just don't pretend as you do.
More About Toothpick:
Toothpick is a drag queen from Phoenix, AZ and is a part of the cast of the 4Some Revue at Kobalt Bar.