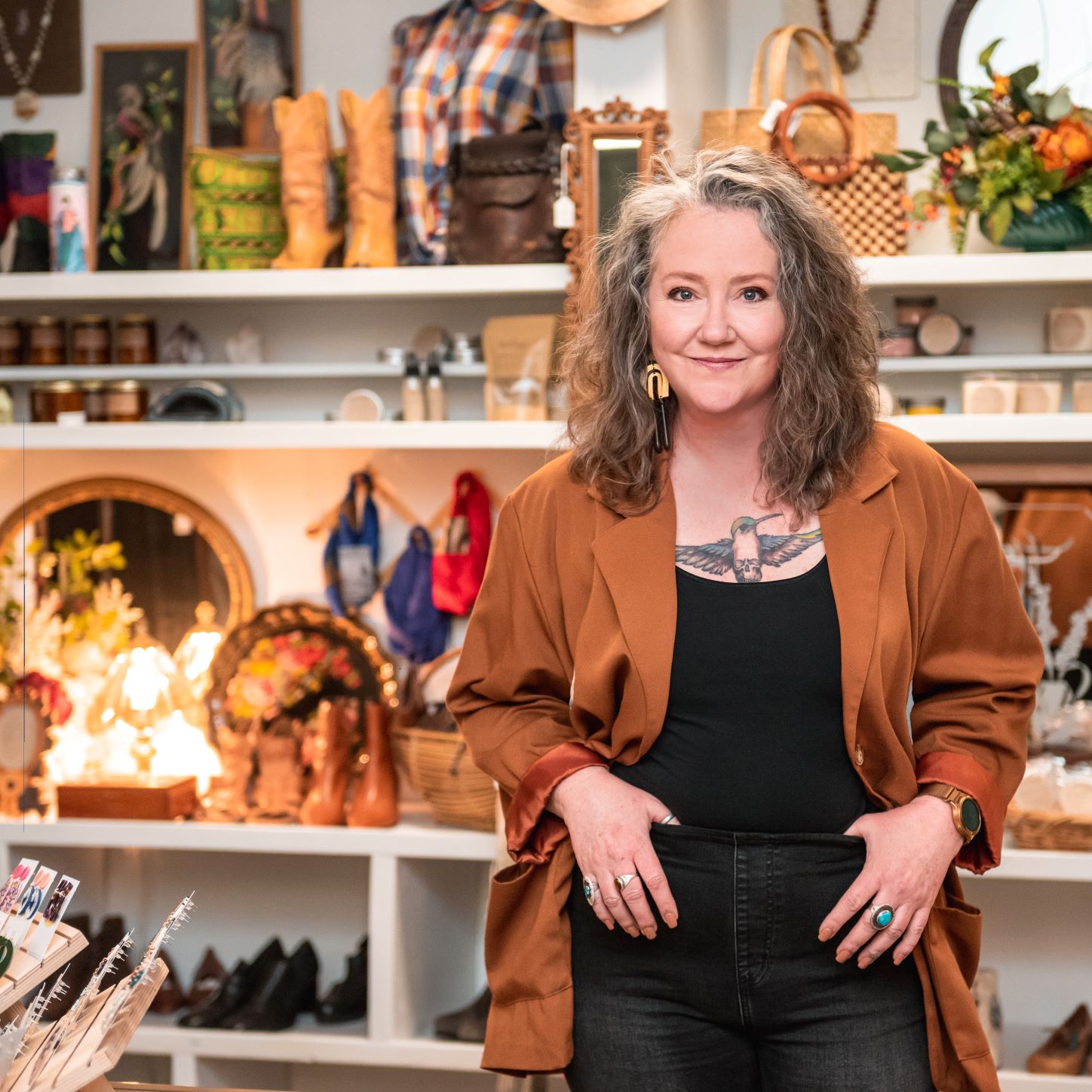 Heather Nash is the Owner of Nash Vintage Collective.
"NV Collective sells vintage for the modern day…blending vintage into everyday life and creating an eclectic vibe that hopes to inspire creativity and positivity. We hold space for people to fall in love with themselves and tell their stories. NVC is a collective of curators and makers that have come together to be creative and share community."
AZF: What's your life motto?
HN: Energy flows where attention goes…
AZF: Did you always know you wanted to be an entrepreneur? If not, when did you realize it was your right path?
HN: I have always known. I worked for others for a bit and owned a company with my husband for years. I have always dreamed of having my own boutique in a downtown area.
AZF: How do you feel best supported?
HN: I love when people just get the shop's vibe and feel at home in my space. I also love having my husband to bounce ideas off of or his help with decision making. He is always more level-headed than myself.
AZF: What motivates you to keep going amidst of the challenges that come with being an entrepreneur?
HN: This is what I do. I have no choice. I do it for the collective…the brands inside 58 W Main Street.
AZF: Describe your perfect Saturday morning.
HN: Haha I prefer Sundays…but on any given Saturday I can be found at the store, slinging vintage…
AZF: What's one piece of advice you'd give to a young entrepreneur who is just starting out?
HN: Be true to yourself and know your worth.
AZF: What excites you most about being an entrepreneur?
HN: Being able to hold space for people and build community.
Follow Heather on Instagram and LinkedIn.
About The Foundress
The Foundress is a creative community of female entrepreneurs established by Coley Arnold and Lindsey Holt, owners of Junk in the Trunk Vintage Market. The women-led networking group currently has over 120 members who receive exclusive access to mentorship from experienced female entrepreneurs and industry leaders; community gatherings that feature expert speakers and the opportunity to connect with like-minded women; as well as monthly Mastermind Groups where members can brainstorm and collaborate together.
Every Friday AZF will spotlight a member of The Foundress and her business in the online series Foundress Fridays. Learn more about The Foundress and join the community at www.foundress.co.