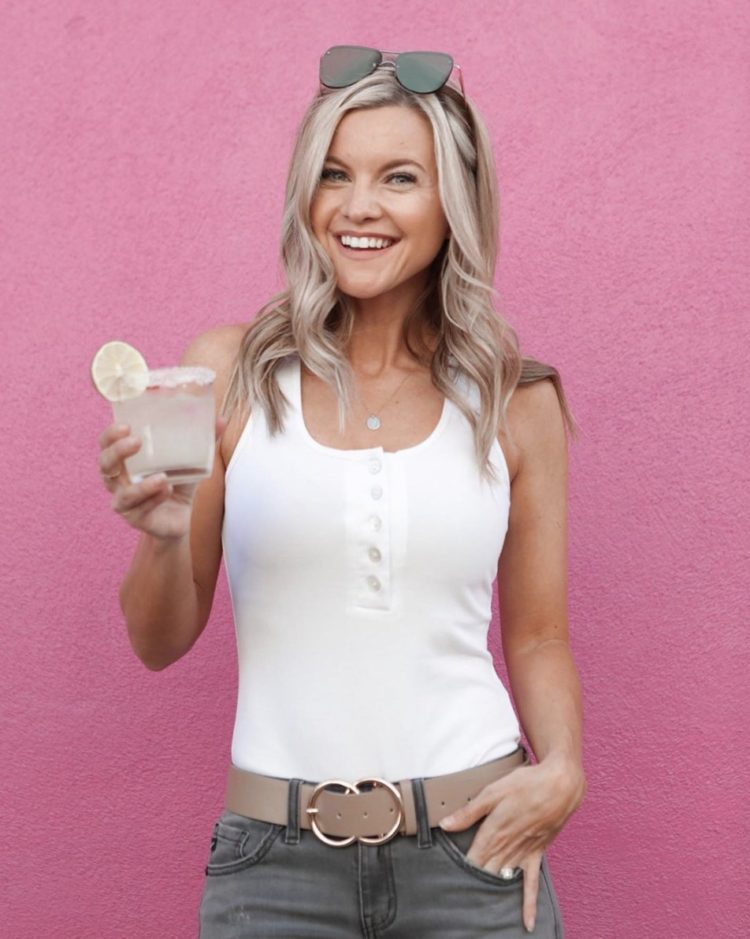 Name: Kendra Campbell
Facebook:
http://facebook.com/bloomingcactusboutique, http://facebook.com/kendracampbellxo
Instagram:
http://instagram.com/kendracampbellxo & http://instagram.com/bloomingcactusboutique
Website:
http://dwelling-well.com & http://bloomingcactusboutique.com
Age: 37
Title: Owner, Blooming Cactus Boutique & Fashion + Lifestyle Blogger, dwelling-well.com
Married/Single: Married 11 years
Kids: 2 boys, age 4 & 6
City you live in: Mesa, Arizona
A typical day in my life includes…
spreading myself thin between business ownership, boss babe life, and mom-ing so hard! Typically I drop the kids off to school in the morning and come home for 30+ minutes of quiet time; then I work on my business as hard and fast as I can for 2.5 hours before preschool pickup! Luckily, I run my business from home, so I can keep working after school pickup as well. My work involves photoshoots, shopping for my boutique, updating my website, shipping orders, customer service, and LOTS of social media. I also blog and Instagram on the side.
I was born…
in Orange County, California. I grew up in Riverside, and then my family moved to a small town east of Sacramento when I was 15. After high school I went to Sacramento State, and then Pepperdine for law school. I loved living in Malibu & Santa Monica! And yes, there were many celeb sightings there. I moved to Arizona right after law school. I don't miss California; it's a nice place to visit, but Arizona is home now!
My favorite thing about Arizona…
is the unique desert beauty: colorful mountains, tall cacti, green palo verde everywhere, wildflowers in the spring, and the most beautiful sunsets I've seen anywhere. I love hiking here.
I'm listening to…
the new Taylor Swift album; Maren Morris; Billie Eilish; Hillsong; and lots of country music.
My family…
is everything to me! I am so blessed to have each of them.
If I could have dinner with anyone, it would be…
President Trump. I'm not a fan of him as a person, but I'd like to try to understand him better. He sure is interesting.
One thing I cannot live without…
is Jesus! And coffee. And online shopping. And carbs. Ok, so four things. But the first one is absolutely essential.
When I was younger, I wanted to be…
a politician! In college, I majored in communications and minored in government. When I decided to go to law school, I hated that everyone jokingly compared me to Elle Woods (Legally Blonde). So I dyed my hair brown for a while, thinking that people would take me more seriously. After graduation, I ended up working in government as an attorney in the U.S. Department of Justice and then the Department of Homeland Security. I no longer have political aspirations, lol! Now I work in fashion and I love it!
I'm inspired by…
people who know exactly what they want in life, and take the steps to make it happen!
The one person who motivates me is…
myself.
If I could change anything in the world, it would be…
that everyone would be kind to each other, even when they disagree on important issues.
The perfect day would be…
brunching, shopping, happy hour, and then dinner at a favorite restaurant. I love good food and fun drinks with friends or family.
My first job was…
in retail, at PacSun. I guess I have always loved clothes! My second job was also in retail, at a local skate & snowboard shop.
My favorite escape…
is to nature. I love hiking, camping, and being outside. Even on a regular day, I like to get outside and go for long walks around my neighborhood to get some sunshine and fresh air.
My life…
isn't perfect but I sure love it. I have so much gratitude for the big things and the small things, every day. I try to live from a positive perspective as much as possible.
I'm currently working on…
blogging more! And also finding more ways to serve others. Life shouldn't be all about me.
Always…
go to God. We don't have to impress Him or perform for Him or be perfect for Him… he loves us just the way we are. People (even the best ones) will fail us at times. And life's circumstances will fail us. But God never does.
Never…
assume that you fully know what someone else is going through. We can never truly understand someone's perspective & struggles & worldview unless we have walked in their shoes.
Favorite Quote…
"And above all these put on love, which binds everything together in perfect harmony. And let the peace of Christ rule in your hearts… And be thankful… And whatever you do, in word or deed, do everything in the name of the Lord Jesus, giving thanks to God the Father through him." Colossians 3:14-17
Biggest Dream…
To travel more. I want to see the world!
My Pet Peeve(s)…
I can't stand crazy drivers.