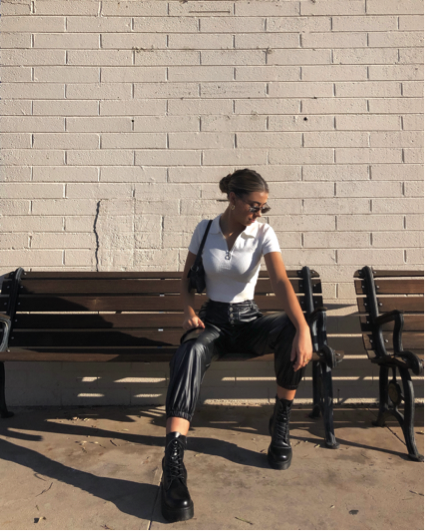 Name: Emma Scoggin
Age: 19
Title: Fashion & Lifestyle Blogger
Married/Single: dating my high school sweetheart for the past 4 years
Kids: none
City you live in: Tempe
A typical day in my life includes…
waking up at 6am to do an early morning photoshoot in Scottsdale then coming back to my apartment to film a video then editing and doing homework the rest of the day. At night, my friends or boyfriend comes over to watch a movie and eat dinner. I am currently pursuing a marketing degree at Barrett The Honors College at Arizona State.
I was born…
on April 28, 2000 in Phoenix, Arizona.
My favorite thing about Arizona…
how up and coming Arizona influencers are becoming in the fashion and Instagram world.
I'm listening to…
the Euphoria from HBO soundtrack!
My family…
is my rock. I have three younger sisters and wonderful parents.
If I could have dinner with anyone, it would be…
Lucy Liu because she is my icon and I am obsessed with her.
One thing I cannot live without…
is sugar. I have the biggest sweet tooth.
When I was younger, I wanted to be…
a Victoria Secret Model because I really thought those girls were ACTUAL angels. I also wanted to be a ballerina because I thought they were pretty.
I'm inspired by…
my friends and family. My boyfriend has always inspired me to fulfill my dreams and always makes me feel that I can do anything. My mom has always been a fashion and thrifting queen and she passed that on to me!
The one person who motivates me is…
my boyfriend because he is the man behind the camera always rooting for me.
If I could change anything in the world, it would be…
how wasteful people often are. It has always bothered me when people don't use what they have to its fullest potential. This problem of being wasteful works along side the problem that people often don't appreciate the things they have.
The perfect day would be…
my best friends and I walking around Paris taking pictures, drinking coffee, and eating an endless amount of carbs.
My first job was…
Sales Rep at Nordstrom.
My favorite escape…
watching endless hours of Netflix.
My life…
is focused around happiness and productivity. I always have a list of to-do's so that at the end of the day I can sleep easy knowing I got everything done to further my Instagram career and personal life.
I'm currently working on…
getting a new camera to improve my YouTube content!
Always…
checking Instagram, playing Snapchat games, and applying lip balm!
Never…
will I leave my makeup on longer than I have too.
Favorite Quote…
"You can never be overdressed or overeducated." – Oscar Wilde
Biggest dream…
is to become a full-time fashion Influencer and creator. I would also like to get 200 pets and move to Vancouver.
My Pet Peeve(s)…
is when people don't do what they say they are going to do and when my apartment isn't perfectly clean.