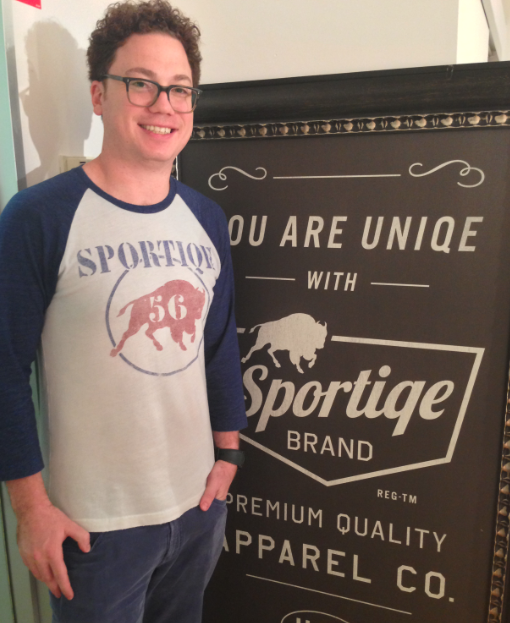 Meet Jason, always finding way to make his life better. Read how he finished these 20 sentences.
Name: Jason Franklin
Age: 34
Title: Co-Founder Sportiqe Apparel
Married/Single: Single
Kids: None
Live: Phoenix
I was born…
with an eye for fashion and a passion for sports and music.
My favorite thing about Arizona…
it's a tie..the weather and Matt's Big Breakfast
I'm listening to…
Dave Matthews Band, O.A.R. , Mumford and Sons, Tegan and Sara, the Grateful Dead, F.U.N., Bruno Mars, The Lumineers, and Alabama Shakes
My family…
supports me no matter what.
If I could have dinner with anyone, it would be…
Phil Knight and Steve Jobs.  I would probably ask a bunch of questions and then listen to them talk the rest of dinner.
One thing I cannot live without…
My cell phone
When I was younger, I wanted to be…
a clothing designer
I'm inspired by…
People who are the best at what they do, and maximize their potential
The one person who motivates me is…
ME
If I could change anything in the world, it would be…
To find a cure for systemic schleroderma so my mom, and everyone else who suffers from this disease, could get better
The perfect day would be…
Have a piano lesson, then getting the rest of the day to spend time with my family and friends. Have a great meal and go check out some live music.
My first job was…
Designing baseball hats and was a ballboy for the Chicago Bulls
My favorite escape…
my rooftop pool at the Optima Biltmore
My life…
is spent trying to revolutionize the licensing industry.
I'm currently working on…
new designs and marketing strategies for Sportiqe
Always…
working on ways to improve Sportiqe
Never…
Sleep
Favorite Quote…
"Don't give up, don't ever give up"-Jim Valvano
Biggest Dream…
to have Sportiqe Boutiqe's around the world!
My Pet Peeve(s)…
people that don't maximize on the opportunities that are given to them.