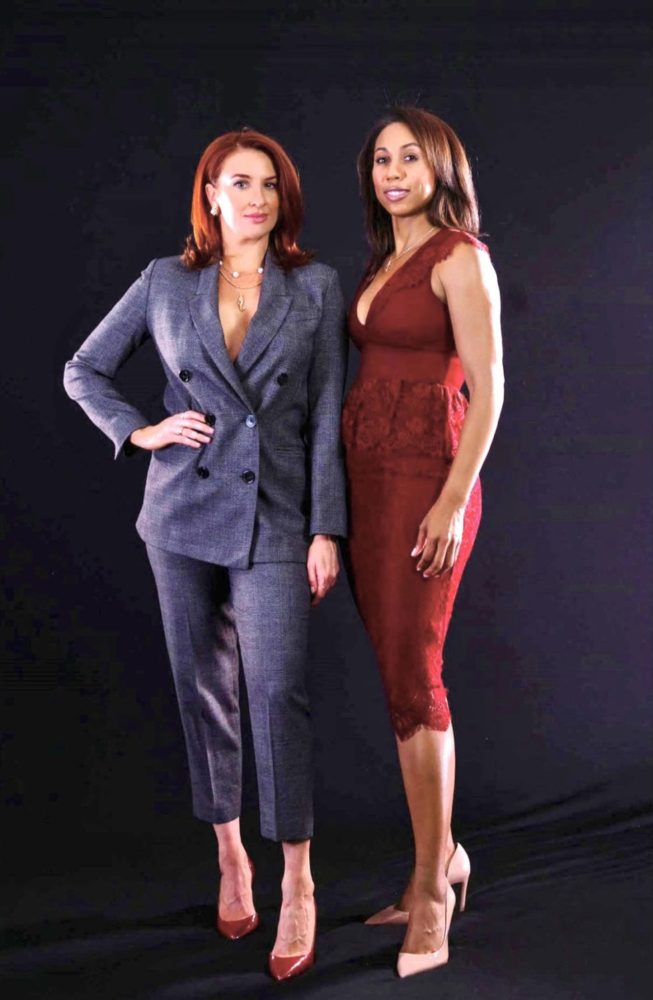 Title: Founders
Married/Single: Single ladies
Kids: Desire'e (4) / Brittany (0)
City you live in: Phoenix
A typical day in our life includes… Fitness to kick start our morning (body, mind spirit), meetings/emails/calls, strategic brainstorming, and execution. Repeat…
We were born… Native Phoenicians
Our favorite thing about Arizona… The weather, economic opportunities, and overall quality of life. We also LOVE Sedona and getting out of the city to be outdoors.
We are listening to… Our inner voices.
Our family… is our greatest support system and biggest fans!
If we could have dinner with anyone, it would be…Warren Buffet and Mackenzie Scott (formerly Bezos)
One thing we cannot live without… Freedom to be…
When we were younger, we wanted to be… leaders that make an impact globally
We are inspired by… we believe every person lends an influential role in our society that inspires us to interact with all walks of life.
The one person who motivates us is… We feel that everyone in our life (through trials and triumphs) motivates us to become a better version of ourselves.
If we could change anything in the world, it would be… help to give individuals and communities the ability to fulfill their purpose in life.
The perfect day would be… jet setting to various locations in a day to enable us to make a faster impact on our mission, which is to forward other organizational visions and spread awareness to better help the communities in which they serve.
Our first jobs were… Desire'e- dietary aide at a retirement home/ Brittany (retail associate; I was just under the allowed working age and I worked a deal with the Manager to get me a job sooner because I so badly wanted to be able to get my family Christmas/Hanukkah presents with my own money).
Our favorite escape… anywhere near water…
Our life… has no manuscript and is constantly evolving as we dance on this journey called LIFE.
We are currently working on… Our recent partnership. Convenire International is extremely excited to officially announce our partnership with Twinvay Products, Inc. Twinvay is a global product development and distribution company specializing in the procurement of high-quality Personal Protective Equipment (PPE) including NIOSH certified masks. www.twinvay.com
This partnership aligns with our mission to "globally cultivate partnerships in the non-profit and for-profit sectors. We pride ourselves on being able to foster creative solutions while building long-term market value for our clients."
We have both taken on key roles as Directors of Procurement for Twinvay. With this partnership, we are looking forward to bringing quality and affordable PPE products (i.e. masks, gloves, gowns, and face shields etc.) to our international community.
In doing so, we will also keep you posted on our future collaborations in 2021 related to a variety of Convenire/Twinvay among other events.
In addition, Convenire International donates 5% of revenue to various national and international non-profit organizations.
If your organization would like to learn how we can drive your mission to fruition, please send us a message at hello@convenireintl.com.
Always… All Ways! 😉
Never… settle…
Favorite Quote(s)…
Desire'e "Women are like teabags; they do not know how strong they are until they get wet." -Eleanor Roosevelt
Brittany "Luck is where preparation meets opportunity."- Lucius Annaeus Seneca
Biggest Dream… to fulfill our life purpose.
Our Pet Peeve(s)… Tardy to the party
More About Brittany Shulman and Desire'e Hardge:
Brittany Shulman and Desire'e Hardge are the women behind Convenire International (www.convenireintl.com). The name "Convenire" derives from the Latin biblical origins meaning "The Covenant" defined as "united and together." Convenire International is here to help organizations and corporations alike, move their vision forward strategically and effectively. Our mission is to identify, pursue, and develop strategic opportunities through Event Management, Fundraising, and Business Development globally to cultivate partnerships in the non-profit and for-profit sectors.
Through our own journeys, we met by attending each other's events and it was clear we had the same vision. We both pride ourselves on being able to foster creative solutions while building long-term market values for our clients and communities. It is a win, win!
Brittany is Co-Founder of Convenire International. She is skilled in placing capital, event planning, brand development, strategic partnerships, strategy consulting and operations through both principal and managerial lenses. Brittany has an extensive background in commercial real estate, finance and specialty tax consulting with a keen understanding of fundraising, sales, asset management, She created a unique real estate business model specializing in off-market acquisition searches on a retained basis for clients and in-house portfolio. She has been involved in over $150 million in transactions and has experience in commercial litigation and business law.
Brittany is originally from Arizona where she earned her bachelor's degree in Urban Planning from Arizona State University. She currently holds her real estate license in the State of Arizona and holds securities licenses 22 & 63.
Desire'e is Co-Founder of Convenire International. She is a Phoenician of Arizona and has over 15 years of combined experience in the for profit and nonprofit sectors. As a former Vice President of Development for a prominent nonprofit, she continues to acquire new skill sets and business relations that make her an effective business leader and an expert in her field. She strategically leads organizations to help gain capital, maintain and improve client retention, fundraise, event management, build market and brand significance, and consumer loyalty. Among being a mother to four with one in college, beardown!
Desire'e holds a Master of Business Management (MBA) from the University of Phoenix and has numerous certificates, including Executive Leadership from Social Venture Partners (SVP-AZ). She is a speaker, an author "Upward: Leadership Lessons for Women on the Rise," business board advisor, member of Phoenix Committee on Foreign Relations (PCFR), 2019 nominee for The Phoenix Business Journal 40 under 40, and an alumnus of Collaborative 2019 Boston.
In our time away from the hustle and bustle of work, we greatly enjoy spending time with our families and friends, the great outdoors, fine art and theatre, and live music.