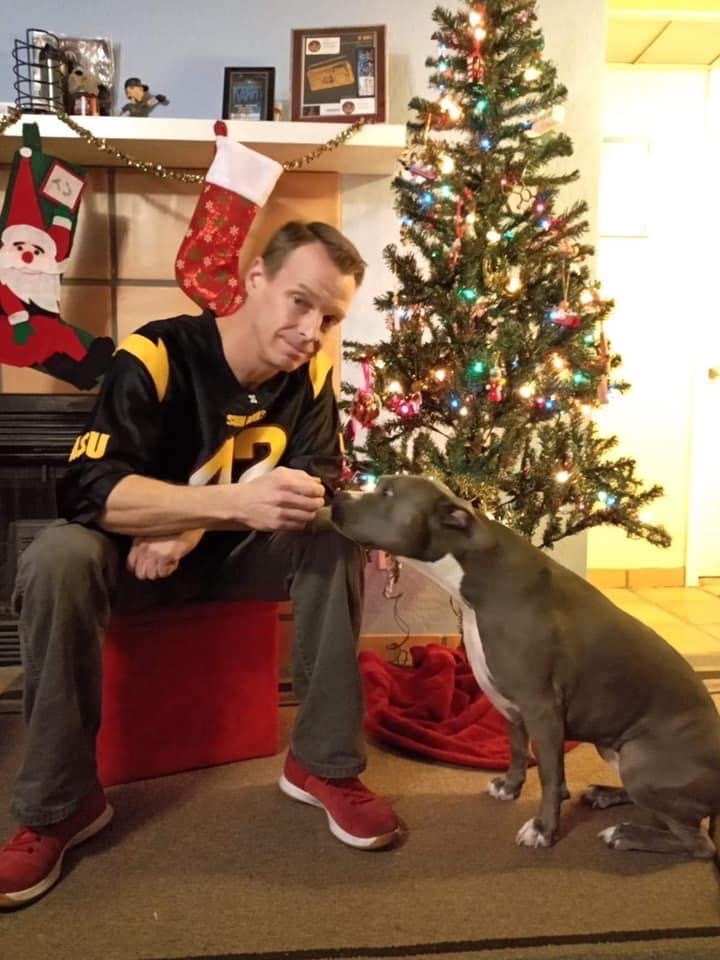 Name:  TJ Hughes
Facebook:  www.facebook.com/tjhughes28
Age: 42
Title: Bar Manager
Married/Single: Single
Kids: No Kids
City: Tempe
A typical day in my life includes; waking up and taking the dog for a walk, checking on the exciting news in the world at the moment, looking at the stock market to see if I'm rich yet; sometimes I eat healthily, and sometimes I just eat…….i try to spend some time taking care of my health and fitness, but with the gyms, on the limited hours my schedule is more attuned to stretching and pushups atm. If it's a workday I go try to make people swoon with boozy concoctions or fast delicious food, and if it's me day I try to run into friends and constructively kill some time when it's available.
I was born: in Virginia Beach, VA
My favorite thing about Arizona is : the sun and respect for the bill of rights, now when I was younger it was college at ASU for longer than Van Wilder was in school. 
I'm listening to golden era hip hop and underground hip hop, mixed with some heavier rock to motivate me to exercise…..
My family… is pretty much the reason I'm a constructive member of society, and the most supportive family you could have.
If I could have dinner with anyone, it would be: Abe Lincoln at the current juncture in time, I think he might have some valid insight, just not a dinner theatre for the grub……
One thing I cannot live without: My dog
When I was younger I wanted to be: A Navy Fighter Pilot, A Baseball Player, An FBI vicap profiler, or what Eminem ended up being before he existed……missed those busses due to various life choices so now I slang delicious booze and freestyle when people ask nice and tip well…
I'm inspired by my father every day; Micheal Jordan in my youth, and people who walk exactly how they talk…
The one person who motivates me is: myself, but I get a lot of help and cues from current events, social climates, and leadership successes and shortcomings….
If I could change anything in the world, it would be; to reinstitute civil discourse between different ideologies
The perfect day would be: with friends, my dog, no mask, and nothing to worry about for 24 hours
My first job was mowing lawns in the '80s, as far as the IRS and SS know, working at a print shop when printing presses were still used for most everything….
My Favorite escape; battling evil and hypocrisy on the internet in video games and on social media. 
My life: is a lot of cranes and cement mixers at the moment, but the stuff im building will be dope when its done. 
I'm currently working on… this bio interview for a media publication and making a neighborhood taco shop the spot to day drink and night drink
Always: tell your friends and family they matter and you care
Never… put off till tomorrow what can be done today, I never remember to do this.
Favorite Quote:  "What matters is not the size of the dog in the fight, but the size of the fight in the dog"  Samuel Clemens
Biggest Dream…  is to do whatever I want and maybe make the world a better place in the process. 
My pet peeves: Hypocrisy and Lack of Accountability.