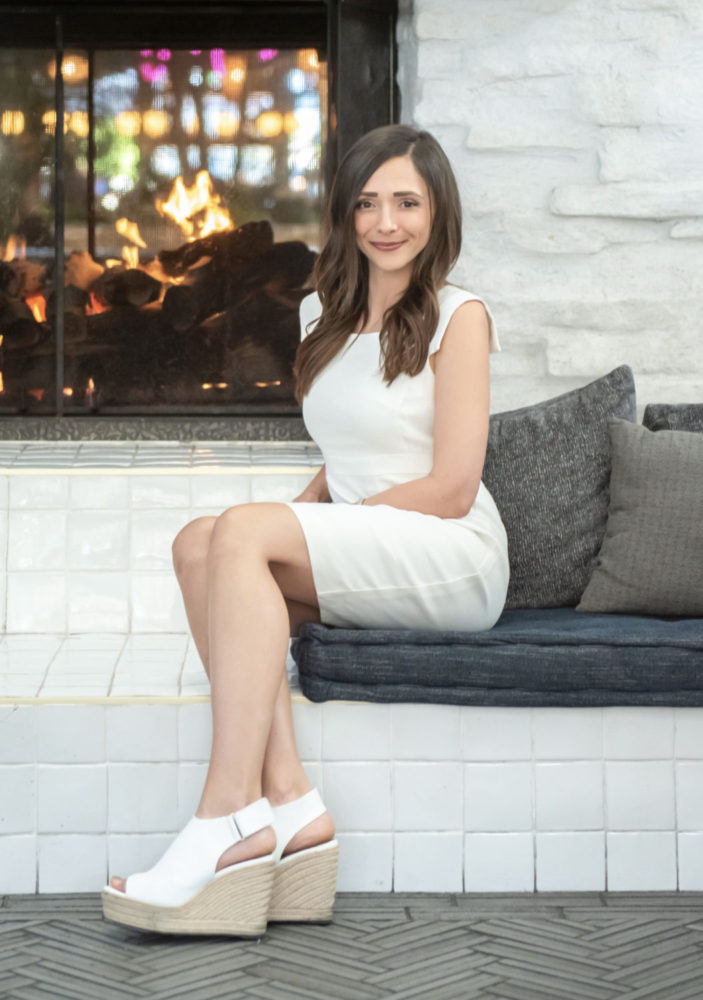 A typical day in my life includes… if it's not in your schedule it doesn't exist. While I love spontaneity, the truth is, I am highly attuned to living by my calendar. My morning rituals include meditation, exercise, and playing fetch with my baby girl, Olive (aka 60lb Doberman that thinks she's a lap dog). She occasionally comes with me around the valley while I am selling beautiful homes. She appreciates fantastic architecture as much as I do. She's a rollover for big views and privacy. By mid-afternoon, I am either writing contracts, conducting walk-throughs, or having lunch with my clients on the patio at the Silverleaf Club.
I was born… Seattle, WA
My favorite thing about Arizona… sunshine, of course! ☀️
I'm listening to… Audible. All the time. Currently listening to Traction but my top three suggestions for anyone are: #1 The Compound Effect #2 Atomic Habits and #3 The Subtle Art of Not Giving a F*ck. Do it, you'll thank me later.
My family… My mom and dad are living the dream every day on San Juan Island, WA. Raising chickens and gardening oceanside. My two older brothers are both happily married and are both in the northwest.
If I could have dinner with anyone, it would be… my dad when he was my age. My dad was 68 when I was born and had already lived such an interesting life. While serving during the Korean war he earned his degree as a mechanical engineer. His passion was helping people, so he later went on to earn his medical degree and practiced as an orthopedic surgeon until he was 86! Today my dad is still an avid golfer, hitting the course 5 days a week and the senior champion at The San Juan Island Country Club.
One thing I cannot live without… good music. 🎵
When I was younger, I wanted to be… a garbage man. Yes, you read that correctly! Loud trucks and excitement, that's what I saw. Yes, I was just six, but hey the kid had a plan LOL. More seriously, I was more certain that I was going to become a veterinarian and own my own practice. Animals are simply THE BEST!
I'm inspired by… my father who I call "Superman".
The one person who motivates me is… without trying to sound too self-absorbed, I'd say myself. Yesterday's version of me and the future self I want to become.
If I could change anything in the world, it would be… how people treat one another. If everyone spread a little bit of kindness everyday, the world would be a much better place.
The perfect day would be… Any sort of fitness (yoga,hiking, spin class), running my dog at the park, followed by a round of golf with clients, and then an early healthy dinner and early to bed!
My first job was… a neighborhood newspaper route when I was 8-years old in the Beau Arts neighborhood in Washington. Fun fact, Beau Arts Village is the smallest state town in all of Washington. I had 204 houses on my route and hit them all on foot!
My favorite escape… anywhere overseas or anywhere that I can experience a total culture shock. An opportunity to discover a totally different culture and lifestyle, where I have to learn to navigate the world in brand new light.
My life… I look at as a series of learning lessons, each one building on the other. Some hard and some fun, but in the end, all guiding me to new knowledge and more life experience.
I'm currently working on… lowering my handicap while simultaneously closing deals.
Always… be kind.
Never… take the first offer.
Favorite Quote… "Your time is limited, so don't waste it living someone else's life. Don't be trapped by dogma — which is living with the results of other people's thinking." – Steve Jobs
Biggest Dream… to help others create legacies in real estate.
My Pet Peeve(s)…. a weak handshake.
More About Laura Briggs:
 I'm Laura. I specialize in architecturally distinct homes in the most sought-after communities ranging from Desert Mountain to Paradise Valley. As a member of the Silverleaf Country Club, I pride myself on the relationships and professional network I have established on and off the golf course. I am so blessed to live, work, and play in a community that allows me to do what I love every day.