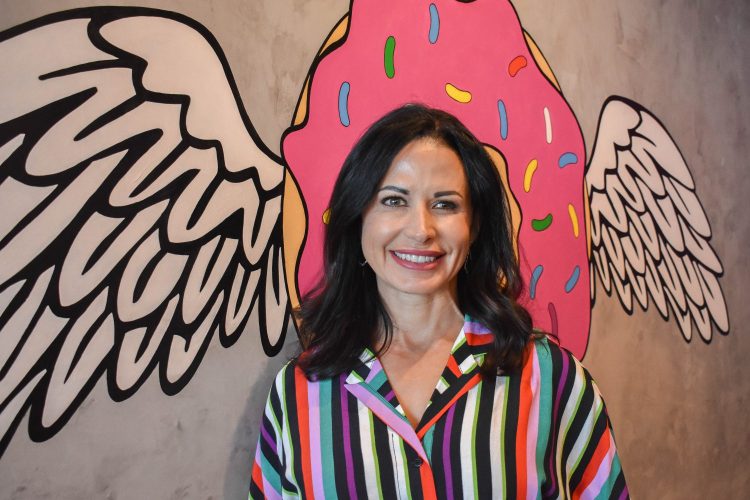 Name: Sheley Brien
Age: 39…yikes when did that happen!
Title: Awesome wife, supportive mom, horse crazy, and Donut Bar Scottsdale owner
Married/Single: married, May is 14 years with Chris Brien. We have too much fun and accomplish so much together.
Kids: Jaxon 9, Reese 7.
City you live in: North Scottsdale, in an area referred to as Rio Verde…horses 😉
A typical day in my life includes…
getting up by 5:15am and getting ready for a great day. Feed our three dogs and wake up the kids for school before heading out at 6am to go open the store.
I was born…
at St. Joe's hospital in Phoenix. I AM A TRUE 100% AZ NATIVE!
My favorite thing about Arizona…
is the heat and our beautiful mountains. Anything below 70 and I am freezing, so I love our heat! Even with as much as we do outside as a family, it's easy to plan around the hottest time of a summer day.  Plus, where else can you wear flip flops year-round? I also love our mountains. During my corporate career I traveled 60% of my time and I always felt so relaxed landing at Sky Harbor and seeing all the mountains.
I'm listening to…
as I type this, our 3 dogs rough-housing. We have 2 Weimaraners and 1 German shorthair. However, when I am doing cardio or in the car, I love either 80s music or my favorite podcast, Lewis Howes' School of Greatness.
My family…
is dynamic. Chris and the kids are amazing but then it gets interesting…as people say, "it's family".
If I could have dinner with anyone, it would be…
my husband, Chris, sitting at the bar at Mastro's planning out our future goals for our family.
One thing I cannot live without…
is my eyesight. I had a unique medical experience that left me blind in one eye at 24 years old. With only one eye left it has made me really value what I get to see each day.
When I was younger, I wanted to be…
a horse trainer. While I chose a different route for my career, I am still fortunate enough to chase my passion by owning and showing reining horses around the country.
I'm inspired by…
setting goals. I use vision boards to map out what I would like to accomplish personally and professionally. Once I have a clear vision, it inspires how I will accomplish my goals.
The one person who motivates me is…
my husband Chris. We met at 20 and have been together ever since. He knows when to question me or support me and pushes me to be better. Because of his unwavering support I want to be a better person every day.
If I could change anything in the world, it would be…
entitlement. Too many people believe they are entitled to certain benefits or monetary items rather than putting in the work and being grateful for the opportunities available.
The perfect day would be…
riding one of my horses first thing in the morning, watching my team thrive at the store (Donut Bar Scottsdale), gym workout with Chris and a movie night with my kids.
My first job was…
for the first 3 years out of college, I was a financial advisor with UBS PaineWebber. Then switching industries into medical marketing and sales in dermatology for the last 15 years before taking the leap to leave the "golden handcuffs" of corporate America to open Donut Bar Scottsdale in November 2019.
My favorite escape…
the Mayan Riviera or Maui, basically lying on a beach under an umbrella feeling the ocean breeze, listening to the waves and watching my kids play in the sand.
My life…
is wonderful. I've had some unique professional and health experiences, and no matter what happens I have learned to focus on solutions and the goals I have set for myself.
I'm currently working on…
connecting the community together through their eyes, nose and taste buds with the #bestdonutsintheworld at Donut Bar Scottsdale.
Always…
be grateful.
Never…
take the easy route, it's usually boring and you do not learn that much.
Favorite Quote…
"Whether you think you can, or you think you can't–you're right." ~ Henry Ford
Biggest Dream…
is to raise two great adults that fulfill their dreams and make positive contributions to society.
My Pet Peeve(s)…
people chewing with their mouths open and not replacing a new bag when you take out the trash, just ask my staff 🙂