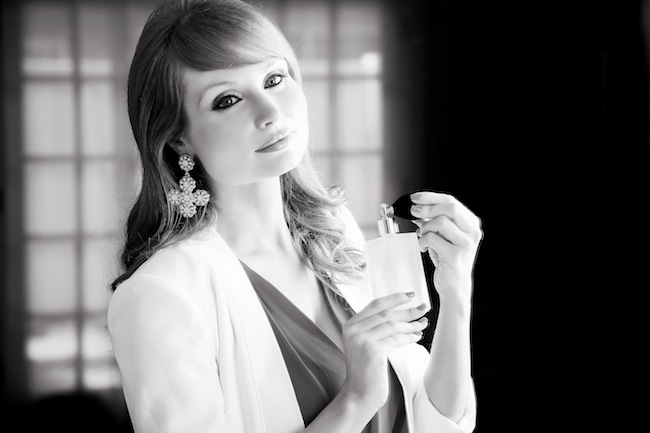 Name: Melissa Lenberg
Age: 30
Title: Owner of Citrine Natural Beauty Bar
Married/Single: Single and glamorous
Kids: None until I find prince charming
Live: Phoenix AZ
I was born…
in this fabulous and forever growing city although I have lived other places I always come back.
My favorite thing about Arizona…
the amazing desert scenery. Between the red rocks and the sunsets we really live in a beautiful place.
I'm listening to…
Alicia Keys Girl on Fire is my jam right now. I love hip hop culture, when I lived in LA I worked at both Def Jam and Interscope records.  It was truly a fun and amazing time in my life.
My family…
is my everything, my backbone.
If I could have dinner with anyone, it would be…
living, would be Oprah. I would love to pick her brain. Dead, would be the late great Marilyn Monroe.
One thing I cannot live without…
mascara, typical girl, I know but it's a must even for that quick trip to Starbucks!
When I was younger, I wanted to be…
a famous makeup artist!
I'm inspired by…
CoCo Chanel and Kevyn Aucoin.
The one person who motivates me is…
I can't say just one! My dad who is a great business man and taught me everything and my mom who is the most caring woman I know.
If could change anything in the world, it would be…
racism, it literally makes my stomach churn. Love knows no color.
The perfect day would be…
sitting in a beautiful cafe in Rome or Paris enjoying a glass of wine taking in the scenery and culture.
My first job was…
frozen yogurt girl at the local super market in Minneapolis. Got fired after 2 weeks though for talking to boys! I was 15 and never really loved frozen yogurt anyway.
My favorite escape…
is up in Sedona with a beautiful brunch outside looking over the red rocks, some yoga and then a spa day at The Enchanment Resort.  Pure bliss, Namaste my friends.
My life…
is blessed.  I have had a lot of life experiences and sometimes I feel I need to pinch myself.  I feel that the possibilities are endless.
I'm currently working on…
making Citrine the #1 destination for all things beautiful and glamorous in Phoenix.  Teaching women they can be natural and glamorous at the same time.  You can use aromatherapy and still get as glammed up as Marilyn Monroe.
Always…
look at the glass half full instead of half empty. Don't worry be happy, my grandfather taught me that.
Never…
be pushed by your problems always be led by your dreams!
Favorite Quote…
For beautiful eyes, look for the good in others; for beautiful lips, speak only word of kindness; and for poise; walk with the knowledge you are never alone. -Audrey Hepburn
Biggest Dream…
To open a Citrine in every major city in the world and my own makeup line.  Sky is the limit.
My Pet Peeve(s)…
Flaky people, do what you say and say what you mean.  Jealousy, its truly a sickness so for those people I say get well soon.
For more information on Melissa Lenberg and the Citrine Natural Beauty Bar, visit citrinenaturalskin.com.