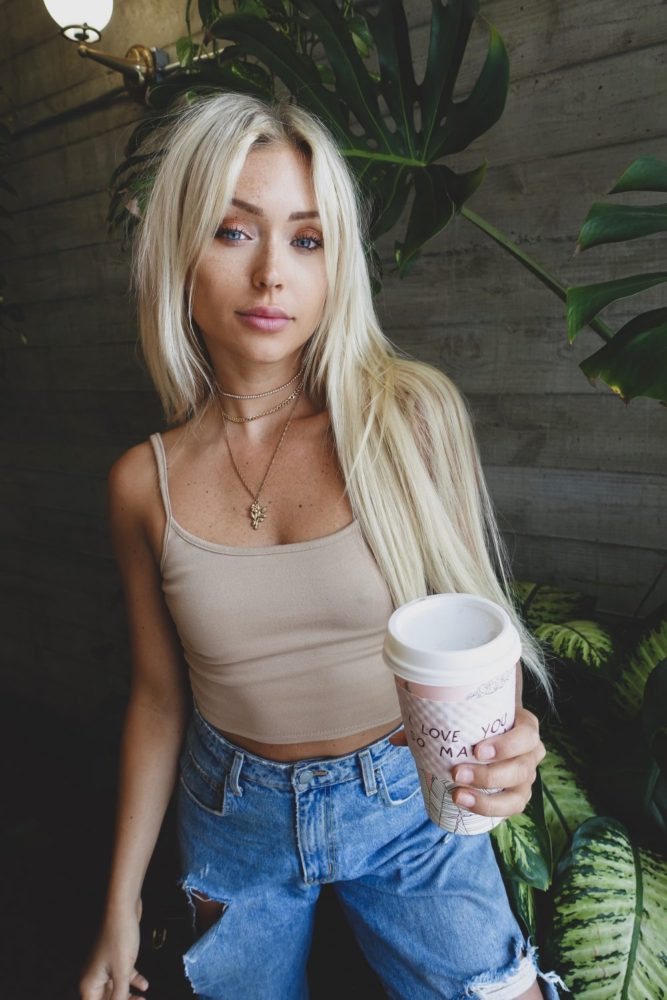 Name: Megan Noel Heaton
Age: 23
Title: Influencer, Brand Coordinator, Freelance Marketing Consultant
Married/Single: Single
Kids: Benji Tucker Heaton (my puppy)
City you live in: Scottsdale, AZ / Los Angeles
A typical day in my life includes…
I'm a HUGE morning person so I am up every morning around 6:30/7am. Take Benji on a walk in the morning and evening, run to the gym, respond to A LOT of emails and work on my current projects, shoot content, organize/unpack packages, read read read, journal, and I'm out by 10pm lol.
I was born…
I was born and raised in small town USA – Brazil, Indiana. LOTS of corn, basketball, tractors and fishing happening over there. I am super grateful I get to carry those midwest morals with me as I move forward in life.
My favorite thing about Arizona…
definitely a tie between the weather, food, architecture and people. Arizona has my heart, one of my favorite things to do is show people around the best spots.
I'm listening to…
Drake and Beyonce fuel my days. Mostly R&B/Hip Hop, but I love all music from Motown to folk to deep house, just depends what mood I'm in.
My family…
I come from a small family as I am an only child having two of the most loving, patient, supportive and giving parents of all time. They are my number one fans and have always believed in me. Words cannot describe how grateful I am for everything they do. I'm super close to my parents so I cant wait for them to move west 😉
If I could have dinner with anyone, it would be…
Gary Vee or Kanye West. Two very different people lol but either would be very interesting.
One thing I cannot live without…
my planner. Candles. Cookie dough, Diet Coke, Mediterranean food, jicama, truffle fries from the Henry, acai bowls.
When I was younger, I wanted to be…
a backup dancer lol.
I'm inspired by…
women supporting one another. It's important to stick together, be on the same team, root for each others successes and be a shoulder to lean on during tough times.
The one person who motivates me is…
it's a tie between Brene Brown, Michelle Obama, Anna Wintour, Raissa Gerona, Victoria Munoz, Tanum Bohem and Francine Heaton. These women are all a combination of class, strength, bravery, success and unconditional love.
If I could change anything in the world, it would be…
the standard that not caring is cool. Caring is cool. Passion is cool. Being vulnerable is strong. Loving is BRAVE.
The perfect day would be…
wake up, be on the water (boat, surf, something) golf, spa, shop, dinner watching sunset, ending with going to the movies with my human (who is imaginary right now).
My first job was…
working at a local clothing store called Rogers Boutique.
My favorite escape…
a day of shooting content with other spontaneous creatives.
My life…
is just beginning.
I'm currently working on…
brand partnerships/social media coordinating for companies, my personal branding for my influencing, my YouTube channel, prepping for Miami Swim Week, my jewelry line the start of my content agency 😉
Always…
focus on yourself first. Fall in love with who you are. Get excited about where you're headed. Have so many goals and so many dreams and be constantly finding new passions. Be spontaneous. Take risks. Get comfortable with being uncomfortable. Chase things that make you happy. Fill yourself with so much peace, so much growth and so much light that there's absolutely nothing that can get in the way of your best life.
Never…
let anyone treat you less than you deserve. Stand up for yourself. Be strong. Toxic relationships should never be dealt with. NEVER let anyone make you feel small.
Listen…
to your gut. To your intuition. To your momma. And to tons of podcast's in the car or while working out 🙂 Be a forever student, never stop learning or growing.
Favorite Quote…
"Even if you go for it and it doesn't work out, you still win. You still had the guts enough to head straight into something that frightened you. That type of bravery will take you places." – The Better Man Project
Biggest Dream…
traveling the world. Having my own business. Sitting front row for every fashion show around the world. Being a role model for young girls wanting to push limits and create their own fairytale that goes against societies norms. Having a loyal circle of friends who support and love each other and are there.
My Pet Peeve(s)…
know-it-alls, liars, people who pass judgement and HANGERS. I hate hangers.