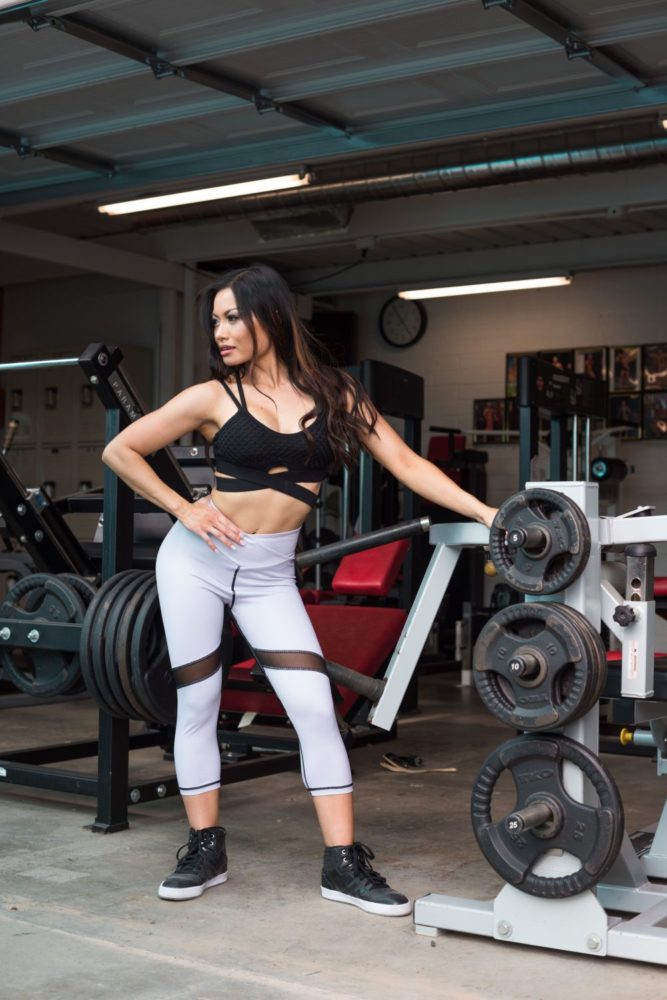 Name: Lynn Tran
Age: 30
Title: CEO & Founder of Boss Bunny Sportswear
Married/Single: Single
Kids: 0
City you live in: Scottsdale 
A typical day in my life includes…
spending time with my family, working full time, running my company and working out.
I was born…
in Phoenix, Arizona.
My favorite thing about Arizona…
the amazing sunset and sunrise.
I'm listening to…
Christian music.
My family…
is the most loving, caring and outgoing people you'll ever meet.
If I could have dinner with anyone it would be…
my grandpa.
One thing I cannot live without…
is god.
When I was younger, I wanted to be…
a doctor.
I'm inspired by…
Oprah.
The one person who motivates me is…
my dad, Calvin Tran.
If I could change anything in the world, it would be…
empowering women to be their best and live up to their greatest potential. 
The perfect day would be…
not working 9-5 job and spending it with family.
My first job…
was at Mervyn's.
My favorite escape…
the gym.
My life…
has peaks and valleys.
I'm currently working on…
becoming a woman of god, wife and a leader.
Always…
laugh, stay positive, be grateful, spread love and forgive.
Never…
lie, cheat, or steal.
Favorite Quote…
"Here's to strong women: may we know them, may we be them, may we raise them" -unknown
Biggest Dream…
Boss Bunny store locations worldwide.
My Pet Peeve People who don't finish the food on their plate and throws it away. There are so many starving children worldwide .
More about Lynn…
I am a designer, former fitness competitor, founder, and owner of Boss Bunny Sportswear. I'm Vietnamese and a quarter Chinese. I was born and raised in Arizona. I believe empowering women is my calling. 
I saw a gap in the market for durable, attractive, affordable sportswear for women but it wasn't until I discovered waist trainers and shapewear that I realized I could design the activewear that I had been longing for. Hours of feeling uncomfortable and self-conscious in ill-fitting gym clothes fueled me to create a line of activewear that would enhance the feminine curves to help women perform their best, feel great about themselves, and live up to their greatest potential. I am truly in touch with the needs of the active woman. That's when Boss Bunny Sportswear was born.
More about Boss Bunny Sportswear…
At Boss Bunny, we pride ourselves on offering a range of versatile clothing that includes:
Waist trainer Capri leggings (reduce your waist by 2 to 3 inches instantly)
Reversible leggings (wear them in 2 different ways)
3-in-1 sports bra (wear it in 3 different ways)
4-in-1 convertible and adjustable sports bra (wear it in 4 different ways)
Featuring moisture-wicking fabric, our active leggings, sports, bras, shorts, and socks keep you feeling comfortable, moving freely, and looking great. We use a slimming fabric in our shaping activewear and workout clothing in order to smooth and give you lift in all the right spots (can you say "perky rear"?). Premium-quality and affordable, our complete gym outfits run under $100, in start contrast to other, overly-expensive activewear companies.
Offering complete shaping, our active leggings are made with a contoured waistband that sits higher than most in order to flatten your tummy and create a clear view of your now-perky rear. Once you try these leggings, you will wonder why it ever took so long for you to find them in the first place! Each pair is made with your comfort and style in mind so that you can always feel and look your very best. For a perfect pair of slimming leggings, look no further: this is activewear that you can put on in any situation, suitable for work and play alike. Throw on some heels or a blazer with them and you are office-ready any day of the week!
Made with patterns that are stretchy and playful, our leggings are a must-have for every woman's closet. Say good-bye to camel toes once and for all with our ultra-flattering active leggings that give you that just-hit-the-gym look no matter what you have spent your day doing. Wear them cropped at the knee or all the way down to your ankle; the choice is always yours.
Perhaps most exciting, our EveryWear support leggings are ideal for the on-the-go, busy lifestyle. You can shop everything from faux leather leggings to workout leggings: we have you covered. Our bras are also the most comfortable on the market, no matter what shape, style, or color you prefer. Comfort and support go hand-in-hand for us.
At Boss Bunny, we want to inspire people to improve their mindsets, build their communities, and work toward their goals. From the gym to the office to the rest of your life, our activewear is there for you. We value your comfort and your style at Boss Bunny. This is more just a fitness fashion clothing brand: this is an inspirational lifestyle movement. Exercise changes lives, making people happier, healthier, and freer. We empower women to be strong and powerful.