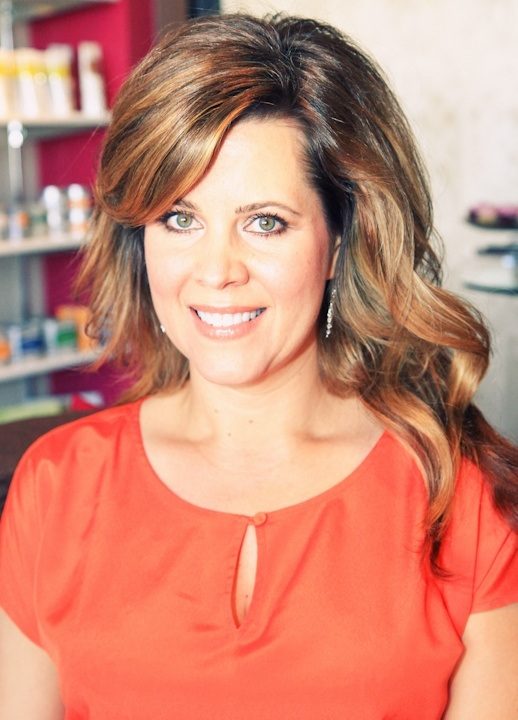 Name: Lisa Vukonich
Age: 49
Title: Co-Founder of Fuchsia Spa
Married/Single: married for 24 years
Kids: two boys, Mason 21 years old and Ethan 18 years old.
City you live in: Gilbert
A typical day in my life includes…  
waking up early but I spend my first-hour drinking coffee and slowly coming into my day. As my other family members get up in the morning, I yell "make a move". I learned this phrase at a Tony Robbins business conference and it reminds everyone to make the most of their day. My family thinks I am a little over the top. For exercise, I either catch a class at Barre 3 in Chandler or go for a walk where I listen to business podcasts or an Audible book. From here, I start my workday which includes meetings with different skincare companies about new skincare technology or products. We are just launching a new experience at our spa which will include the first-ever LED bar. I have been busy getting all of the final details worked out on this. I also am involved in the Gilbert Chamber of Commerce, different mastermind groups, and also spend time with other business owners on learning from them or providing mentoring when I can. I typically work from my home office but also spend time at each of our corporate locations in Mesa, Gilbert, Ahwatukee or in Tucson otherwise I am in Phoenix with our two Fuchsia franchisees.  I love to spend time with our Fuchsia Spa team. They are a ton of fun. On days I finish by 6 PM, we often grab a bite to eat in downtown Gilbert at Postinos or Joyride. Love the $25 bottle of wine & bruschetta board deal on Monday and Tuesday. 
I'm listening to…
Audible and podcasts. Currently listening to The Road Less Stupid by Keith J. Cunningham on Audible. It is a business book about how to avoid the dumb mistakes that sabotage growth, profits and business success. My favorite podcast is the Tony Robbins podcasts around business mastery. 
My family… 
is really important to me! We love to travel together. Except I only like to be away for 4 days no matter where I am at…Maui, Cancun, Newport Beach…you get the idea.
If I could have dinner with anyone, it would be…
Jennifer Anniston. I am still wondering why she and Brad Pitt REALLY divorced and if there is ANY chance at all there will ever be a Friends reboot. 
One thing I cannot live without…
there isn't one thing I can't live without as I am a skincare product junkie. My favorite cleanser is our Fuchsia Advanced Skin Care Pumpkin Cleanser. It smells just like pumpkins and gets my skin really clean. My favorite exfoliant is Lotion P50 1970. It is a cult favorite by a company called Biologique Recherche in France. I also love the Image Skincare Ormedic Lip Complex. Once you use it you will throw every other lip balm out and exclusively use this. I turn everyone I know onto this product. As I am getting older, I have also become obsessed with facial oil and I mix it into my moisturizer twice a day. My favorite is Eminence Organics Facial Recovery Oil. If I was ever stranded on a desert island these would be the products I couldn't live without!
When I was younger, I wanted to be…
rich.
I'm inspired by…
strong women! I am a strong woman inspired by other strong women. 
The one person who motivates me is…
myself. I am very driven.
If I could change anything in the world, it would be…
stopping domestic violence. Out of college, I worked as a social worker in an elementary school and it was heartbreaking to see the effect domestic violence has on children. It bothered me so much that I had to get out of social work. My ultimate goal is to open a domestic violence shelter so anyone who is ever in that situation has a safe place to go. Nobody should ever have to put up with someone abusing them. 
The perfect day would be…
with my family somewhere by the ocean relaxing with a good book and a pina colada.
My first job was…
an assistant to a hairdresser.
My favorite escape…
the beach.
My life…
is fulfilling.
I'm currently working on…
being my best self. I am trying to be a better wife to my husband, mom to my almost grown children and business leader to my Fuchsia Spa team.
Always…
treat others with respect no matter who they are. 
Never…
don't keep your word.
Favorite Quote…
"If you don't make time for your wellness you will be forced to make time for your illness." I am a big believer in self-care.
Biggest Dream…
to raise two sons who are happy.
My Pet Peeve(s)…
I have a few. I hate to be late. It gives me extreme anxiety if I am ever late anywhere. Another one is parallel parking. I have been known to cancel a dinner reservation due to all the parking being parallel parking. I also dislike road rage. I am a very friendly driver on the roads and am always being courteous and someone else in my family, aka my hubby, is the total opposite and this can create some interesting road trips.
More about Lisa…
I am an Arizona native and will never move from Arizona. Thirteen years ago I started Fuchsia Spa with my business partner, who I worked within corporate America for five years. We are on a mission to care for more women at our day spa through our spa services. Women often put themselves last on the list and I am looking to change this. We currently have 3 corporate Fuchsia Spa locations and 2 Fuchsia franchisees and are looking to grow in Arizona and on the West Coast.