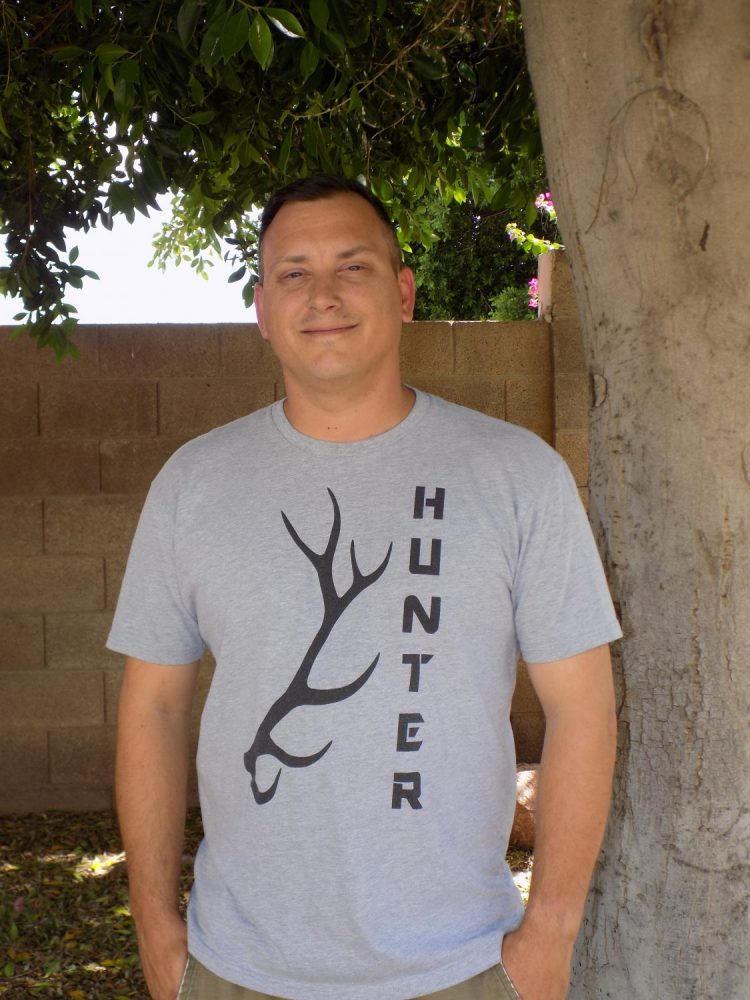 Name: Justin Renninger                
Age: 36
Title: Co-Owner of Mounted Horn
Married/Single: Married for almost 3 wonderful years now.
Kids: 3 beautiful girls
City you live in: Ahwatukee
A typical day in my life includes…
work, work and more work and then I get to hang out with my family. I work on designs for our new apparel company, Mounted Horn, after we put our kids to bed.
I was born…
in San Dimas, California.
My favorite thing about Arizona…
is the winter months, when the heat is gone.
I'm listening to…
either country music, EDM or a podcast. I'm eclectic.
My family…
is everything to me.
If I could have dinner with anyone, it would be…
Blake Shelton. He is an awesome country artist and loves to hunt.
One thing I cannot live without… 
pizza and my family. Not necessarily in that order J
When I was younger, I wanted to be…
a pro fisherman.
I'm inspired by…
Michael Waddell "The Bone Collector".
The one person who motivates me is…
my wife.
If I could change anything in the world, it would be…
more awareness about the importance of conservation in our world.
The perfect day would be…
going up north with my business partner and friend Jason. We would both have our families with us and each be fishing with our kids.
My first job was…
a courtesy clerk at Safeway.
My favorite escape…
I went to Nashville earlier this year and it was a blast. I would love to go back and explore more.
My life…
is what I make it. I work hard for everything I have and I am always learning.
I'm currently working on…
growing our apparel company Mounted Horn and working my regular job. I also go to college full time and take online classes.
Always…
keep your mindset moving forward to achieve your goal.
Never…
give up.
Favorite Quote…
"Without hunting there would be no conservation, without conservation there would be no wildlife." -Rob Keck
"The road to success and the road to failure are almost exactly the same." — Colin R. Davis
Biggest Dream…
buying a big piece of land up north with my family and spending the summer months up there just enjoying the peace and quiet. I am a country boy at heart but my wife still needs that city life. It's the best of both worlds for us.
My Pet Peeve(s)…
bad drivers – don't make it dangerous for the rest of us!
More about Justin…
born in California, Justin Renninger has lived in the dry desert since he was 15 years-old. The avid outdoorsman is co-owner of the apparel company Mounted Horn with his business partner Jason Ingersoll. The company donates $1 for every shirt sold to conservation. Justin loves spending time escaping the busy city with his wife and their two daughters.