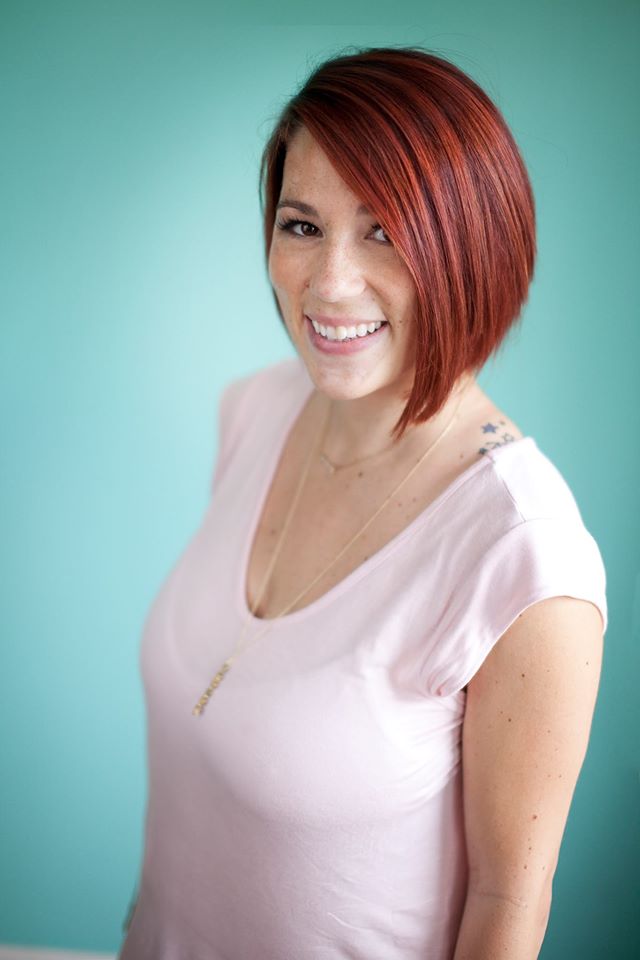 Name: Diana Brandt
Age: 32
Title: Founder of AZFoodie, although I prefer Professional Food Eater
Married/Single: Married
Kids: Carter (5 months old) and Kellan (4 yrs old)
City you live in: Phoenix
A typical day in my life includes…
chaos!   Everyday is so different. I'm up throughout the night with the baby and then up for the morning by 6:30ish. I get one ready and out to school and the other one down for his first nap by 8:30ish. I might hit up Orangetheory for a workout, I get on my phone or computer to respond to emails and try to do some blogging, social media, photo editing, whatever I'm working on for the day. Feed baby, laugh with baby, play with baby, put baby to sleep, eat, and repeat! Get toddler from school. Try to do more work or take toddler to play somewhere. Maybe I have an appointment with a Chef or another person in the industry. At night I'm usually out at an event, I try to get home early to put baby to bed and get in bed myself by 9:30. Up again at 1am…3 if I'm lucky.
I was born…
in sunny San Diego. I frequented the beach with my mom, brother and sister about every weekend. If we didn't go to the beach, we went to the zoo, wild animal park or Sea World. It really was an amazing place to grow up but so was Seattle, we ended up moving there when I was 8.
My favorite thing about Arizona…
the growing food scene and the winters!
I'm listening to…
anything I can dance and run to, I love a good beat and pop music. That's right, I like Nick Jonas, Macklemore, The Weeknd, Justin Bieber, Calvin Harris, ZHU and the list goes on and on!
My family…
is my rock.  
If I could have dinner with anyone, it would be…
at my home surrounded by family and friends, Martha Stewart style.
One thing I cannot live without…
dessert!
When I was younger, I wanted to be…
a veterinarian, now I'm allergic to animals, so good thing that didn't happen.
I'm inspired by…
the way my baby is fascinated by everything, it reminds me to enjoy the little things, to slow down and take a deep breath.
The one person who motivates me is…
Jim Red!
If I could change anything in the world, it would be…
the ability to give people more hope. I used to do a lot of volunteer work with people in halfway homes, treatment centers and those homeless on the streets. I've had my own struggles, we all have and it's so heartbreaking to hear how hopeless many people have become and how little they feel loved. I will say that on the flip side the best thing is to see some of these people come out of that and rebuild their broken pasts into the most successful futures.
The perfect day would be…
sleeping in, waking up beachfront, enjoying a nice hot coffee on the patio listening to the waves, playing in the water, eating some good grub and not worrying about anything.
My first job was…
working at GAP.
My favorite escape…
is anywhere by a beach.
My life…
is more than I could have imagined. I truly am so lucky to be where I am today, to have the people that I have in my life and to get to experience the things I have. If you had told me this was where I was going to be 10 years ago, I wouldn't have believed you.
I'm currently working on…
pop-up food events with local Chefs, first one is with Chef Chamberlin on Dec. 5th and 6th.
Always…
eat good food.
Never…
judge others, you have no idea what their story is.
Favorite Quote…
"Everything you want is on the other side of fear."
Biggest Dream…
I'm living it!
My Pet Peeve(s)…
flakey people, children not listening, not responding to text messages, and messes.
Click here to order a Trendsetters reprint.