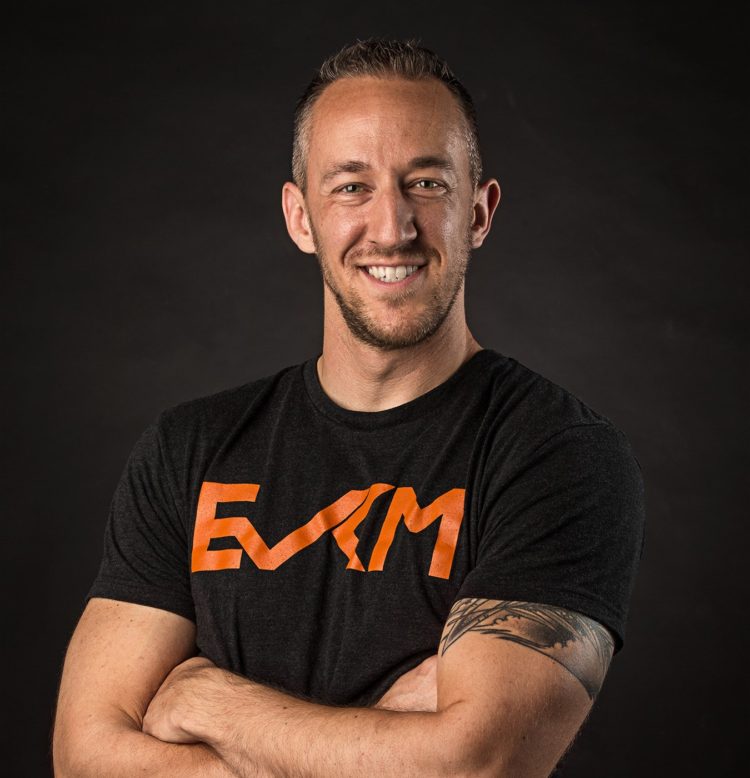 Name: Derrek Hofrichter
Age: 34
Title: Owner and Chief Instructor at EVKM Self Defense & Fitness
Married/Single: Married
Kids: 1 Pit Bull and 2 Siamese Cats
City you live in: Phoenix
A typical day in my life includes…
a blended fruit/vegetable/protein breakfast drink, a morning walk with my dog Bruce, working out, reading, teaching, a lot of work, and unwinding with dinner and Netflix.
I was born…
in super rural Nebraska and grew up on a corn farm.
My favorite thing about Arizona…
it has it all. Great food, businesses, weather, scenery and an ocean is never more than a few hours drive away. It is a place where your family and friends want to visit, and it is a place to get things done!
I'm listening to…
Gramatik. Excellent work time motivation and productivity music.
My family…
are some of my employees!
If I could have dinner with anyone, it would be…
Tim Ferriss (best-selling author, entrepreneur and public speaker). He would be fascinating on so many topics.
One thing I cannot live without…
my wife would say my iPhone, but I say it would be travel (but it may be my iPhone).
When I was younger, I wanted to be…
a politician. In 7th grade we took a field trip to DC and I was in awe. Went down that path long enough to realize that the best way to make a difference was as an entrepreneur and small business owner.
I'm inspired by…
traveling to new places.
The one person who motivates me is…
my wife, Ivvette.
If I could change anything in the world, it would be…
to make it a safer place. It's something I try to do every day with every student we teach.
The perfect day would be…
relaxing while reading a great sci-fi novel and then dinner and drinks with my wife.
My first job was…
detassling corn. Essentially walking up and down rows of corn and pulling the top (tassle) off of each stalk. I was 13 years old and had to get up at 5am every morning for a month of the summer. Much character was built.
My favorite escape…
Lincoln, Nebraska for a Husker football game. Go Big Red!
My life…
is how I make it, for good or bad.
I'm currently working on…
developing staff and systems, so I can attempt to multiply myself.
Always…
be aware of your surroundings and give more than you take (in life and in self defense)
Never…
give up. Unless it is a tactical retreat.
Favorite Quote…
"If you really want something you will find a way, if not you will find an excuse."
Biggest Dream…
that everyone learns some basic self-defense.
My Pet Peeve(s)…
when people get in their own way of accomplishing their goals.

Click here to order a Trendsetters wall plaque.