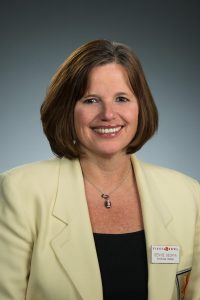 Name: Denise Seomin
Twitter
Instagram
Age: 52
Title: Director of Public Relations and Marketing Communications at The Phoenician
Married/Single: Single
Kids: None
City you live in: Phoenix
A typical day in my life includes… a lot of multi-tasking.
I was born… to rescue and take care of animals.
My favorite thing about Arizona… is its amazing sunsets; and that shorts and sandals are both casual and upscale attire.
I'm listening to… a little bit of everything — from Frank Sinatra to Poison.
My family… is very small; we could have a family reunion in the back of a Volkswagen Beetle. But, my Mom and Dad are my best friends and the reason I have been so fortunate in my life and career.
If I could have dinner with anyone, it would be… Abraham Lincoln. Boy, could we use him now!
One thing I cannot live without… my Diet Pepsi; it's my morning coffee and my evening cocktail.
When I was younger, I wanted to be… a Major League Baseball player for the Big Red Machine (Cincinnati Reds). Johnny Bench is the man!
I'm inspired by… those who achieve, despite the obstacles and difficult circumstances.
The one person who motivates me is… my mother. She is strong, independent and the coolest person in a crisis that I have ever seen.
If I could change anything in the world, it would be… that all animals have a loving home.
The perfect day would be… starting at 6 a.m. with College Football Game Day, followed by a full slate of matchups that includes an Ohio State victory over "that team up North." The celebration would continue with dinner and drinks among friends at Taco Guild.
My first job was… Free Wheelin', an outdoor roller skate rental company in Cincinnati. I actually worked on skates, up to 12 hours a day.
My favorite escape… a cabin in the woods with a peaceful creek and bad cell phone service.
My life… is not at all what I expected.
I'm currently working on… the Board of the Fiesta Bowl, focusing on charitable giving throughout Arizona; and PR plans for The Phoenician following major renovations this summer.
Always… remember it's the little things in life that mean the most.
Never… forget those who have impacted your life, no matter how big or small.
Favorite Quote… "Be sure you put your feet in the right place, then stand firm." – Abraham Lincoln
Biggest Dream… to dot the "I" in the Script Ohio during The Ohio State Marching Band's Halftime Show.
My Pet Peeve(s)… using the same word multiple times in a sentence; one of the first things I learned not to do in Journalism 101.