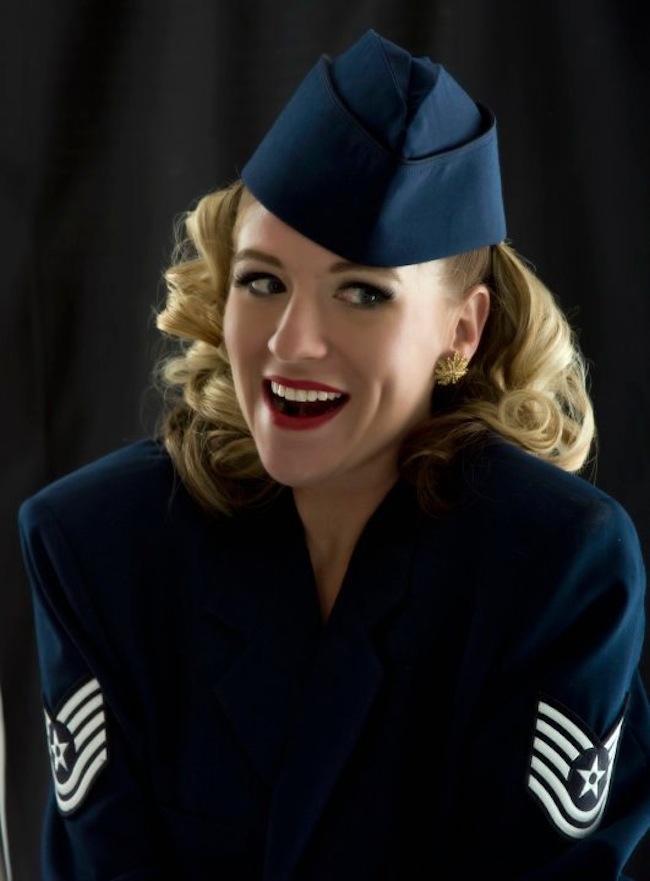 We began 17 sentences that each person finished in their own words. Here's what bubbly Real Estate CEO and military wife, Danielle Gregorich, had to say about family, Howard Stern and everything in between.
Name: Danielle Gregorich
Age: 28 years old
Title: C.E.O DG R.E.M. – Real Estate Marketing
Married/Single: Married to Steve Gregorich
Kids: 1 miracle baby boy Rylan born weighing 3lbs
Live: Tempe
I was born…
a proud Arizona native born in Scottsdale and raised in Ahwatukee.
My favorite thing about Arizona…
I love the diversity of the people in Arizona. I have had the pleasure of meeting people from all different walks of life. I love the melting pot of cultures that it provides, which is what I think makes Arizona so unique. I only wish more people would turn into Arizona Cardinals fans when they move here.
I'm listening to…
a mix of Counting Crows, O.A.R, Jason Mraz, and Bob Marley.
My family…
mean the world to me. I am a proud Air Force wife to my husband Steve who has been in the service for 12 years. We are the proud blessed parents to our miracle baby boy Rylan, who was born not breathing weighing only 3lbs. He is now a wild 4 year old spitfire who makes me laugh every day. I have been attending the Cardinals games alongside my Dad every hot sweaty season since 1988. (We are very grateful for the new stadium and to no longer burn our butts on those ASU bleachers) My Mom and Dad still live in the home I grew up in down the street from Desert Vista High School (Go Thunder!), and my "Not So" little brother Colin just became a certified EMT. Love my family, love my life!
If I could have dinner with anyone, it would be…
without a doubt, Howard Stern! I respect the empire he has created on his own without ever changing who he is as a person. He has stayed true to who he is himself and never lost focus of his vision for success. It is such a rarity these days for people to know who they are and believe in what they can achieve. I think I could learn a ton from a dinner with him! Plus I would hope that he would invite the entire "Wack Pack" to our dinner!
One thing I cannot live without…
Mascara (I had to be honest!) Family, Friends, Laughter, Diet Coke, Cheese, Tivo, Football Season, My Phone, A fan when I am sleeping, Reality TV, Facebook, Twitter, WordPress, and my GPS (Sorry….I had to name 7 things not just 1. Bundle them together, and pretend they are 1)
When I was younger, I wanted to be…
"my own boss." My very first memory of ever being asked this question was by my Dad, and my answer was "My own Boss" When I was 4 years old I tried to sell my autograph to the neighbors for 5 dollars and I told them they had to wait 1 week for it to be delivered. I have always said " I don't want to march to the beat of a different drummer, I want to be the drummer".
I'm inspired by…
people who are daring and bold. People who live their lives saying "If it is going to be, it is up to me". People who go out of their way to teach others how to succeed. No matter what age you are, the industry you are in, or the experience you may have we should all try to help other people out because you never know when you may need it yourself. Friendships, Relationships, and your Reputation is all you have at the end of the day. People who cherish their relationships and help others inspire me.
The one person who motivates me is…
my dad. He motivates me to want to achieve great things in life. He started out working as a bread truck driver when I was born. He worked his way all the way up the company ladder for over 30 years with no college degree. He taught me hard work, dedication, and relationships will help you to succeed in this world. He motivates me to have the same drive, willpower, and determination in life.
If I could change anything in the world, it would be…
considering the current time and the importance of this election for our future, I am going to skip going the political route and give a "politically correct" answer. I would change the laws against people who commit crimes against animals and children. I would change those laws to be much more strict and less forgiving. *Insert Miss America Wave*
The perfect day would be…
family, friends, cold drinks, good music, a cabin on a lake big enough to fit all my friends and family, with a private boat and jet-skis for everyone, and a personal nanny and chef for everyone. That sounds like heavenly bliss!
My first job was…
On my 8th birthday we went horseback riding at what used to be the Point at South Mountain. During our trail ride, I asked the Wrangler if I could work there. When we got back to the stables, he introduced me to the owner Bill and he said "Be here next Saturday at 5am" (I am sure they thought they would never see me again) I worked at those stables every Saturday and Sunday for 4 years.
My favorite escape…
I know this probably sounds insane to most people but my favorite escape is my work. I love what I do, I love helping clients with their vision, and the satisfaction of completing a project from start to finish is the best escape for me. (I am weird, I know!)
My life…
is a wild, crazy, beautiful roller coaster of greatness! I really am so blessed and truly grateful for all of the blessings that I have in my life. I look forward to finding out what additional blessings I will receive during my wild ride!
I'm currently working on…
after 7 years of managing and consulting Top Producing Real Estate Agents and Brokerages, I am finally working on going back to get licensed. I can't wait for the next DG R.E.M chapter!
Always…
Be Bold. Stay True. Be You.
Never…
Be afraid to take the first step, even when you don't see the whole staircase.