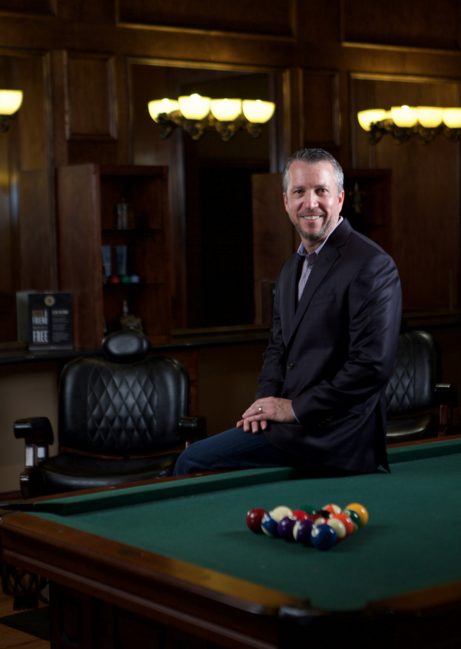 Name: Bruce Schultz
Age: 53
Title: Co-Founder and CEO of Boardroom Salon for Men
Married/Single: married
Kids: 3
City you live in: Southlake, Texas
A typical day in my life includes…
being up between 5 – 5:30 a.m. for a workout, read, clear email and then off to work. I'm fortunate to work with great team members on delivering an outstanding client experience and building an iconic brand. I'm home by 6-7 p.m. for dinner with Heather and often time friends – it's my first year of being an empty nester. I'm asleep by 11 p.m.
I was born…
in Milwaukee, WI.
My favorite thing about Arizona…
great food, the winter weather, the drivability and cool vibe of the city
I'm listening to…
rock from the late 60s to mid 80s.
My family…
is the best in the world and makes me happy, proud and inspired. In addition to growing our business, Heather led the charge in raising our three incredible kids.
If I could have dinner with anyone, it would be…
Alexander Hamilton.
One thing I cannot live without…
Purpose.
When I was younger, I wanted to be…
a professional baseball player
I'm inspired by…
people succeeding and accomplishing great things – whether in sports, business or the arts.
The one person who motivates me is…
my wife and myself.
If I could change anything in the world, it would be…
give everyone hope in a better tomorrow.
The perfect day would be…
get up early and workout, complete meaningful projects at work and finish the day with a great meal and wine with family and friends.
My first job was…
a paperboy.
My favorite escape…
Seattle.
My life…
is full of activity, business and blessings.
I'm currently working on…
building Boardroom into a national brand as well as creating empowering career opportunities for our team, along with amazing experiences for our clients.
Always…
treat people the way you want to be treated.
Never…
not give every project, activity or interaction your absolute best.
Favorite Quote…
"Own and take responsibility for everything that happens in your life, and proactively impact the outcome and you will not be disappointed."
Biggest Dream…
each of my kids to find a great spouse who makes them happy, as well as motivates and supports them to achieve ambitious, impactful goals.
My Pet Peeve(s)…
Laziness.
More about Bruce…
Bruce Schultz is the Co-Founder and CEO of Boardroom Salon for Men – which delivers the ultimate relaxed grooming experience for men by providing exceptional haircuts, shaves, and spa services in an elegant country club environment.
He and his wife Heather originated the concept of luxury salons for men with the launch of Boardroom in 2004, when the men's grooming industry did not exist. They were looking for their next entrepreneurial opportunity when they read an article about men's grooming in American Way Magazine. Building on the men's grooming theme, they predicted significant demand for an upscale grooming experience. In eight short months, the Schultz's idea progressed through to a business plan, location selection, lease and build out – opening the first salon in Southlake, Texas. Since then, Boardroom has become an iconic brand, growing to nearly 40 salons nationwide – including recent entrance into the Phoenix area. The Schultz's were excited to open their first salon in the market in Scottsdale at Lincoln Marketplace, near the popular SumoMaya. They have three additional openings planned this year, including Uptown Plaza and Desert Ridge this spring, as well as Chandler this fall.
As luxury salons for men became a fast-growing business category, the Schultz's recognized an increased demand for licensed barbers. The couple also opened Brighton Barber Institute (BBI) in 2017, a premier barber curriculum to develop the industry's top future talent. BBI provides specialty training for licensed cosmetologists that enhance career opportunities and earning potential, as well as includes assistance with job placement. As Boardroom continues rapid growth, BBI is meeting the demand for additional, well-trained licensed barbers.