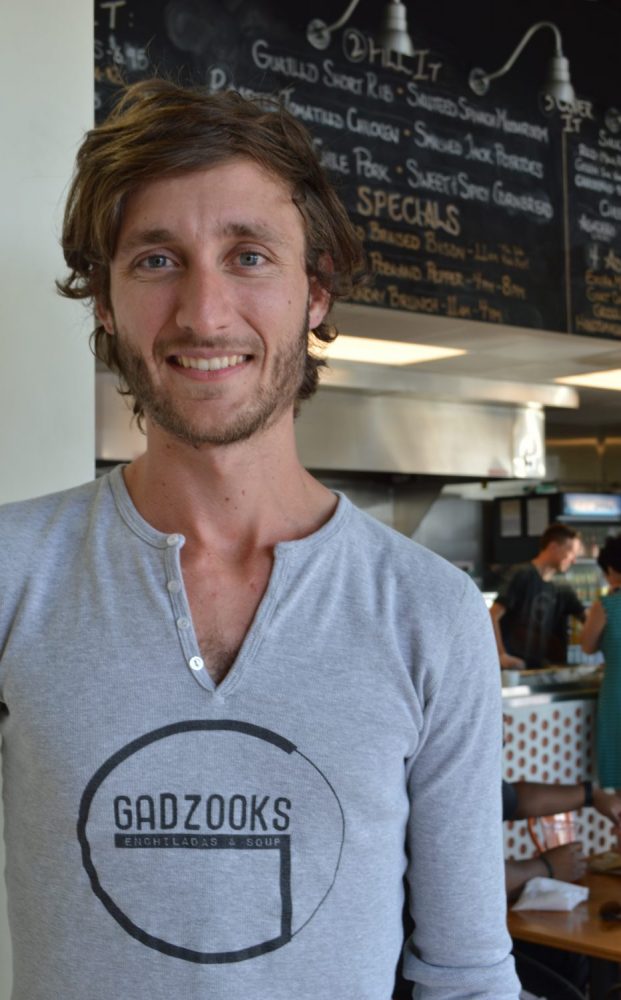 Name: Aaron Pool                                                
Age: 29
Title: Owner- Gadzooks Enchiladas and Soup
Married/Single: Single
Kids: 0
City you live in: Phoenix
A typical day in my life is…
I get up at 5a and commute over to the restaurant. I get an early morning sear of pork, short rib, and bison in. Then I put those in the oven to braise. Maybe I will Snapchat the mixer spinning masa, then boil some potatoes, bake some chicken, then make guacamole. When I am done at the restaurant around 3p, I like to go hike Camelback Mountain.
I was born…
at John C. Lincoln Hospital in Phoenix.
My favorite thing about Arizona…
weather, space, outdoors, people. There aren't many places in the world where you can get as much sunshine as we do. It's easy to take for granted. I love the space Arizona provides. If I want to get away from everyone, I know I can go to my home and be away from it all. We have great hiking opportunities in middle of the city: Camelback, Squaw Peak, Dreamy Draw. The people: the majorities are from places other than Arizona; we share a common bond in living in a place that we want to live.
I'm listening to…
Vance Joy, Hall and Oates, occasional Mariah Carey. Also, the office is next to an intersection. So, I listen to motorcycles and loud imports accelerate rapidly out of the turn. Delivery trucks, garbage trucks, and fire sirens are common too.
My family…
is everything. They are my support, encouragement, and friends. I am lucky to have my parents, two brothers, two sister in-laws, and two nephews all living in Phoenix.
If I could have dinner with anyone, it would be…
Jennifer Aniston with the frog from Smack cereal, so he could break the ice.
One thing I cannot live without…
the rubber spatula. Without it, you would need to use your hand to scrape out bowls. It is one of the greatest inventions of all-time.
When I was younger, I wanted to…
own an airline. That's not ruled out yet, you never know. Enchiladair sounds nice.
I'm motivated by…
my two brothers, they do a lot more than I think I could handle.
I'm inspired by…
my mom, she is a great worker.
If I could change anything in the world, it would be…
the ability to have background music during your day-to-day life; similar to movie soundtracks that make certain moments more intense. I would always be in a state of trance.
The perfect day would be…
an Arizona State Football National Championship AMIRIGHT?!
My first job was…
Gadzooks.
My favorite escape…
one night in Vegas. Doesn't matter if it's a Tuesday or Friday. Getting a flight around 6pm and coming back the early morning the next day, is one of my favorite things to do.
My life…
revolves around the enchilada. My brain is basically the sun, and the enchilada…the Earth.
I'm currently working on…
Gadzooks 2 on 40th Street and Camelback.
Always…
substitute mayonnaise with mustard on a sandwich.
Never…
mix 5 hour energy, alcohol, and dancing…
Favorite Quote…
"If it looks good, eat it."
Biggest Dream…
to have a room at my house be a dedicated dance room. I will have glow sticks in a bowl ready to be cracked before entrance. Whenever I need to get rid of stress, I would go dance.
My Pet Peeve(s)…
the Fly. I don't like them buzzing around me when I'm trying to eat or take a nap. It's like they know how annoying they are, and they will keep landing on you if there is one in your living room while you try to take a nap on the couch. I thought by this point I would have began evolving and grown a tail, so I could swat them away like a horse or cow.