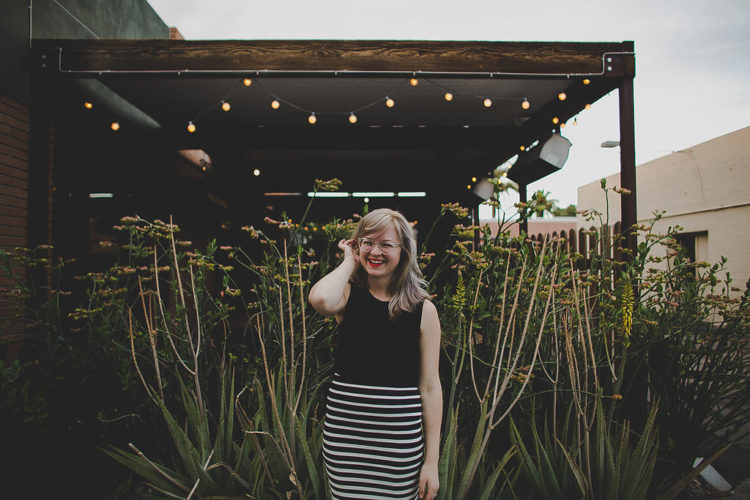 photo by Kym Ventola
Name: Malori Maeva

Age: 25

Title: Renegade Florist and Small Business Hype Girl

Married/Single: So, so very single.

Kids: Nope!

City you live in: Phoenix most of the year and Chicago in the summers

I was born…
in Phoenix!  The older I get the more I realize how unique it is to have been born and raised here in the Valley.

My favorite thing about Arizona is…
the prime Mexican food and the way it smells after it rains.

I'm listening to…
so. many. podcasts. It's a sickness. My favorites right now are Undisclosed, Call Your Girlfriend, Being Boss, and The Read. In between the podcasts, I mix in a healthy dose of old school rap for good measure.

My family is…
really loud and incredibly supportive.

If I could have dinner with anyone, it would be…
Beyonce. 

One thing I cannot live without is…
as millennial as this will sound, I have to say my phone. I'm always checking in on my clients, sharing images of the projects we're doing at Hoot & Holler, and posting a gratuitous amount of pictures of my dog June.

When I was younger, I wanted to be…
Martha Stewart (before she got locked up). I used to set my alarm on Saturday mornings so I could get up in time to watch Martha Stewart Living.

I'm inspired by…
music, books, and art. I've always got an eye out for unique things and I constantly carry a notebook with me so I can write down those little bits of inspiration as they pass through my day.

The one person who motivates me is…

probably me. When you work for yourself you have to be a whole other kind of self-motivated in order to meet goals and deadlines and to grow your business. I'm always competing with myself to see how I can improve and grow.

If I could change anything in the world, it would be…

I'd love to see more patience in life. I feel like that trait would benefit everyone in more ways than one.

The perfect day would be…

is this perfect day set in Arizona? If so, it would definitely start by waking up without an alarm. I'd make a big breakfast, grab an iced vanilla latte, and take June for a walk. I'd have the time to connect with friends, read part of a good book, and maybe do a little bit of yoga. I'd top it all off by cooking a hearty dinner (I make a ridiculously delicious baked mac n' cheese) and binge-watching some Netflix.

I love days when I can indulge in most of my favorite things. Give me brunch, the beach, some yoga, some loud singing in my car, and some quality time with friends. Top it off with a delicious homemade dinner and a perfectly mixed gin and tonic followed by some dessert and I'm the happiest girl.
My first job…

taught me SO MUCH about people. I worked at a consignment store and I feel like that was my customer service boot camp.
My favorite escape is…
a big city. I love getting lost in tall buildings, wandering through mom and pop shops, and just soaking up the culture of a new place.

My life is…

awesome. I feel incredibly lucky to be doing what I love for a living!

I'm currently working on…
some really gorgeous wedding designs for later this year. I'm really excited about the couples that we're working with and the kind of flowers we're going to be using. I also recently got into weaving and gardening so I've been reading as much as I can about both.

Always…

aay what you mean.

Never…

underestimate your value.
Favorite Quote…
"The world is a far greater place than I ever imagined.  And it is yours"

Biggest Dream…
my biggest dream was to work for myself doing something creative so right now I'm trying to dream some bigger dreams.

My Pet Peeve(s)…
people who ask questions and don't listen to the answer.