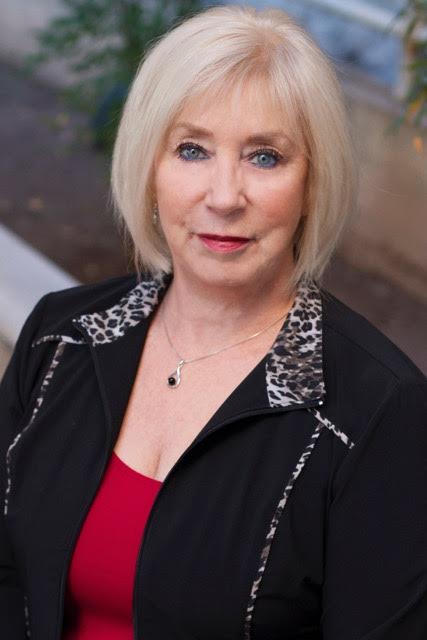 Name: Dr. Elaine Burns
Age: 62
Title:  Founder/Medical Director Southwest Medical Marijuana Physicians Group, Founder/CEO DrBurns' ReLeaf™ Botanical Wellness
Married/Single: single
Kids: two adult sons, one daughter in law and one (AWESOME!) grandson, age 11.
City you live in: Scottsdale
A typical day in my life includes…  
trying to find balance between business and pleasure so I work some – ok , a lot – and then I "play" some. Lately the scales have been tipping more towards the business side of things as I have a lot of very exciting things going on with the Wellness Collection.
I was born….
in London, England.
My favorite thing about Arizona….
the diversity of people and ability to drive a few hours and be in a totally different ecosystem/climate.
My family…
is very important to me, family and friends are always a priority.
One thing I cannot live without…
my family and friends.
When I was younger, I wanted to be…
a doctor.
I'm inspired by…
people with physical and/or economic disadvantages who succeed despite those limitations.
The one person who motivates me is….
my 11-year-old grandson who reminds me to face my fears.
If I could change anything in the world, it would be…
the social and financial inequalities that exist.
My first job was…
after college, working in Management Information Services for a large Aerospace company.
My favorite escape…
movies, bike rides, massages, hot yoga.
My life…
is a wonderful path of twists and turns of adventure, both business and professional.
I'm currently working on….
getting DrBurns' ReLeaf™ Wellness Collection into mass retail market.
Always….
be thankful and I always follow my instincts.
Never…
take anything for granted.
Favorite Quote…. 
"Collect memories, not things"  and "Row, row, row your boat gently down the stream".
Biggest Dream….
to become a philanthropist.
My Pet Peeve(s)…
people who consistently demonstrate a lack of tolerance, patience and kindness.
More about Dr. Burns…
Dr. Elaine Burns, an Arizona-licensed Naturopathic Medical Doctor (NMD), has been instrumental in building an ethical, highly professional medical marijuana industry in Arizona since 2011. She is widely recognized as one of Arizona's leading advocates for those patients who most benefit from Cannabis as a therapeutic medication. Her gentle, compassionate care has helped patients of all ages who suffer from a wide range of legally authorized conditions.
Dr. Burns is passionate about her profession and is committed to helping others achieve wellness and vitality in their lives. Educating both patients and physicians on the safety and efficacy of Cannabis as a therapeutic agent is, she feels, paramount to providing the best care. Thus, she has guided Southwest Medical Marijuana Evaluation in developing comprehensive cannabinoid education materials for patients to ensure a safe and effective medical treatment option.
Always dedicated to staying at the forefront of the industry on behalf of her patients, she also regularly works at continuing her education by obtaining post-graduate training in all aspects of medical Cannabis. That ongoing training has allowed her to identify challenges within the medical marijuana community. After noting a disparity between what physicians want for their patient and what is actually available to them, she was instrumental in creating DrBurns' ReLeaf™, a physician-formulated line of cannabis-infused products that assures a consistent quality and bridges the gap she had seen.
Having actively supported the advancement of medical Cannabis since the inception of the industry in Arizona, Dr. Burns is considered to be one of the state's most highly qualified experts in the field. Other physicians, patients and the news media often turn to her first for advice, education and collaboration. As the author of the upcoming book, Weed Out Opioid Addiction, she is also recognized as a leading authority on the use of medical Cannabis to combat the opioid epidemic that has grown exponentially in recent years.
In 2012, Dr. Burns was the first in the state of Arizona to pass the American Academy of Cannabinoid Medicine's (AACM) physician certification test qualifying her as an expert in the clinical applications of cannabis medicine. The AACM provides the GOLD standard for medical cannabis recommendations and approval. She also serves on the Executive Board of the Arizona Medical Marijuana Act Political Action Committee (AMMA PAC), a position that gives her a voice for medical marijuana patients at the legislative level.
As the founder and medical director of Southwest Medical Marijuana Evaluation, Dr. Burns has served the patients of Arizona since 2011.  Under her leadership, Southwest Medical Marijuana Evaluation has earned a reputation as one of the state's most ethical, respected medical marijuana education and referral clinics. They are widely recognized for their exceptional professionalism.
In addition to her Doctorate in Naturopathic Medicine, Dr. Burns also obtained a Bachelor's degree in Psychology and Pre-med from the University of Delaware and, a Master's degree in Business from the University of Phoenix.