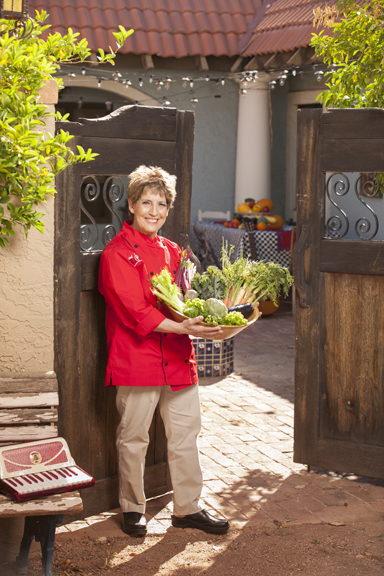 Name: Zipora Einav
Company: Chef Zipora Enterprise
Age: 71
Married/Single: Single
Kids: 2 adult sons, David and Rani
City you live in: Phoenix
A typical day in my life includes…
waking up at 5 a.m., meditate for 20 min., gratitude for 5 min., blessings for 5 min. On days I cook for clients, I go shopping and then prepare the meals, deliver them to the event and stay and serve or visit a client's home and leave prepared meals or cook for them at their home. I often visit my son and daughter-in-law who live nearby and I babysit my two sweet grand-puppies, Chihuahuas Lucas and Lucy.
I was born…
in Netanya, Israel.
My favorite thing about Arizona…
it is consistently sunny, warm and most people are very friendly, happy and have positive attitude about life.
I'm listening to…
Music for a Delicious Life CD, my new techno-classical music CD composed by Neil Argo.
My family…
is very warm, kind, supportive and generous. I have a brother who lives in L.A. and sister who lives in Israel. We are good friends despite the distance and recently reunited all together after 43 years with our children, nieces and nephews at my brother's surprise birthday party in L.A.
If I could have dinner with anyone, it would be…
Oprah, the conversation would be amazing!
One thing I cannot live without…
warm air.
When I was younger, I wanted to be…
a chef.
I'm inspired by…
people who never give up, who don't take no for a final answer and who have beat the odds.
The one person who motivates me is…
Oprah. She truly inspires me everyday!
If I could change anything in the world, it would be…
a world with no hunger or war and everyone had clean water, fresh food, a safe place to live and had love in their life.
The perfect day would be…
80 degrees and sunny. I would meet up with a friend, share a great meal and go to a good movie.
My first job was…
secretary for Kitchen Supply Company.
My favorite escape…
reading a good book and listening to J.S. Bach or Handel.
My life…
is really good and getting better.
I'm currently working on…
Releasing my first book, Recipe for a Delicious Life. Promotion new CD music, creating a new food line and other projects to build my new company Chef Zipora Enterprise, Comfort Food in Harmony with Your Health™
Always…
Be kind, never judge and try not to react when provoked.
Never…
steal or lie.
Favorite Quote…
"Be kind to one another."
Biggest Dream…
to collaborate with Oprah or Ellen on a healthy food, healthy family project.
My pet peeve(s)…
being disrespectful.