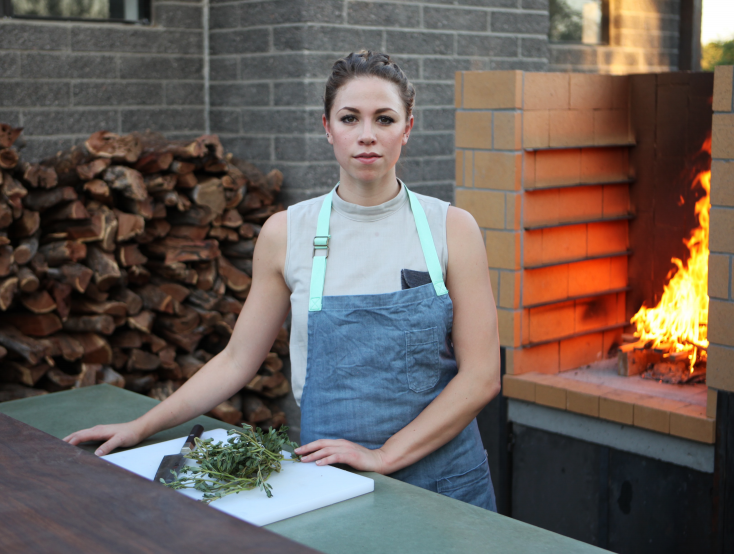 Name: Sarah Chisholm
Age: 24
Title: Executive Pastry Chef at Phoenix Public Market
Married/Single: in a relationship
Kids: Not yet!
City you live in: Phoenix, Arizona
A typical day in my life includes…
an early morning workout (I am going to be tasting pastries all day after all), ten hours in the bakery with an amazing staff and more coffee breaks than I'd like to admit, conversations with the guests in the restaurant, meetings with managers and our owners, then home! Sometimes a yoga class in the evening… and then if I'm really lucky dinner out of the wood oven at my home otherwise I'm going out to eat!
I was born…
in Chicago, Illinois. Beautiful city, terrible winters.
My favorite thing about Arizona…
the sunsets. I mean, come on!
I'm listening to…
cumbia in the mornings at the bakery…we need to be shaking and moving the second we get into the kitchen. Lots of podcasts, they have become an incredible resource for me and I listen to them almost constantly when driving or alone, which is probably because I'm afraid to ever stop learning. Also at the moment I'm falling back in love with Janis Joplin.
My family…
and my family of friends are the best gifts I've gotten in this lifetime.
If I could have dinner with anyone, it would be…
impossible question. I want to eat so many dinners with so many people.
One thing I cannot live without…
yoga.
When I was younger, I wanted to be…
a professional ballerina; which I was until I fractured my leg in 3 places dancing with Ballet Arizona. Ballerina turned Pastry Chef? Crazy I know! But I love that!
I'm inspired by…
the people who work tirelessly in kitchens and restaurants turning out the food and experience that feed and nourish people everyday. Those people are truly impressive!
The one person who motivates me is…
the person I have yet to become. Through some serious ups and downs in my life I have been consistently inspired to become my 'best or highest' self'; a disciplined, caring, vibrant person who loves and uplifts people through food.
If I could change anything in the world, it would be…
eliminating the boundaries and differences we establish between each other.
The perfect day would be…
mmmm yoga in the morning and a day at my home with loved ones, excellent wine, a pool, and of course lots food, preferably from the garden cooked by all of us over some fire, and then a big soft bed at night.
My first job was…
working at a daycare.
My favorite escape…
a night at the ballet.
My life…
has been a trip!
I'm currently working on…
a rosewater granita with blackberries and almond macarons. A chocolate espresso biscotti. Strawberry "Milk" & Chocolate Walnut "Cookies"…stay tuned!
Always…
challenge yourself.
Never…
forget to acknowledge those you care for.
Favorite Quote…
"The more you know, the more you know you don't know." Aristotle
Biggest Dream…
to walk through my own restaurant on a busy night. Some guests will be new others are friends. Really it's all the same at that point, because they are there to enjoy and their experience is now in the restaurant's hands. It's a night I have dreamed about and am preparing for. The music is on and the details of the space reflect immense care. Everything is on purpose and I am there serving in some way while smiling, talking, learning, and loving people the best way I know how, through hospitality and hopefully some damn good food.
My Pet Peeve(s)…
a dirty kitchen and the 'word' "nother." A whole nother?! What is a nother?!

Click here to order a Trendsetters wall plaque.